Volvo Doubles Electric Range Estimates for 2022 Plug-in Models
Volvo revealed a new plug-in hybrid powertrain for its 60- and 90-series models on Monday. The company says the new setup lowers carbon dioxide emissions, increases performance and improves drivability.
The T8 AWD plug-in hybrid powertrain's new long-range battery, available on the Volvo S60, V60, XC60, S90, and XC90 Recharge models, features an extra layer of cells to increase nominal energy from 11.6 kilowatt hours to 18.8 kilowatt hours. The T8s also get a more powerful rear electric motor that delivers 143 horsepower, improved from 87.
This upgraded hybrid powertrain achieves an EPA-estimated range of 35-41 miles on a single charge. Prior to the upgrade, the S90 went 21 miles on a charge while the S60/V60 achieved 22 miles. The XC60 and XC90 had a range of 18 miles.
In addition to the electric improvements, the turbocharged T8 gas engine was also upgraded for higher fuel efficiency and performance. Volvo says it now makes more power at lower rpms, which reduces carbon dioxide emissions.
The e-motor increases the power in the rear wheels by roughly 65 percent, enhancing performance in all scenarios. Because of the increased electric power, the 60- and 90-series vehicles with the Recharge T8 AWD powertrain now produce a combined output of 455 horsepower, making these the most powerful Volvo cars ever produced from the factory.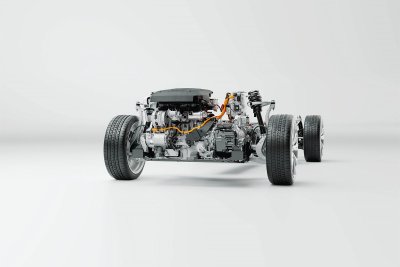 "For many customers, a plug-in hybrid is their first experience in driving electric," said Anders Gustafsson, president & CEO, Volvo Car USA in a release. "This upgrade will show so many the benefits of an electric future, and serve as a stepping stone on their own journey toward full electrification."
With the new, larger battery the Recharge T8 models now qualify for the full $7,500 federal tax credit, the maximum. This tax credit is based on battery capacity.
In addition to the powertrain, Volvo also added one-pedal drive to the XC60 and S90 models, which gives the driver the option of controlling both acceleration and deceleration with only the accelerator pedal. Letting off the throttle causes a vehicle in one-pedal mode to start slowing immediately, as well as regenerating as much energy as possible from the system.
Volvo Cars, along with Ford, General Motors, Mercedes-Benz, China's BYD and Jaguar Land Rover pledged to work toward phasing out sales of new gasoline and diesel-powered vehicles by 2040 worldwide, and by 2035 in "leading markets'' in November's global climate discussion.
Volvo aims to sell 1.2 million cars globally, with at least half being fully electric cars by 2025 and by 2030 plans to become a fully electric car company.