Volvo Shows Off New Car, Vows to Collect Your Driving Data in Real Time
The new Volvo Concept Recharge borrows styling from the most modern Volvos in the company's lineup and a powertrain from the future. The concept car signals what car buyers will be able to expect to order from the automaker in the future.
Volvo calls the Concept Recharge a "manifesto" for its next-generation of vehicles. It is designed to have looks that features the Scandinavian design mantra "less is more" at its core. Its design features aerodynamic styling designed to make the model efficient as Volvo looks to promote sustainable lifestyles.
It has proportions and powertrain that allow for more interior space. This is helped by the SUV's flat floors, which are courtesy of the model's new electric-only architecture and the battery location under the floor of the vehicle. This also allows for an increased wheelbase and wheels that get pushed to the edges of the vehicle yielding a planted stance.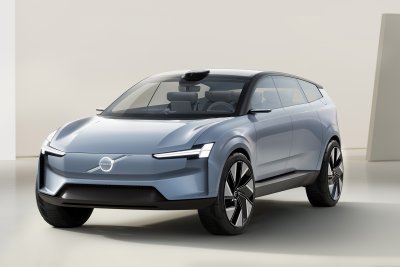 "Inside the Concept Recharge, we create a truly Scandinavian living room feeling," said Robin Page. "The interior integrates our latest user experience technology with beautiful, sustainable and natural materials. Each part of the interior is like a piece of art and could stand alone as individual furniture in a room. We use the latest technologies but not for their own sake. We always focus on the benefits that technologies can bring."
Volvo is committed to installing LiDAR on its forthcoming generation of vehicles that will allow autonomous drive technology to assist drivers and collect information about the conditions of the environment.
In a tandem announcement, Volvo revealed that it will be able to process data from its cars in real-time if customers choose to share that data. The information able to be shared includes inputs from the car's LiDAR. Volvo believes that this sharing will allow the company to advance their safety objectives faster and validate autonomous drive features quicker.
To process the data, Volvo Cars and Zenseact, Volvo Cars' autonomous driving software arm, are investing in a data factory that will contain over 200 PebiBytes (225 million gigabytes) of data. It is expected to come online in the next few years.
"Safety is part of our heritage and the backbone of our company, but software is a crucial part of our modern-day DNA," said Mats Moberg, head of R&D at Volvo Cars. "So while we continue to build on the 50-year expertise of the industry-leading Volvo Cars Accident Research Team, we can now also leverage AI as a new, virtual accident research team."
The new version of the Volvo XC90, slated to be introduced soon, will have the first implementation of the LiDAR technology.