GOP Pennsylvania State Senate Leader Says: 'I Don't Have Evidence of Any Misdoing'
The GOP head of Pennsylvania's state senate has said that he has not seen any evidence of wrongdoing in his state's presidential vote count, in a comment made following claims made by President Donald Trump and his campaign about the integrity of the vote count in Philadelphia.
On Friday, Democratic contender Joe Biden pulled ahead in the Keystone State where Trump had enjoyed a lead in the initial count after Election Day.
But Trump campaign general counsel Matt Morgan has said that in Pennsylvania there were "many irregularities" which included "having election officials prevent our volunteer legal observers from having meaningful access to vote counting locations."
Morgan wrote the campaign had been "deprived of valuable time" and "denied the transparency we are entitled to under state law," according to the New York Post.
Meanwhile, Trump shared a comment which was attributed to Stuart Varney of Fox Business which read: "Philadelphia has got a rotten history on election integrity."
The majority leader of the Pennsylvania State Senate, Jake Corman, told Fox News on Friday: "I don't have evidence of any misdoing," although he did raise questions about the vote count's transparency.
"They didn't allow poll watchers in the pre-voting, they didn't allow them to get close up to see what was going on in the current count," he told the network, adding that people needed "to be patient" and referring to recounts, said that the current count "is just the first part."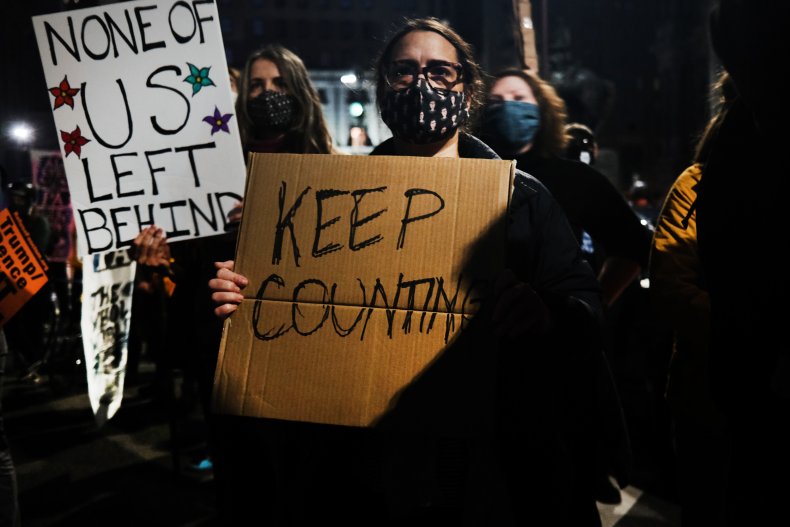 "If the governor would have allowed everyone to watch it the way that they normally are we would have more faith in the result," Corman added, referring to Gov. Tom Wolf.
However, Pennsylvania's Republican senator, Pat Toomey, has rejected the Trump campaign's claims of fraud. Toomey told NBC News that "the president's speech last night was very disturbing to me because he made very, very serious allegations without any evidence to support it."
He said vote-counting was taking a long time because state laws meant that mail-in ballots could only be counted when polls closed. "The president's allegations of large-scale fraud and theft of the election are just not substantiated. I'm not aware of any significant wrongdoing here," he said on Friday.
Trump had taken an early lead in the state which received a high number of mail-in ballots, due in part to the coronavirus pandemic. These were always expected to boost Biden's numbers, and the former Vice President is also being helped by the turnout in Philadelphia from where remaining ballots are expected to build his lead.