Vote Gap in Georgia Remains Tight as Officials Anticipate Provisional, Military Ballots
The gap between President Donald Trump and Joe Biden remains extremely tight in Georgia as "election night" continues into its third full day. Biden took the lead in the surprise swing state early Friday morning by just over 1,000 votes, but that is expected to change in the coming days with the addition of military ballots, provisional ballots and the few remaining absentee ballots.
Gabriel Sterling, who oversees Georgia's statewide voting system, provided an update on the numbers during a press conference Friday at 3 p.m. ET.
He said 8,410 outstanding absentee ballots from military members or other Georgia residents living overseas were still available to be received and counted. Those ballots must be postmarked by November 3 but must be received at the county elections office by 5 p.m. ET on Friday.
"It's gonna be more than zero and less than 8,410. It will be somewhere in that range. We don't really know how many that is," Sterling said, adding that the outstanding military ballots are coming from counties all over the state.
Sterling said in an earlier press conference Friday that there were just 4,169 absentee ballots left to be counted in the state, in addition to the ones coming from overseas. This number did not change much from the morning's report, he said Friday afternoon.
The outstanding absentee ballots—not including the military and overseas ballots—remained in Cherokee, Cobb, Floyd and Gwinnett counties, he said. Biden is leading in Cobb and Gwinnett counties, both suburbs of Atlanta. The majority of outstanding ballots (approximately 3,500) will come from Gwinnett and are expected to favor Biden. Trump carries Cherokee and Floyd counties by significant margins, but only an estimated 225 total ballots are left to be counted there, according to WSB-TV.
Additionally, close to 9,000 outstanding provisional ballots still need to be checked, Sterling said Friday afternoon. Only 134 out of Georgia's 159 counties had reported their number of provisional ballots at that time, meaning that the number is still a moving target, he said.
Sterling noted that elections officials were "trying to get everything closed out" by the end of Friday but that tabulating could extend into Saturday.
"Every one of these votes is important, and the job of the elections officials and this office is to assure that every single legal vote is counted and that the will of the voters of the state of Georgia is met on this very, very important election," Sterling said.
The number of outstanding ballots left to be counted in the state may seem small, but each vote will undoubtedly prove crucial in declaring a winner. Biden's lead over Trump widened in Georgia on Friday morning by a minuscule 1,557 votes, suggesting the state is still in reach for either candidate.
The gap is so small, in fact, that Georgia Secretary of State Brad Raffensperger said Friday morning that officials are already anticipating a recount.
"Right now, Georgia remains too close to call. Out of about 5 million votes cast, we will have a margin of a few thousand," he said. "With a margin that small, there will be a recount in Georgia."
Sterling echoed Raffensperger, offering a metaphor to further stress the closeness of the race. "When you have a narrow margin, little small things can make a difference," he said. "So everything's gonna have to be investigated to protect the integrity of the vote.... We are literally looking at a margin of less than, you know, a large high school."
Given the coming absentee, military and provisional ballots—also known as "universal votes"—Biden's lead is expected to change.
"Yes, Biden's ahead by 1,585 votes. But that could change in the next few days, given the universal votes that are out there," Sterling said. "He could extend his lead, it could stay the same, or President Trump could come back in the lead. There is still time, and the universal vote ballots could allow for that."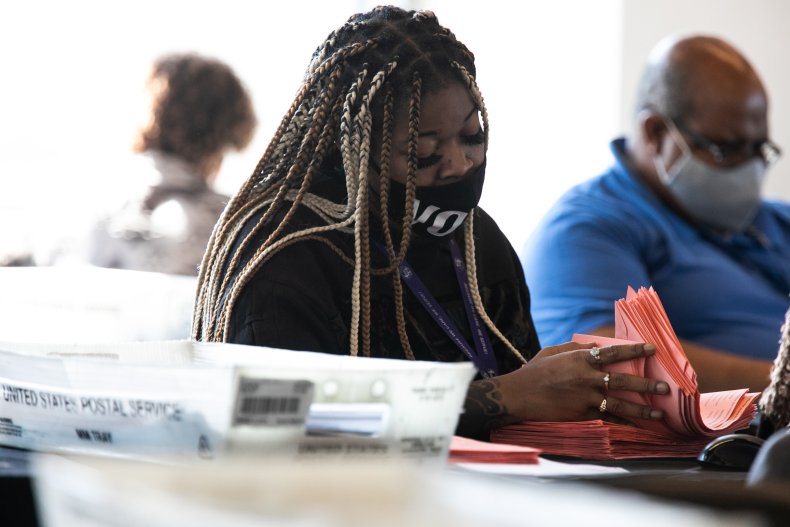 Biden currently holds the majority of the popular and electoral votes, at 73.76 million and 264, respectively, according to the Associated Press. Trump has 214 electoral votes and 69.8 million popular votes.
In addition to Georgia, the states of Alaska, Nevada, North Carolina and Pennsylvania have yet to declare winners. Election officials in each state are continuing to go through thousands of outstanding absentee ballots to determine an official outcome, but current and predicted totals offer some insight into how the races could play out.
Trump leads by significant margins in Alaska and North Carolina, but Biden holds leads in Nevada and Pennsylvania. Taking into consideration only Georgia, Nevada and Pennsylvania, Biden has seven paths to securing the 270 electoral votes necessary to win the White House, whereas Trump has only one, according to The New York Times.
If Georgia goes blue, Trump's chances at winning diminish to zero. If the president is able to secure Georgia, Biden still has three paths to the White House. He could either win just Pennsylvania or Nevada, with their respective electoral votes getting him to 270. Or, Biden could secure both Pennsylvania and Nevada, handily winning in the electoral vote victory. Trump, however, would need both Pennsylvania and Nevada to win re-election.