Vote-by-Mail is a Potential Disaster in the Making | Opinion
With the presidential election less than two weeks away, vote-by-mail returns to the spotlight. Some Democrats point to Washington state as proof the system works. They shouldn't. It took the state nearly a decade to fine-tune its system, and if dozens of other states rush to imitate it, we could be on the verge of a national voting catastrophe.
President Donald Trump and some Republicans argue mail-in voting will lead to widespread voter fraud. The president says the process would end up "rigging" the election.
But Democrats and their media cheerleaders claim vote-by-mail is perfectly safe, often conflating mail-in voting with absentee voting. Eager to discredit Trump, CNN and MSNBC turn to Washington state Democrats to fact check.
Washington is a completely vote-by-mail state where registered voters automatically receive a ballot. The absentee process, which Trump endorses, requires voters to request a ballot be mailed.
"We've had infinitesimal difficulties of any nature with it," Washington governor Jay Inslee declared to Andrea Mitchell.
Inslee is wrong. Statewide vote-by-mail didn't become official until the legislature mandated every county adopt the system in 2011. And we had many difficulties along the way.
Republican secretary of state Kim Wyman, currently running for a third term and herself a former elections manager, tells me that Washington faced three significant issues: security controls, resources and consistency.
Early on, officials couldn't reconcile every ballot counted and rejected. Wyman says there were "lax and missing control measures [that] allowed trays of ballots to go missing." They also lacked the equipment and personnel to tabulate ballots on time.
"Counties didn't have enough resources, so they cut corners to get things done by the [statutory] cutoffs. Accuracy suffered," Wyman said.
It also took time for counties to ensure that a vote cast in Seattle or Sultan was treated the same way by officials in Tacoma or Tri-Cities.
Trump does overstate the current mail-in fraud risks. However, Democrats criminally understate them. They'd have you believe fraud doesn't really exist and that there are few security concerns. If only that were true.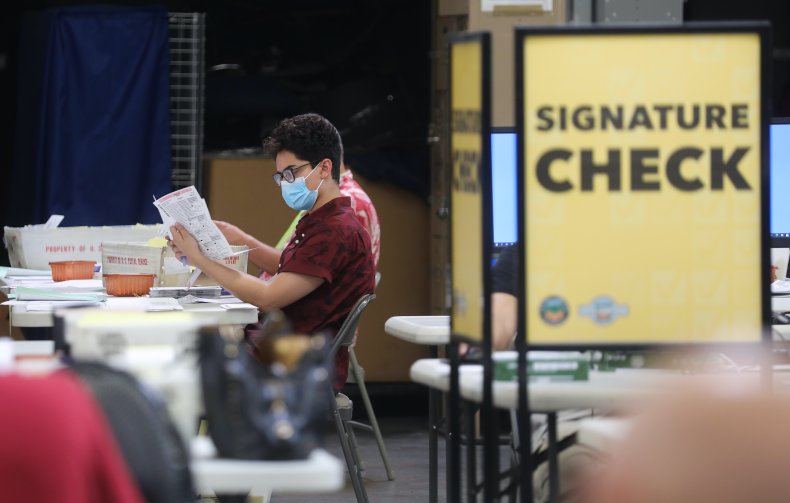 Fraud is rare in Washington because the state finally perfected its back-end system. Voters must sign their ballot. Each signature is compared by trained staff to the voter registration signature on file. If there's a mismatch, the voter is contacted. Shenanigans are reported to law enforcement.
But Washington still experiences some fraud. During the 2016 and 2018 elections, Wyman's office reported more than 200 instances of potential voter fraud. Charges are rare. In King County, for example, voters accused of mailing two ballots were warned by the prosecutor to not do it again. Statistics citing low levels of fraud are misleading at best, since they don't include cases that aren't charged.
Washington isn't the only state dealing with problems.
Oregon saw fraud cases stemming from the 2016 election. Just last month, Texas attorney general Ken Paxton filed 134 felony charges over an alleged ballot-harvesting scheme to help Democrats in 2018. An absentee ballot scandal forced a district in North Carolina to redo its entire election in 2018.
This year, experts predict voting by mail will surge, especially if voters receive ballots automatically. But not all states have tried-and-tested mechanisms in place. It's preposterous to believe states with little to no experience with mail-in-voting will be able to handle the surge of ballots. Washington wasn't even prepared despite ample set-up time. Still, dozens of states simply changed their laws to allow vote-by-mail.
This is a potential disaster waiting to happen. When has any state government been able to effectively handle a massive undertaking in such a short amount of time? The entire Democratic Party couldn't even handle an app to count Iowa caucus results effectively.
We've already seen breakdowns. Some 10,000 Michigan voters had their ballots rejected for either not signing them or mailing them after the deadline. In New York, nearly 100,000 voters received incorrect absentee ballots. More than 200,000 mail-in primary ballots in Nevada went to the wrong address.
Vote-by-mail proponents also ignore a key issue: the timeline. Unless a race is an absolute blowout, Washingtonians don't know election results the first night. One election-night results dump happens around 8pm, then more results are dropped throughout the next several days or weeks. The results take time to allow for ballot signature reviews and waiting for the eligible postmarked ballots to arrive. This can lead to last-minute swings, with candidates winning after trailing for the first few days.
The longer results take and the more volatile the swings, the louder the voices questioning the results become. What's taking so long? Is someone cheating? Campaign surrogates from both the Trump and Biden campaigns have already hinted they won't accept results they deem questionable. Election simulations have led experts to anticipate chaos and litigation across the country after November 3.
If it ends up close, the presidency seems destined to be decided in the Supreme Court. This will take its toll on the legitimacy of both the election and the next president. It could have been addressed with a more thoughtful approach to vote-by-mail. Instead, there was a rush to institute a system that requires time to establish. Maybe if Trump had issued early support, Democrats and the media would have been more cautious?
Jason Rantz is a frequent guest on Fox News and is the host of the Jason Rantz Show on KTTH Seattle, heard weekday afternoons. You can subscribe to his podcast here and follow him on Twitter @jasonrantz.
The views expressed in this article are the writer's own.