'I Was an Undocumented Immigrant. I Just Voted As an American Citizen for the First Time'
I have always called myself a Hoosier, the nickname residents of Indiana go by. Because although I'm originally from Mexico, my parents, sisters and I moved here to Indiana from Mexico City when I was roughly five years old. It was during a time when the violence and pollution had started to really elevate in Mexico. So, we made the transition in the hope of having better opportunities here in the U.S. We entered the country legally and like so many other immigrants, we overstayed our visa. My family has now been in Indiana for almost 25 years.
As I was undocumented throughout school, I was able to apply for the Deferred Action for Childhood Arrivals (DACA) program when I was 19. Then, in my third year of college I became a permanent U.S. resident. This was because my father became a U.S. Citizen, which then granted me access to a green card. After five years of being a resident, on February 14 of this year, I applied for U.S. citizenship.
But I really did not know if I was going to get the chance to vote in this election, because the COVID-19 pandemic hit and everything was delayed. I was terrified, because I had waited for so long for this moment to happen and I was the last one in my family to go through the citizenship process.
Fortunately, my application was processed and on September 24, I had my naturalization ceremony. It was a pinch me moment. It felt very surreal, but it was a euphoric moment because I'd been waiting so long for the day to come.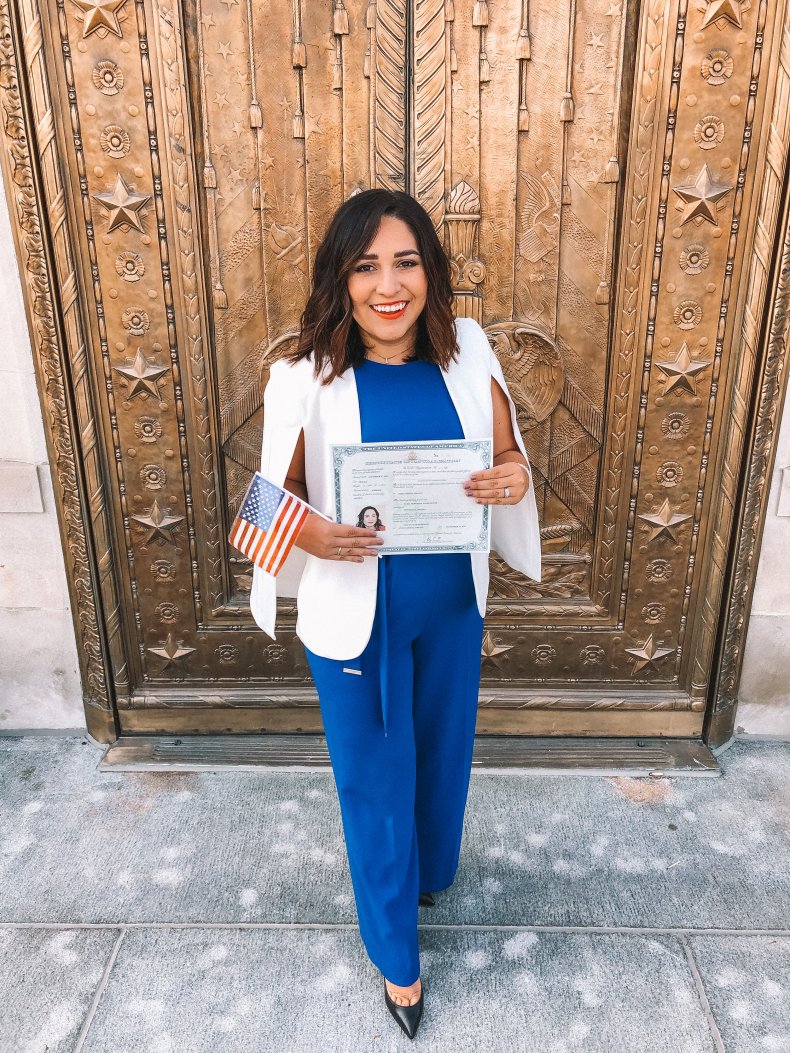 Then I started thinking about how many other people want this piece of paper. This document guarantees your status and freedoms here in America. As much as I wanted to be happy I was also thinking about the millions of people who will never get the opportunity to receive U.S. citizenship and the right to vote.
Not being able to vote in the 2012 and 2016 presidential elections made me feel left out of the decision-making process. It felt that my opinions were merely opinions and meant nothing more. When we were looking at the election between then presidential candidates Donald Trump and Hilary Clinton 2016, we didn't really know who was going to win and I felt anxiety having not participated in the vote myself.
So, the very next day on September 25, I registered to vote. My naturalization ceremony was just 12 days before October 5, the deadline to register to vote here in Indiana.
Prior to that, even without the guarantee that I was going to be able to vote this year, I spent time educating myself on who the candidates were and the issues around the election. I wanted to help my family understand and I also wanted to educate myself and be prepared, so when the moment to vote came, which it did, I would know who I was voting for.
Having never had the chance to vote before, I was determined to vote the very traditional way and I was lucky that my workplace allowed us the day off on November 3 to vote in person. I live in Zionsville which is part of Boone County and next to Marion County, home of the state capital, Indianapolis.
I didn't know what to expect and I was preparing myself to wait in line, because some people were waiting for hours to vote during early voting in Marion County. But when I went to our local library to vote, I was the only one in the room. I walked in, voted and I was out of there within three minutes. It was a very cool experience, the poll workers were really helpful and I felt very lucky not to have waited in those lines like some folks had to.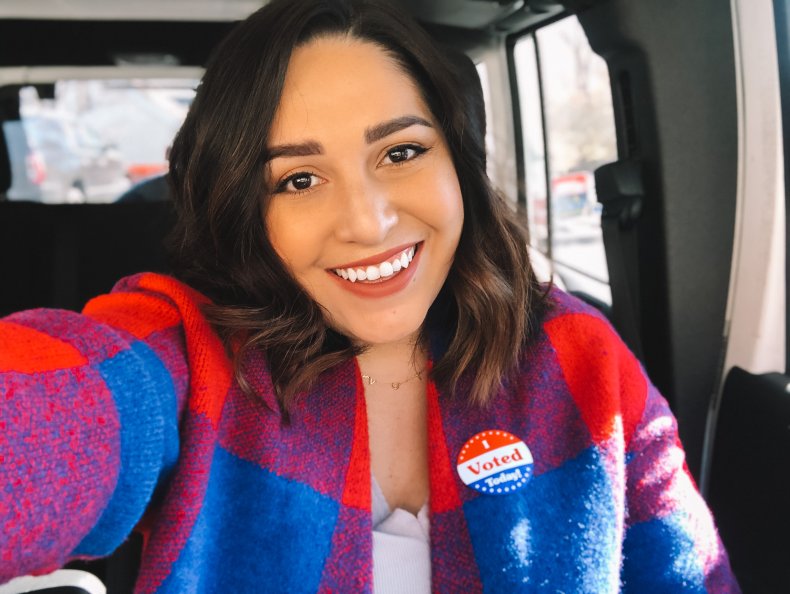 But it took me until the age of 26 to be able to have the right to vote, so I really wanted to encourage people who could vote, and maybe needed that extra push, to do so. I took a selfie with my "I voted" sticker and tried to spread the message to vote on social media.
I wasn't experiencing much anxiety when the polls closed on November 3. That really kicked in on November 4 because it's so close and still undetermined. There is a bit of fear because if the result becomes a legal battle, what will happen? What will unfold when the official winner is announced? What will happen in the next few months up to January when we officially swear in the president? It feels like this anxiety isn't going to dissolve even when we know who is going to be president for the next four years.
But even that hasn't taken the shine off voting for me. It has made me feel more empowered and I now want to help empower my community and help those who didn't get a voice. Being involved in the community is how I was able to get to where I am. I relied on my community for resources and support.
Now I have the privilege and honor to be able to vote, I feel it's on my shoulders to represent those who helped me stand where I am today as an American. And I feel that it's my duty to speak up for those that can't.
I sit on the Paramount Health Data Project Board of Directors and I'm a board member of Prospanica, where I'm also the director of community outreach. As much as I now call myself American I am still true to my Mexican culture and heritage. Thankfully, I still speak both languages so I don't feel I have lost my identity. Growing up I was part of American culture but I felt like I didn't belong to one group or the other. So I feel like I have finally reached a point where I feel like I am welcomed in both cultures. But I still have to work hard for what I do, what I want and the dreams I want to achieve.
Ultimately, these next four years are going to change depending on what candidate is elected. So I really hope that whoever does take the title of president of the United States takes into account what has happened in the U.S. over the past few months, looks at the rate COVID-19 has been spreading, believes the science and listens to the medical professionals sharing that information. I also hope they take into account that we have refugees who are trying to be placed here in the U.S. and DACA is now not certain for many immigrants. I want a president who puts equal human rights above all.
There are people who are depending on these elected leaders and especially the president, to be a voice for the community and to show humanity. My hope is that we can all come together as a community to strengthen one another. I am proud to be an American citizen and able to vote. It actually makes me even more proud of my heritage and the sacrifices my parents made so that my family could achieve the American dream.
Luisa Lopez-Macer is the events marketing lead for the Indy Chamber. Luisa is a member of the 2020 AXIS Leadership Program, director of community partnerships for Prospanica, and sits on the Paramount Health Data Project Board of Directors. Born in Mexico City, she currently lives in Zionsville, Indiana with her husband, Cole.
All views expressed in this article are the author's own.
As told to Jenny Haward.