Voter Fraud Claims: What We Know About Counts in Arizona, Michigan and Wisconsin
As the 2020 election results continue trickling in, claims of potential voter fraud have popped up in a handful of tightly contested states with slim margins. Here's what we know about the vote-counting process in Arizona, Michigan and Wisconsin.
Arizona
Many Republican Arizona voters claimed that poll workers instructed them to use Sharpies to fill in their ballots, causing them to not be read by voting machines.
The claims, dubbed "Sharpiegate," could be used in an attempt to undermine election results in the traditionally Republican state. The Associated Press called Arizona for Democratic presidential candidate Joe Biden at around 12:50 a.m. Wednesday morning, with 97 percent of the precincts reporting.
Videos and claims emerged on social media Tuesday night and into Wednesday morning from people who said their ballots were rejected due to the Sharpie marks. However, several top election officials and Arizona Secretary of State Katie Hobbs said the name-brand pens were widely used and that ballots marked with them were counted.
"There is no concern about ballots being counted because of the pen being used to count ballots," Hobbs told CNN on Wednesday.
The Maricopa County Elections Department posted an informational video on October 24 that showed voters how to use Sharpies on their ballots in addition to regular pens. Maricopa County includes Phoenix, Arizona's biggest city.
Megan Gilbertson, the department's communications director, told Reuters that the county started using new equipment last year that made Sharpies the best pens to use when filling out a ballot because of the fast-drying ink.
"The Sharpies are just fine to use," said Gilbertson. "They do not impact tabulation, and we encourage them on election day because of how fast the ink dries."
Facebook's fact-checkers have since marked social media videos and claims about the Sharpie allegations as "false information," according to Reuters. The social media giant has also blocked the hashtag #sharpiegate.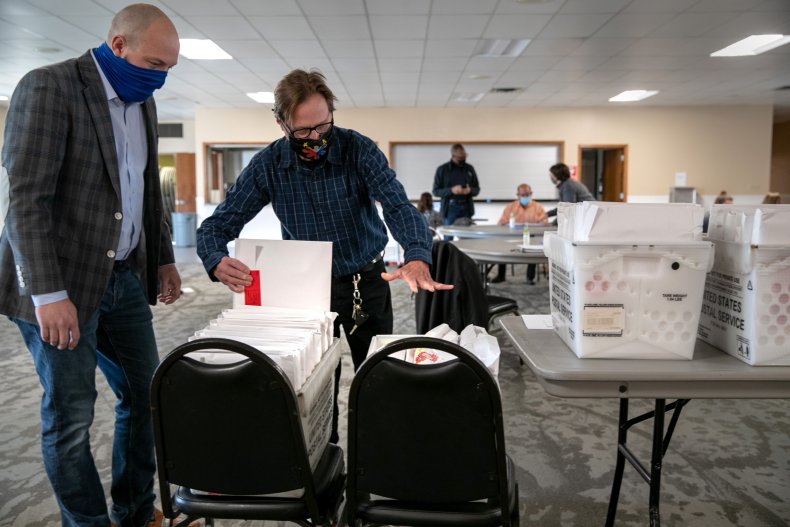 Michigan
A conservative social media account posted a claim that a large "trove" of Michigan ballots, all voting for Biden, were "found" early Wednesday morning.
"So while everyone was asleep and after everyone went home, Democrats in Michigan magically found a trove of 138,339 votes, and all 138,339 of those 'votes' magically went to Biden?" tweeted Sean Davis, co-founder of The Federalist, on Wednesday morning. "That doesn't look suspicious at all."
The unverified claim was amplified when President Donald Trump retweeted a post from GOP consultant Matt Mackowiak that featured a screenshot of an interactive map of Michigan election results showing Biden's haul increasing by nearly 140,000 votes while tallies for Trump and others were unchanged.
Mackowiak has since deleted his post. Twitter added a disclaimer to the tweets from Trump and Davis reading: "Some or all of the content shared in this Tweet is disputed and might be misleading about an election or other civic process."
The numbers cited have since been reported as a typo that was made by a Michigan county clerk.
Shiawassee County clerk Caroline Wilson told FactCheck.org on Wednesday that she was responsible for the error. "Nothing was jeopardized in any fashion," said Wilson. "It was clearly a human error."
The county reported to the Bureau of Elections that Biden received 15,371 votes, compared to Trump's 21,354. When the typo was made, it displayed the count as 153,710, which far exceeded the county's 55,612 registered voters.
Another Shiawassee County elections clerk, Abby Bowen, told FactCheck.org that the typo was quickly corrected and emphasized that election night reports are unofficial in any case.
"There was a typo in the initial report that went out to the Bureau of Elections. It was caught in a very short amount of time and quickly corrected," Bowen said.
"Everything that gets reported on election night is unofficial," she continued "This is why we have the checks and balances. This is no kind of voter fraud. It was literally just a typo."
Mackowiak later corrected himself in a tweet Wednesday.
"The tweet was taken and shared honestly," wrote Mackowiak. "I have now learned that MI update referenced a typo in one county."
Wisconsin
A conservative website called the Gateway Pundit reported an unverified claim of voter fraud in Wisconsin after a chart from FiveThirtyEight showed a sharp increase in Democratic votes at around 4 a.m. Wednesday morning.
The president amplified the narrative with a tweet later that morning stating: "Last night I was leading, often solidly, in many key States, in almost all instances Democrat-run & controlled. Then, one by one, they started to magically disappear as surprise ballot dumps were counted. VERY STRANGE, and the 'pollsters' got it completely & historically wrong!"
Twitter has since added a note to Trump's tweet stating that its content may be "misleading."
Election officials have since said that the climb in Democratic votes is not fraud, but simply the time they finished counting legitimate votes.
"We are not finding ballots," Julietta Henry, Milwaukee County's director of elections, told PolitiFact National. "Ballots are being counted."
The increase in the chart showed when the City of Milwaukee reported its absentee ballots, according to USA TODAY, and since Democrats were more likely than Republicans to vote absentee in this election, the mail-in results led to a spike in votes for Biden.
The Associated Press reported a jump in votes for Biden between 3:26 a.m. and 3:44 a.m. Democratic votes increased by 149,000, and Trump's votes increased by 31,803. Milwaukee County reportedly accounted for most of the increase.