Why It Is so Hard to Vote If You're Black, Poor or Elderly in America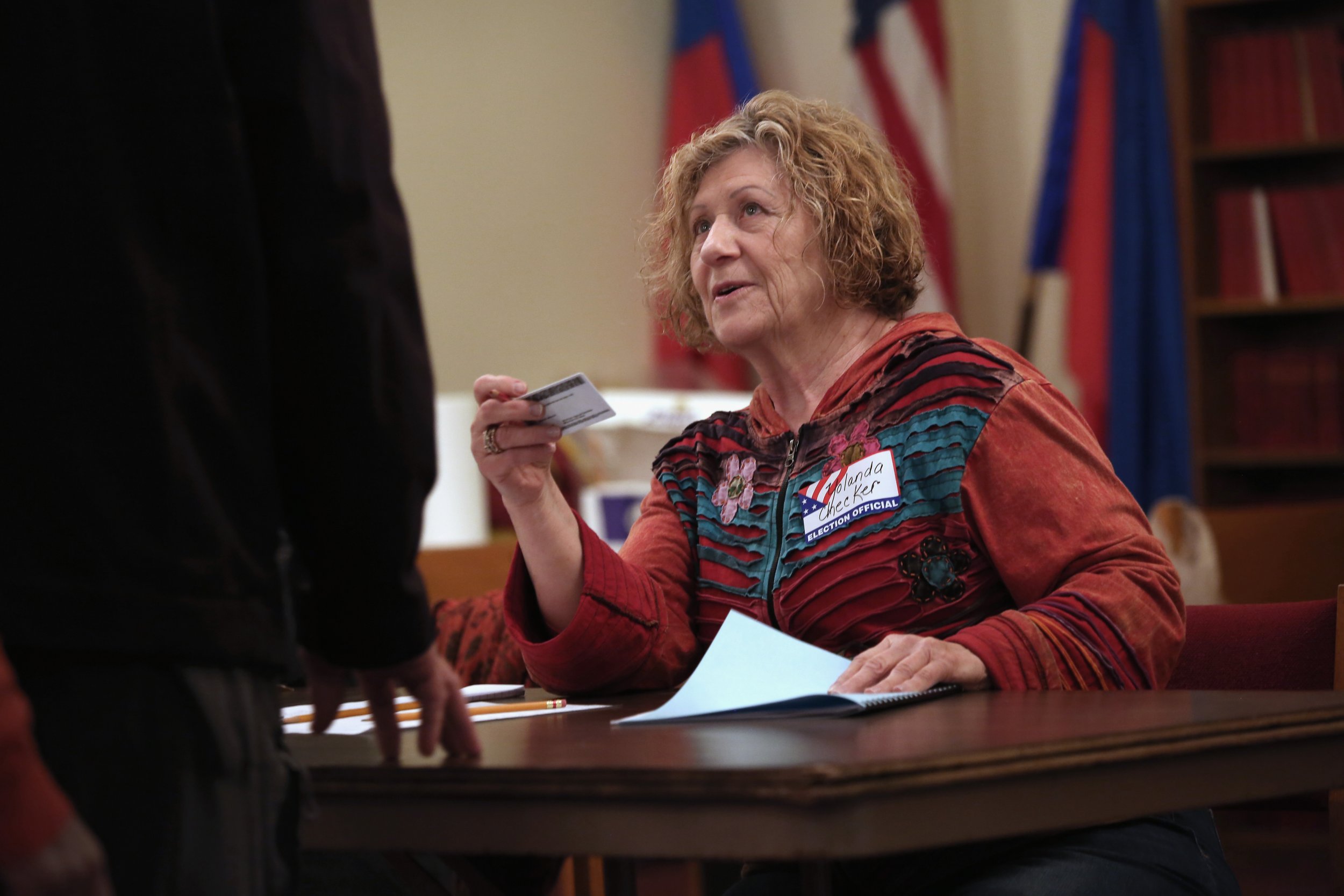 The U.S. prides itself on being the world's greatest democracy, but across the country, millions of people are denied the right to vote. More than half of all states require voters to show ID when they cast a ballot, yanking the most vulnerable in U.S. society from the electoral process.
On Monday, a federal judge ruled that Texas' electoral law, which requires voters to show photo ID before casting a ballot, intentionally discriminates against black and Hispanic voters. According to the American Civil Liberties Union, ethnic minorities, along with low-income, disabled and elderly voters, are less likely to have government-issued identification.
Before the ruling—the fifth time in four years a court has found Texas' voting laws discriminatory—a Texas voter was required to show one of six types of photo ID. If they failed to provide any, they could cast a provisional ballot and either present identification within six days of doing so or declare that they had a religious objection to being photographed or had lost their identification in a natural disaster.
In July, a federal appeals court ruled that the legislation violated the 1965 Voting Rights Act, which prohibits electoral discrimination. The court's ruling meant that during the November presidential election, voters who lacked ID were permitted to sign an affidavit declaring they were registered to vote in Texas. This angered some Texan Republicans who supported voter ID laws and claim that voter fraud is a growing problem in the U.S. Voters without government-issued IDs are more likely to vote Democrat.
Read more: Are voter ID laws racist?
Texas is one of 32 states that have some form of voter ID laws. And though the Lone Star state's legislation is restrictive, it is far from the worst. Seven states— Georgia, Indiana, Kansas, Mississippi, Tennessee, Virginia and Wisconsin—have similar laws as Texas, but do not include the affidavit option. They are the so-called "strict states," where voters without ID can only cast provisional ballots and must take extra measures after the election to ensure their ballot is counted, according to the National Conference of State Legislatures.
The U.S. has a long history of discriminatory voting laws. Prior to the 1965 Voting Rights Act, many southern states made it deliberately difficult for black people to vote. Louisiana, for example, asked African-Americans to take a literacy test before casting a ballot. Nearby Georgia excluded its poorest citizens—of which a high proportion were black—by ruling that voters must pay poll taxes.
The 1965 act removed these obstacles to voting. It also prevented nine states—Alabama, Alaska, Arizona, Georgia, Louisiana, Mississippi, South Carolina, Texas and Virginia—from changing their voting laws without federal approval.
Then, in 2013, in a 5-4 ruling, the Supreme Court struck down the preclearance rule, calling it unconstitutional. The court's decision had a swift impact: Texas, which had been trying to pass its voter ID law since 2011, announced its legislation would go into effect immediately. At present, six of the nine states require that voters present photo ID at the ballot.
Such laws have serious consequences. In January, a study published in the Journal of Politics found that during a general election, the turnout gaps between white and ethnic minority voters are far higher in states where people must show ID during or after voting.
The report's authors found that in states that don't have this criteria, there is a 4.9 percent gap between Latino and white voter turnout. In states that do require ID, this leaps to 13.2 percent. Among black voters, the gap in turnout rises from 2.9 percent to 5.1 percent; among Asians, the gap increases from 6.5 percent to 11.5 percent.
These disparities are particularly bad for Democrats. In the 2016 presidential election, 88 percent of black voters cast their ballots for the Democratic candidate, Hillary Clinton. She also took 79 percent of Asian-American and Pacific Islander votes and 66 percent of Hispanic votes. Clinton also performed better among low-income voters than her rival, President Donald Trump.
Critics of voter identification laws say they do little more than benefit Republican candidates. In 2016, Justin Levitt, a professor at California's Loyola Law School, found that among the 1 billion votes cast between 2000 and 2014, there were just 31 documented and confirmed cases of voter fraud.
If Levitt's calculations are correct, voter ID laws are barring more people from voting than they are catching incidences of fraud. As the ACLU notes, around 21 million Americans, or roughly 11 percent of the population, don't have government-issued photo identification. Meanwhile, up to 25 percent of African-Americans are believed to lack official photo IDs. Applying for such documents, the ACLU says, can cost $75 to $175 in transport fees, waiting times and paying for supporting papers like birth certificates.
Many of those prospective voters will find themselves disenfranchised again next year when the U.S. holds its mid-term elections to determine which political party controls the Senate and House. And despite this week's ruling, that could include people in Texas.
Following Monday's decision, the court will now consider whether Texas' voter laws should undergo federal oversight, essentially returning the state to where it was prior to the 2013 Supreme Court ruling. But, with Republicans in charge of the state Legislature, Congress and the White House, and the Justice Department coming out in support of voter ID laws, placing Texas under preclearance seems unlikely to result in any meaningful change.