Voting Machine Faults Spark Fears of Chaos in Close-Fought Midterm Elections
Voting machine errors reported in Texas and Georgia have raised concerns that the results of two of the U.S.'s most tightly fought midterm races could be thrown into chaos.
Politico reported Monday that civil rights groups and voters in both states had filed complaints that paperless voting machines had deleted votes for Democratic candidates or flipped them to Republican votes.
"This machine problem is essentially threatening to call into question the entire election in Texas," Beth Stevens, voting rights legal director for the Texas Civil Rights Project, told the news outlet.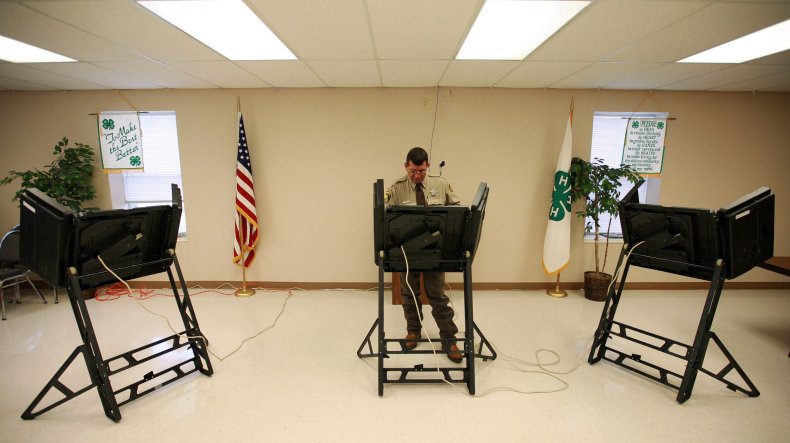 But its not the just the threat posed by hackers that's got experts and voting rights groups worried.
Georgia is one of five U.S. states that use voting machines without any auditable paper trails, while Texas is one of the eight other states that use paperless voting machines in some but not all counties.
Experts have long warned that such machines are insecure and produce election results that can't be audited—as there is no way to prove if a vote cast was not the vote intended.
In October, the Texas secretary of state's office said that some voters reported that Hart eSlate machines—used in about 30 percent of Texas counties—had flipped their straight-ticket selections to the other party.
Sam Taylor, spokesman for the office of Secretary of State Rolando Pablos, denied that machines were malfunctioning, telling The Associated Press the "problems being reported are a result of user error."
Republican Senator Ted Cruz is locked in a tight race with Democratic challenger Beto O'Rourke in Texas, with polls last week showing that Cruz's narrow lead over his rival was diminishing.
The Mercury News reported that a small number of similar complaints had emerged in Georgia, where Republican gubernatorial candidate Brian Kemp has resisted calls to replace the state's Diebold AccuVote TS voting machines and rejected Department of Homeland Security assistance to secure voting machines in the wake of the 2016 election.
In November, a lawsuit that sought to compel the state to replace its voting machines fell short, with Judge Amy Tratenberg of U.S. District Court for Georgia ruling that there was not enough time to introduce a paper ballot system before the midterms but agreeing with the plaintiffs that the machines could wind up altering ballot counts.
Though impossible to know how many votes could be affected by voting machine faults, warnings of problems with the machines were longstanding.
In 2016, the Brennan Center for Justice warned that machines were flipping votes because of their reliance on outdated software.
"With democracy at stake, Congress should provide robust support to the federal Electoral Assistance Commission so it can supply the necessary resources for states and localities to have voting systems that are accurate, efficient and affordable," the center wrote in a report, renewing calls for machines to be replaced.