It's 100 Days Until The Election, Are You Registered to Vote?
One hundred days from now, Americans will flood polls all across the country as they vote for the next president on Election Day.
Although the race started out with more than 30 individuals announcing their campaigns—including political pundits like Senators Kamala Harris, Elizabeth Warren, Bernie Sanders, former New York City Mayor Michael Bloomberg and entrepreneur Andrew Yang—the list of candidates will be much shorter come voting day. As it stands, the main men in the running include current sitting president, Donald Trump and his Democratic opponent, former Vice President Joe Biden.
Of course, the next commander in chief won't be the only thing U.S. residents will vote on come election day. State and local races will also be on the ballot.
To participate in any of it, though, folks will need proper registration. And there's no better time than now to check and make sure all your necessary documentation is up to date. Read on below for everything you need to know to ensure you can vote in the 2020 presidential election on November 3.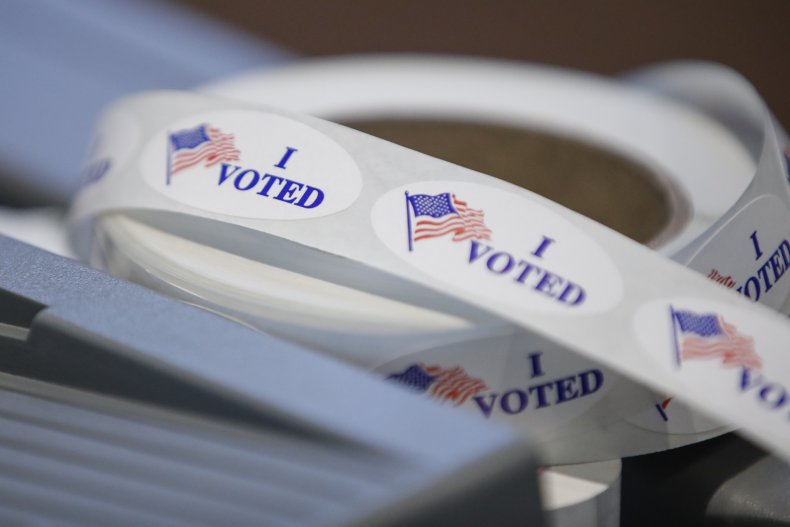 How to Register to Vote
If you're a first-time voter, the first thing that must be done is registering to vote. The process is simple: You can fill out a registration form at a local election office or, in some cases, at the Department of Motor Vehicles. Online registration is available in 39 states as well as the District of Columbia, and everyone in the U.S. can download the National Mail Voter Registration, fill it out and send it off to the proper location for each state.
After registering, election offices will likely send a voter card with all the information needed to access the polls near you, including a designated voting site.
If you're unsure whether or not you're registered to vote, you can check the handy registration portal on the vote.org website and quickly determine your voting status after filling out a form. New voters can also use the website to register to vote online, if applicable in their state.
Registration Deadlines
Deadlines for applying for voter registration vary in each state. While many states allow people to register at least 15 days before Election Day—including Alabama, California, Pennsylvania and others—there are a number of states that require residents to register at least 30 days in advance like in Rhode Island, South Carolina and Tennessee. In Colorado, folks can register to vote when they arrive at the polls on Election Day, but they'll need to have applied for voter registration at least eight business days before Election Day if they choose to do so online or by mail. Maine has similar deadlines, except voters registering by mail have to do so 21 business days before the election, and online registration isn't an option. People living in North Dakota don't even have to register to vote. They can simply show up at the polls on Election Day with a valid proof of ID to receive their ballots.
To find out the specific deadline for your state, check HERE.
Voting rules and regulations
Just like deadlines, rules for voting and requirements also depend on where you live. Everyone has to be at least 18 years old to vote—although some states will allow you to register at age 16—and you must be a United States citizen.
However, some states have certain stipulations on gaining voter registration. For instance, in most states, convicted felons are not allowed to vote at all, in others, form convicts can vote if they have been completely discharged or pardoned. But in Ohio, those who were formerly incarcerated and have completed their sentences can re-register to vote at any time. In states like Arkansas, Arizona, Delaware, Iowa, Kentucky, Louisiana, New Jersey, New York and many others, you can not receive voter registration if you've been declared mentally incompetent by a court or judge. Meanwhile, in Oregon, all that's necessary for voter registration is proof of residency in the state and U.S. citizenship.
Check here, to find out the rules for voter registration in your state.