Sign Up to Vote: These Americans Could Affect 2018 Elections If They Turn Out, Study Says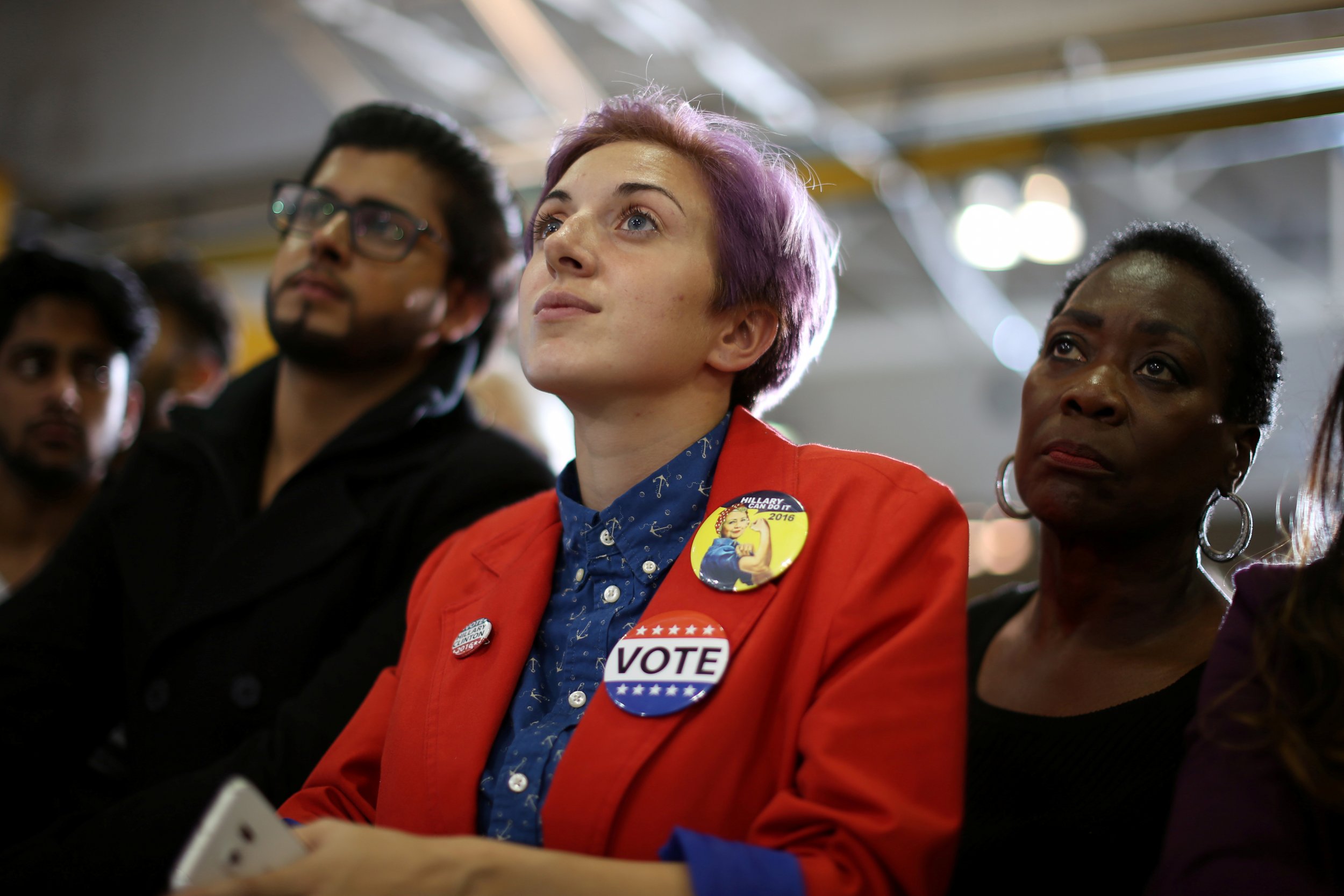 Single women, minorities and millennials could have a dramatic impact on the 2018 midterm elections—if they register to vote and show up.
A study from the Voter Participation Center and the progressive firm Lake Research Partners, out Tuesday to coincide with National Voter Registration Day, shows the demographic triumvirate has grown enough to make a splash in future elections.
But the study, which Newsweek saw in advance of its national release, suggests young people and nonwhites have some catching up to do before their political influence matches their growing numbers.
Called the Rising American Electorate (RAE) in the study, the group in 2016 for the first time made up a majority of the voting-eligible U.S. population.
There were nearly 133 million eligible voters in the RAE, comprising 59.2 percent of the U.S. voting-eligible population, researchers said. What's more, the total number of RAE voters rose by more than 8 million between 2012 and 2016, while the number of voters outside that demographic concurrently dropped by about 3.5 million.
But while turnout among the RAE has increased in recent elections, its members "still do not register to vote or turn out in proportion to their share of the population," researchers said.
As of now, "42.7% of vote-eligible Latinos, 39.3% of vote-eligible Millennials, 30.6% of vote-eligible African-Americans and 32.5% of unmarried women are unregistered," researcher Celinda Lake said in a statement. "We must get these voters on the rolls in 2018."
Important 2018 states that have seen the biggest leaps in new RAE voters, according to the study, include Arizona, Colorado, Indiana, Nevada and West Virginia.
On the current course, however, researchers project a major drop-off in turnout in 2018 compared with 2016: While overall turnout in nonpresidential cycles tends to be lower, the study predicts one in three RAE voters who showed up in 2016 will not cast a ballot in 2018. Of 40 million U.S. voters expected to "drop off" in 2018, 25.4 million are expected to be RAE voters, versus 14.4 million from non-RAE demographics.
Members of the Rising American Electorate, which includes millennials ages 18 to 34 and minorities as identified by the U.S. Census, are clearly a diverse group, but researchers found some commonalities: Overall, they're less likely to be homeowners or to receive pensions from their employers—and more likely to live below the poverty line.
RAE voters also shared some of the same turnoffs as their non-RAE counterparts, the study found: Across all voters, a lack of interest or a distaste for the candidates or issues was most often cited as a reason for not voting in 2016.
RAE voters gave "being too busy" or "having a conflicting work schedule" as other top reasons for not voting in 2016. About 15 percent said that's what kept them from the polls—approximately the same percentage of non-RAE voters who said illness prevented them from casting a ballot. Other issues voters said kept them from the polls included a lack of transportation, being out of town or feeling their votes wouldn't count.
As for not registering to vote even if eligible, "Overall, the reasons cited by members of the RAE are associated with administrative hurdles, such as language, knowledge about where to register, or residency requirements," the study reported.
Members of the group were also far likelier than other demographics to have moved since the last presidential election, requiring them to re-register at a new address.
Notably, the researchers found, "Millennials were the most likely to cite a lack of interest (41.1%) and were also the most likely to miss registration deadlines (16.2%). Latinos were the most likely to cite eligibility issues (12.2%)."
The nonprofit, nonpartisan Voter Participation Center describes itself as "dedicated to increasing the share of unmarried women, minorities, millennials, and other historically underrepresented groups" in the ranks of registered voters.
The center's Page Gardner, in a statement accompanying the 173-page report, also took what appeared to be a swing at President Donald Trump's controversial election integrity commission, which he created after claiming—without evidence—that as many as 5 million people voted improperly in 2016.
"Those who wish to suppress votes will ultimately fail," she said. "Their efforts to set up barriers, purge lists, and use scare tactics will not be able to overcome the majority of the voting eligible population."