Voters in 15 Battleground States Are Split On Whether Trump Should Be Convicted and Removed from Office, Poll Shows
American voters in more than a dozen battleground states are split on whether President Donald Trump should be convicted by the Senate and removed from office over his dealings with Ukraine, according to a new poll.
The latest CNN survey found that voters in 15 states are deadlocked at 49 percent both for and against impeaching and removing Trump from the White House. Those states are: Arizona, Colorado, Florida, Georgia, Maine, Michigan, Minnesota, Nevada, New Hampshire, New Mexico, North Carolina, Ohio, Pennsylvania, Virginia and Wisconsin.
These states are considered battleground territory for the upcoming presidential election, as each was decided by 8 points or fewer in 2016. Early 2020 polling has shown Trump to be in danger of losing to the eventual Democratic nominee in many of these areas, including Florida and Michigan.
Looking nationwide, the poll showed that a slight majority of Americans think that the Senate should remove the president from office. Fifty-one percent of those surveyed said Trump should be ousted during the upcoming trial compared with the 45 percent who say the chamber should vote against his removal.
According to CNN, the poll was the first major telephone survey since House Speaker Nancy Pelosi officially sent the articles of impeachment to the Senate last week. The two charges taken into consideration by the upper chamber are abuse of power and obstruction of Congress.
Democrats allege that the president tried to pressure the Ukrainian government to investigate a potential political opponent, former Vice President Joe Biden, in exchange for the release of nearly $400 million in military aid. Trump has denied the charges and called the impeachment inquiry a rigged "hoax."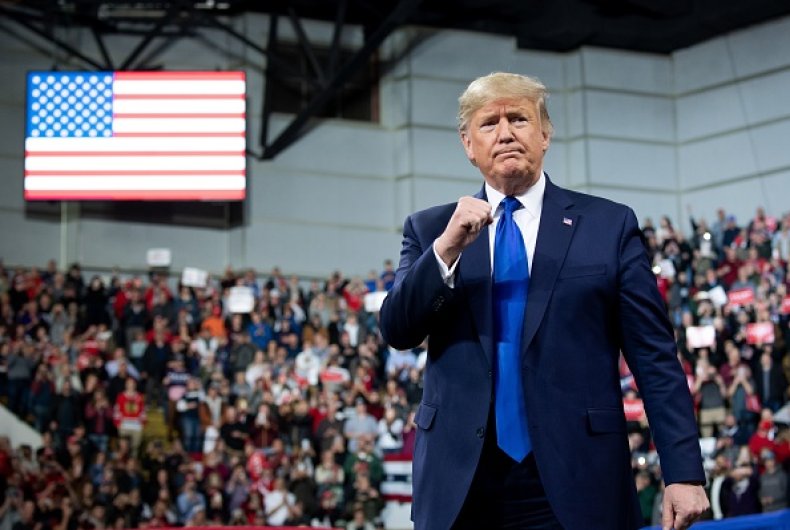 But Americans consider each of the charges brought against Trump to be true, according to the CNN poll. Fifty-eight percent of voters polled said that Trump abused the power of his office for his own political benefit and 57 percent say they believe it's true that he obstructed Congress during the impeachment probe.
The Senate impeachment trial against Trump is scheduled to officially begin on Tuesday. The trial will begin with the chamber taking up a measure laying out the rules and guidelines for how to proceed. Republicans and Democrats are expected to clash over the issue of witnesses and new evidence.
However, after months of inquiry and drama over impeachment on Capitol Hill, the trial could be as short as one week long. Senate Majority Leader Mitch McConnell has proposed a condensed, two-day schedule for each side to give their arguments and another 16 hours for senators to ask questions. Senate Minority Leader Chuck Schumer has called the proposed trial timeline a "national disgrace."
The CNN poll was conducted by SSRS from January 16 to January 19. For the poll, 1,156 adults were surveyed on landlines or cellphones. The margin of error for the survey is plus or minus 3.4 percentage points.