Americans Don't Want Ivanka Trump in the White House, Poll Says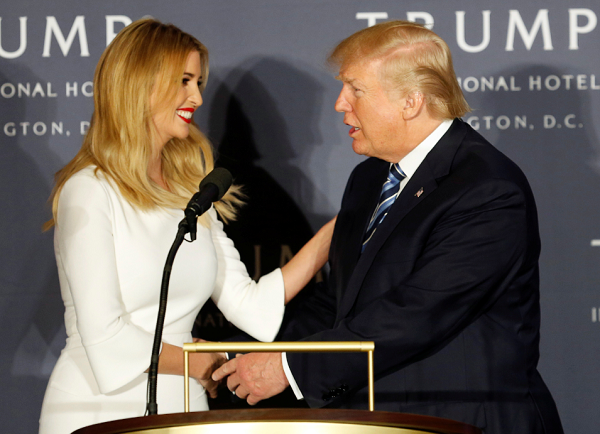 The White House announcement that President Donald Trump's oldest daughter, Ivanka Trump, would be serving as an assistant in his administration prompted concerns about ethics and nepotism. It wasn't just the folks on Capitol Hill questioning Ivanka Trump's role in the White House, but American voters too.
Although voters acknowledged the strong influence Ivanka Trump—and her husband Jared Kushner—appear to have on Donald Trump, most Americans don't necessarily want to see the retail CEO working in the White House.
A recent Morning Consultant/Politico Poll found 50 percent of voters disapprove of Ivanka Trump serving in her father's administration while 35 percent strongly disapproved of her position. Only 40 percent of voters approved of Ivanka Trump working in the White House; 17 percent strongly approved.
However, there was little argument that Ivanka Trump had her father's ear. Sixty-six percent of Americans said Ivanka Trump was more influential to Donald Trump than congressional leaders were, which landed her in second place for having the most influence on the president. Vice President Mike Pence was seen as the most influential person to the president, with 70 percent of Americans saying he had more influence than congressional leaders.
Voters thought Kushner, who is Donald Trump's senior adviser, also had a high level of influence on the president, with 59 percent of Americans saying Kushner was more influential than congressional leaders.
Although specific details about Ivanka Trump's White House role haven't been released, the mother-of-three told Gayle King during a "CBS This Morning" interview Wednesday that she plans to continue the "advocacy work" that she was "doing in the private sector," including advocating for women's empowerment and advancement in the workplace and education. She said she doesn't plan to simply be one of her father's "yes" men.
"I think there are multiple ways to have your voice heard. In some cases, it's through protest and it's through going on the nightly news and talking about or denouncing every issue on which you disagree with. Other times it is quietly and directly and candidly. So where I disagree with my father, he knows it. And I express myself with total candor," she said. "Where I agree, I fully lean in and support the agenda and hope that I can be an asset to him and make a positive impact. But I respect the fact that he always listens. It's how he was in business. It's how he is as president."
The Morning Consultant/Politico poll was based on a sample of 1,995 voters between March 30 and April 1 with a margin of error of plus or minus two percentage points.