Voters in Battlegrounds Pennsylvania, Wisconsin Say Biden Would Handle COVID Crisis Better Than Trump: Poll
Significantly more voters in the key battleground states of Wisconsin and Pennsylvania believe Democratic presidential candidate Joe Biden would handle the ongoing novel coronavirus pandemic better than President Donald Trump, polling has shown.
In Pennsylvania, 47 percent of voters said they believed Biden would handle the COVID-19 crisis better than Trump, while just 37 percent said they believed the president would deal with it better, according to new polling by CBS News and YouGov. The difference was even starker in Wisconsin, where only 32 percent of voters saw Trump as better equipped to deal with the pandemic while 47 percent believed Biden would do better.
Meanwhile, about three-quarters of voters in both battleground states believed things in America today are going badly. Only about a quarter of voters in each state believed things are currently going well for the country.
If the election were held today, Biden would beat Trump in Wisconsin and Pennsylvania by a significant margin. In both states, the Democratic candidate leads the incumbent president by 6 points – with 49 percent support in Pennsylvania compared to Trump's 43 percent, and 48 percent support in Wisconsin compared to the president's 42 percent.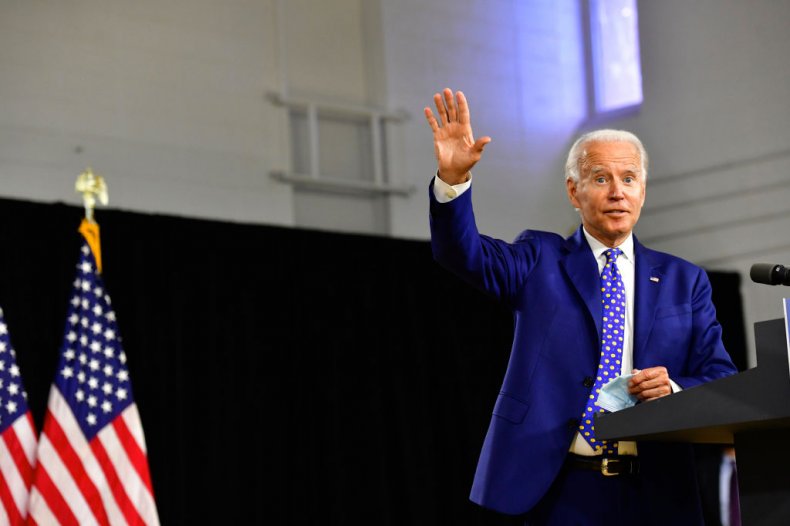 Pennsylvania and Wisconsin are seen as key to victory for Trump and Biden in November. These states, along with Michigan and Florida, voted for former President Barack Obama in 2008 and 2012 before turning red for Trump in 2016. Biden, who served as Obama's vice president, currently leads Trump in all four swing states, according to the latest polling averages by RealClearPolitics.
In Wisconsin, Biden currently has an average lead of about 6.4 points, while he's ahead in Pennsylvania by about 5 points. Trump trails Biden by an even greater margin in Michigan, where the former vice president is ahead by about 7.5 points. Although the margin is narrower in Florida, the president's state of official residence, Biden leads there by a margin of about 4 points. Nationally, the Democratic candidate appears to be ahead by more than 6 points on average.
Officials for Trump's campaign have been dismissive of negative polling numbers for the president. They have argued that public polls are generally biased against the president and Republicans. The Trump campaign has pointed to the results of the 2016 election, when most polls predicted that then-Democratic presidential candidate Hillary Clinton would win. Although Clinton did garner nearly 3 million more votes than Trump nationwide, the president pulled off a series of victories in key battleground states – propelling him to a big win in the Electoral College.
But Trump's poll numbers have plummeted as the novel coronavirus pandemic has surged nationwide. The U.S. continues to be the country with the highest number of infections and deaths due to the novel virus. As of Sunday, the country has reported more than 5 million infections and nearly 162,000 deaths since the start of the pandemic.