Voters' Demands for Biden's First 100 Days: Tackle COVID, Boost the Economy
As Joe Biden builds his White House team, voters' priorities for his first 100 days in office remain in line with their key concerns before Election Day: tackle COVID-19 and boost the economy.
Although President Donald Trump has refused to concede, the Democratic president-elect has pulled together his inner circle to work on the transition.
Before November 3, coronavirus and the economy dominated the views of those casting their ballots—and polling suggests these are still their top concerns.
A Morning Consult/Politico poll of 1,992 registered voters, conducted from November 13 to 16, found respondents' top concern to be controlling the spread of COVID-19.
Of those asked, 69 percent said this was a top priority for Biden in his first 100 days. This was followed by a vaccine distribution plan, at 67 percent. Next came COVID-19 relief legislation, at 66 percent, and stimulating the economy, which 64 percent considered a top priority.
A vaccine distribution plan was the priority most backed by the Democrats polled, with 80 percent opting for this. For Republicans, stimulating the economy came top with 61 percent.
Newsweek has contacted the Biden transition team for comment.
Biden has appointed a COVID-19 advisory board as he looks ahead to his inauguration in January.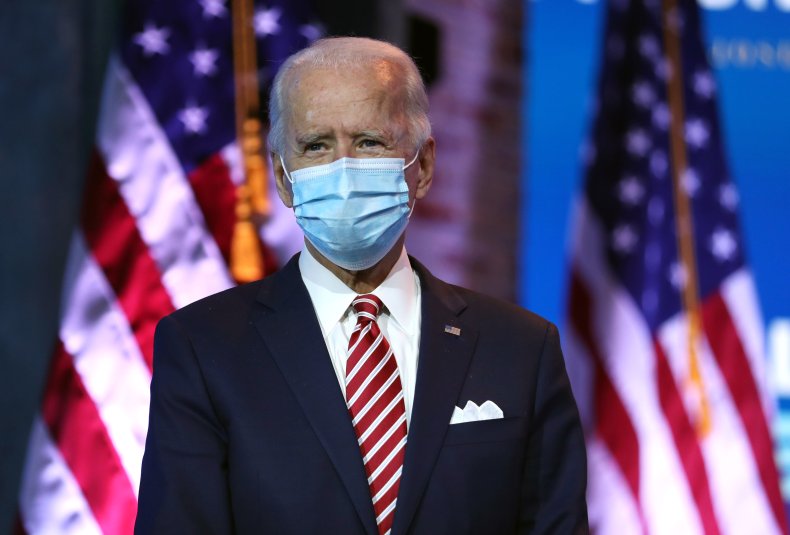 Polling has indicated that Americans do want to see Biden's team working on the pandemic response with the Trump administration.
Biden has already begun to weigh in on the matter—encouraging people to wear face masks and maintain social distancing to reduce the virus spread.
"I promise you, from the moment I am sworn in on January 20, I will do everything in my power to lead this unified national effort," he said.
He welcomed the progress in vaccine development, but added that it would be "many months" until a vaccine was widely available. Distributing a vaccine is a "huge, huge undertaking," he said, calling for cooperation from the Trump administration.
"This crisis demands a robust and immediate federal response, which has been woefully lacking. I am the president-elect, but I will not be president until next year. The crisis does not respect dates on the calendar, it is accelerating right now. Urgent action is needed today, now, by the current administration – starting with an acknowledgment of how serious the current situation is," he said last week.
"More people may die if we don't coordinate," Biden said at a news conference in Wilmington, Delaware, on Monday.
He has also backed Democratic leaders in Congress who are calling for a second stimulus bill to be passed.
"Right now, Congress should come together and pass a COVID relief package like the HEROES Act that the House passed six months ago," he tweeted on Monday. "Once we shut down the virus and deliver economic relief to workers and businesses, then we can build back better than ever before."
The below graphic from Statista shows the number of confirmed COVID-19 cases as of November 16, according to Johns Hopkins University. More than 1.3 million people have died with the virus worldwide.