Voters of Faith Will Hold Senators Accountable If Neil Gorsuch Not Confirmed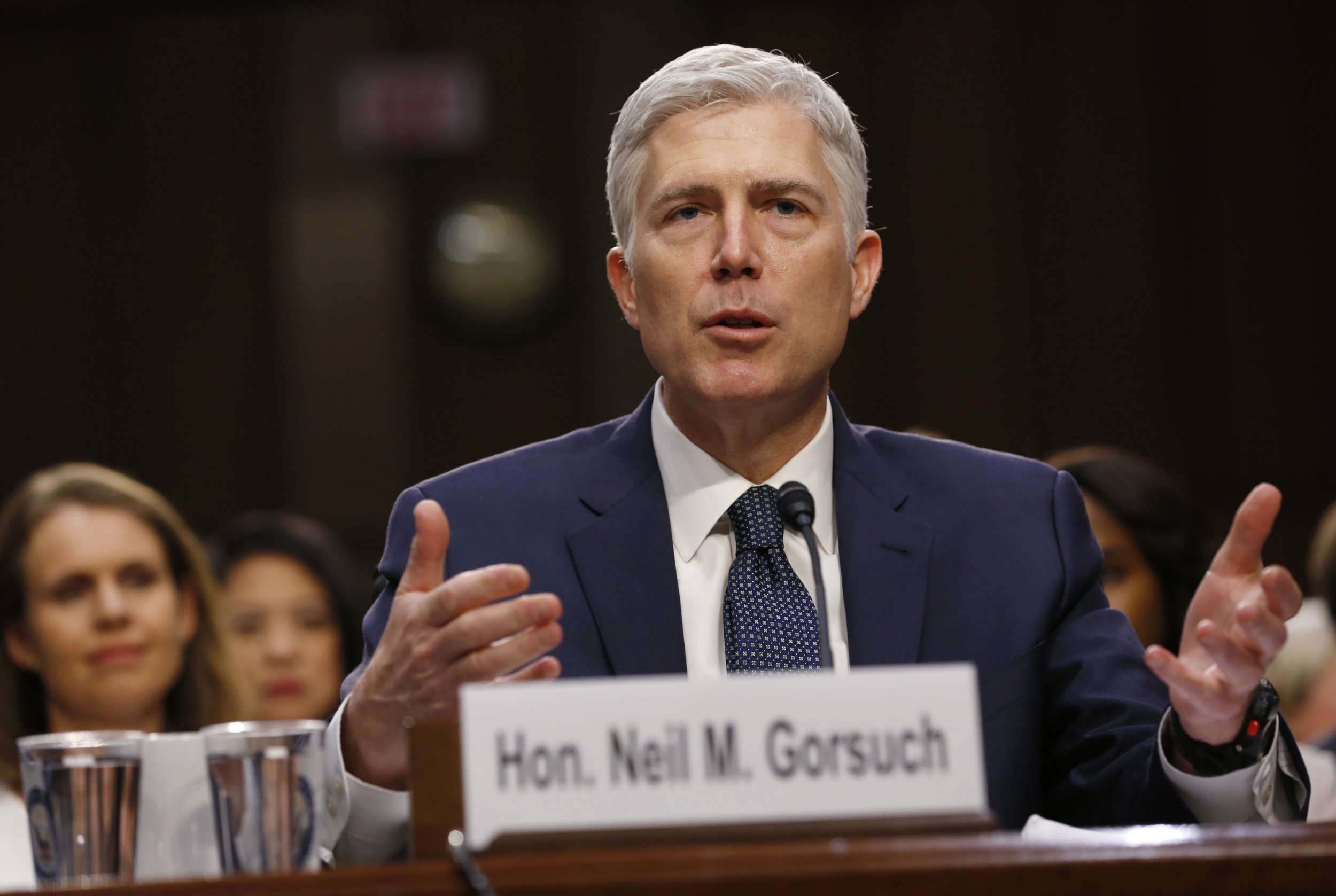 Millions of evangelical Christian and pro-life conservative Catholic voters, who overwhelmingly supported President Donald Trump last November, are watching intently as the United States Senate now considers the nomination of Judge Neil M. Gorsuch to serve on the U.S. Supreme Court.
This massive bloc of voters, which made up a record 26 percent of the total electorate and who helped put Trump over the top with an overwhelming 81 percent, based their votes largely on the president's ironclad pledge to fill the Supreme Court vacancy with a strict constructionist who would respect the Constitution and the rule of law, not legislate from the bench.
Then-candidate Trump's commitment to replace Justice Antonin Scalia, the most brilliant conservative jurist of our time, with a widely respected conservative nominee with a razor-sharp intellect, temperament and legal knowledge were never questioned by religious conservatives and now the president has delivered on that promise.
Political professionals, pundits and journalists have repeatedly written the political obituary of the conservative religious vote, but these voters flexed their muscle again in 2016 and continue to do so during the early days of the Trump administration and the new Congress. As the election and first 100 days of the Trump administration show, Republicans cannot win or govern without it, and Democrats would be wise to find a way to appeal to voters of faith.
In state after state with sitting Democratic senators that Trump carried, including West Virginia, Ohio, Florida, North Dakota, Missouri, Indiana and Wisconsin, evangelical and faithful pro-life Roman Catholics voted overwhelmingly for Trump based largely upon his promise to nominate a conservative, pro-life Supreme Court Justice.
These states are part of an extremely favorable 2018 election map for conservatives, with vulnerable Democratic senators up for re-election in each of them. Exit polls showed astonishing margins for Trump among evangelicals in Florida (85 percent to 13 percent) and Wisconsin (71 percent to 24 percent). Fueled again by evangelicals and conservative Catholic voters, Trump won West Virginia with 69 percent of the total vote, 57 percent in Montana, 52 percent in Ohio, 64 percent in North Dakota, 57 percent in Indiana and 57 percent in Missouri.
As the Gorsuch vote approaches, Democratic Senators Bill Nelson of Florida, Tammy Baldwin of Wisconsin, Joe Manchin of West Virginia, Jon Tester of Montana, Sherrod Brown of Ohio, Heidi Heitkamp of North Dakota, Joe Donnelly of Indiana and Claire McCaskill of Missouri face intense pressure from the far left wing of their party with the threat of well-funded primary opponents to vigorously oppose Judge Gorsuch through a filibuster. However, if these Democratic senators vote against cloture or against final confirmation of Gorsuch, conservative Christian voters in those states will not stand idly by.
The radical left and Washington special interests began working to block President Trump's nomination immediately. These groups, well-funded and powerful influencers in Congress, are threatening to "Bork" the Gorsuch nomination just as they did to President Reagan and Judge Robert Bork in 1987. Conservatives across the nation understand fully what that term means. Groups such as the ACLU, NAACP and many others joined forces with Senator Ted Kennedy and several Republicans to systematically defame and vilify an outstanding person and jurist in Judge Bork, and now these same forces are threatening to do so again.
The same storm is brewing over the Gorsuch nomination and so the voices of conservative Christian voters are more important than ever. These voices are being heard in Senate offices across the Hill through an overwhelming number of calls, faxes, emails and letters demanding fair and honest hearings and a straight up and down vote on the nomination.
Judge Gorsuch is a worthy successor to Justice Scalia and his nomination and confirmation is the only way for conservatives to protect the integrity of this branch of government for the next 20 years. His temperament, jurisprudence and deference to the legislative process and his history as a principled constitutionalist judge indicate that as a member of the highest court in the land, he will not make law from the bench.
The left wants to continue to pack the Supreme Court and the federal and state judiciary with activist judges to match their leftist ideology, and will spare no expense or effort—and employ any tactics necessary, including character assassination—to try to derail the Gorsuch nomination. Americans of faith can't, and will not, allow this to happen.
The 2016 evangelical-voter-driven election of President Trump and the large conservative majorities in Congress led by leader McConnell and Speaker Ryan proves that our time is now, as Christian conservatives are guaranteed a seat at the table in influencing public policy, and now an opportunity to confirm a conservative Supreme Court justice in the model of the late Justice Scalia.
Red state Democrats should join their Republican colleagues in the U.S. Senate and remember the lessons of 2016 and vote to confirm Judge Neil Gorsuch, or face millions of conservative Christian voters at the ballot box in 2018.
Timothy Head is the executive director for the Faith & Freedom Coalition. Prior to joining Faith & Freedom, Tim was the district director for a member of the Texas congressional delegation. He has served as chief of staff and as policy adviser to members of the Texas Legislature.