As the 2020 political convention season heads towards an end, poll data released Wednesday indicates that voters are changing their minds about which presidential candidate they will choose.
Democratic Presidental candidate Joe Biden leads incumbent President Donald Trump overall in the latest Hill-HarrisX poll, but an equal percentage of those surveyed have indicated they would vote for the candidate from the opposite party.
Trump's support from Republicans remained high with 83 percent of those polled saying they would vote for him. Biden lost some ground with Republican voters as 7 percent said they would give him the nod.
When the same question was asked by pollsters last week, 9 percent of Republicans polled said they would vote for Biden while 81 percent said they would vote for Trump.
Conversely, 87 percent of Democrats polled said they would vote for Biden while 6 percent said they would vote for Trump. In the last poll, Biden had the support of 85 percent of Democratic voters while Trump garnered 8 percent.
Biden took the lead in the poll overall with 47 percent support as opposed to Trump's 38 percent, a nine-point span. Biden's advantage grew by one percentage point over the last poll while President Trump's remained constant.
The Hill-HarrisX poll numbers were culled from the online responses of 2,861 registered voters and carried a margin of error of plus or minus 1.83 percentage points.
Newsweek reached out to the Trump and Biden campaigns for comment.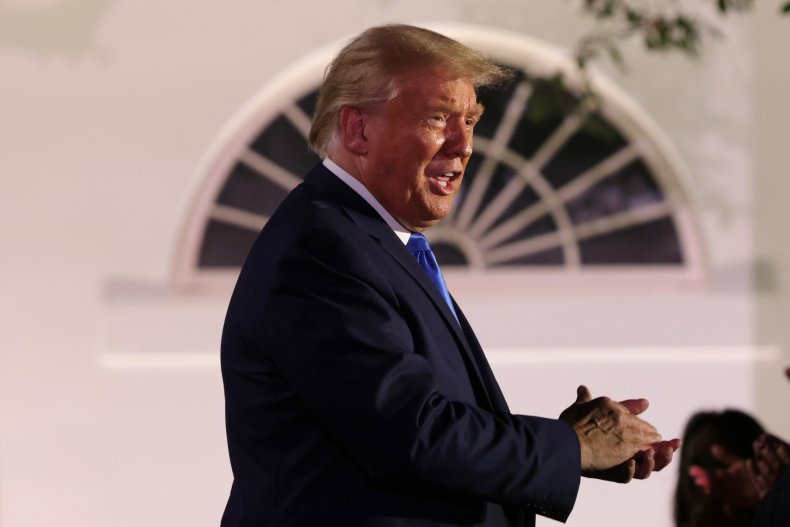 Republicans painted a Democratic presidential administration as fundamentally anti-capitalist and lawless during the first two nights of the Republican National Convention. South Carolina Senator Tim Scott said during his Monday remarks that if Biden and Vice Presidential candidate California Senator Kamala Harris were voted into office, "they will turn our country into a socialist utopia, and history has taught us that path only leads to pain and misery, especially for hard-working people hoping to rise."
President of Florida-based business Sunshine Gasoline Distributors Maximo Alvarez compared Biden and other Democrats to the late Cuban Communist dictator Fidel Castro during his RNC remarks on Monday.
"President Trump is fighting against the forces of socialism, communism, and totalitarianism," Alvarez said. "And he will continue to do just that. And what about his opponent and the rest of the D.C. swamp? I have no doubt they will hand the country over to those dangerous forces."
Vice President Mike Pence is expected to accept the nomination for reelection at Wednesday's Republican National Convention.
During its convention in August, Democrats urged voters to view a Biden-Harris ticket as the end to America's "season of darkness."
"This is a great nation," Biden said during his nomination acceptance speech on Thursday. "We're a good and decent people. For Lord's sake, this is the United States of America. There's never been anything we've been unable to accomplish when we've done it together."
Biden did not mention President Trump by name during his remarks, referring to him as "this president" or the White House's "current occupant."