Voters Favor Bernie Sanders Over Democratic Rivals on Health Care, Environment And Economy, New Poll Shows
Senator Bernie Sanders of Vermont edges out his Democratic opponents on health care, immigration, the environment and the economy, according to a Reuters/Ipsos poll.
The presidential race has become more policy-centered than elections of years past. About 42 percent of Democrats surveyed in Sunday's poll said their choice for president comes down to their "ideas or policies" more than whether the candidate would make a good president (20 percent) or can win the general election (9.1 percent).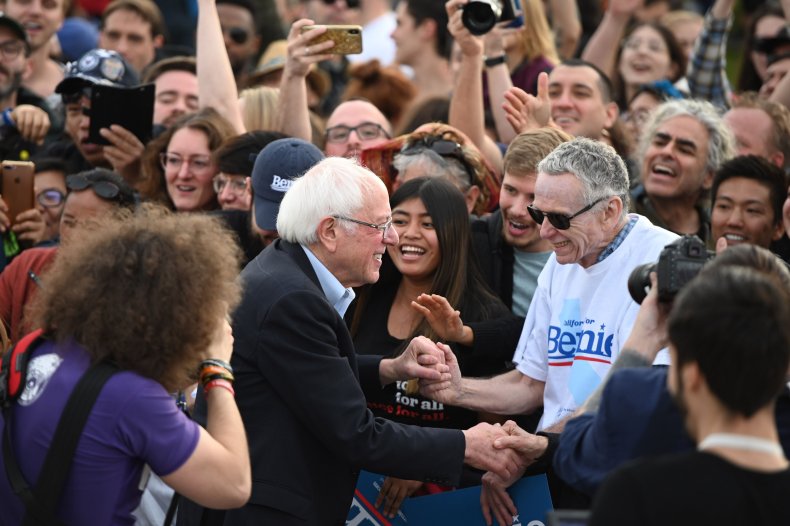 Separate polling by Kaiser Family Foundation indicates some of these issues––namely health care and the economy––are the most important for voters in battleground states heading in the 2020 presidential election.
In the Reuters/Ipsos poll, more than 1,000 mostly registered voters were asked which candidate is the best on several policy areas, Sanders garnered more support on immigration than former Vice President Joe Biden (by 0.6 percent) and Massachusetts Senator Elizabeth Warren (by 7.3 percent).
For health care, arguably Sanders' staple issue, the Senator claims 27.1 percent support, eclipsing Biden and Warren by 9 percent and 14.6 percent, respectively. On the environment, Sanders again edges out Biden by 9.7 percent and Warren by 8.2 percent. He also comes out ahead on the economy and jobs.
For each issue surveyed, roughly 30 percent or more of folks said they didn't know which candidate was best.
This poll is among others this week that indicate that Sanders (40.4 percent) narrowly outperforms Biden (39.5 percent) and Warren (37.6 percent) in head-to-head match-ups with Trump, although all three candidates best Trump in this survey. South Bend, Indiana, Mayor Pete Buttigieg narrowly loses to Trump, while Mike Bloomberg, a billionaire and former mayor New York City, narrowly wins.
If the Democratic primary were held today, however, former Vice President Joe Biden maintains his lead (18.2 percent) in this survey over Sanders (15.2 percent) and Warren (10.3 percent). Far more respondents think he's the most likely candidate to beat Trump (31 percent) than either Sanders or Warren.
The Reuters/Ipsos polling also indicates Democratic voters are getting closer to making up their minds on their favorite candidate. More than a third of respondents were completely certain of their choice, and nearly half were "mostly certain." If their top choice were to drop out, 26.7 percent indicate they would vote for someone besides the long list of Democratic candidates provided, perhaps Trump.
Warren led the other frontrunners when respondents were asked to identify "a new and different voice," but folks thought Biden was more likely to "unify the Democratic party" than his more progressive counterparts Sanders and Warren.