Voters Overwhelmingly Support Mt. Rushmore Ahead of Trump Event, Poll Says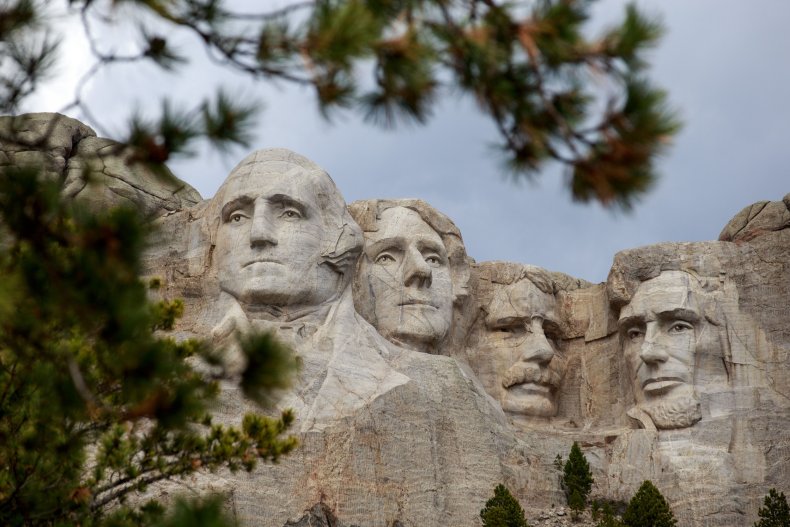 A new poll has found voters strongly supporting Mount Rushmore ahead of President Donald Trump's Independence Day celebration at the site in South Dakota.
Rasmussen Reports poll on the national memorial, which was sculpted in the 1920s through the early 1940s, found three out of four voters (75 percent) said they don't think Mount Rushmore should be closed or changed--even though two of the four presidents carved into its granite facade owned slaves.
The survey was conducted as protesters have toppled or called for the removal of monuments to leaders of the Confederacy and other historical figures who were slave owners amid mass protests against racism and police brutality.
Mount Rushmore, located in South Dakota's Black Hills, features 60-foot-tall faces of Presidents George Washington, Thomas Jefferson, Abraham Lincoln and Teddy Roosevelt. It was sculpted by Gutzon Borglum, a Ku Klux Klan-linked artist who also was behind the Confederate monument carved into Georgia's Stone Mountain.
Rasmussen found just 17 percent of voters surveyed believe the iconic Mount Rushmore memorial should be closed or changed, but support is higher among voters younger than 40. A third of the younger voters said they back closing or changing Mount Rushmore, compared to 10 percent of the above 40 crowd.
Rasmussen Reports conducted the survey of 1,000 likely voters on June 29-30. The margin of error is 3 percent, with a 95 percent level of confidence.
Earlier this week, the chair of the Cheyenne River Sioux Tribe in South Dakota called for the removal of the monument because it's on land that is considered sacred to Natives.
"Nothing stands as a greater reminder to the Great Sioux Nation of a country that cannot keep a promise or treaty than the faces carved into our sacred land on what the United States calls Mount Rushmore," chairman Harold Frazier said in a statement released on Twitter. "This brand on our flesh needs to be removed and I am willing to do it free of charge to the United States by myself if I must."
The debate over Mount Rushmore has become one of the latest cultural wars for conservatives.
The Republican Attorneys General Association released a web ad this week that portrays the removal of the faces from Mount Rushmore with the message "Stop the Madness," and Trump's son, Donald Trump Jr., has tweeted that it's "insane" people want to shutter Mount Rushmore.
President Trump is slated to have a massive event at the site Friday night for an early July 4 celebration.
"We're going to have a tremendous evening. It's going to be a fireworks display like few people have seen," Trump told reporters Thursday. "It's going to be very exciting. It's going to be beautiful."
It's been more than a decade since July 4 was celebrated with fireworks at Mount Rushmore because of fire concerns.