Voters Pick Joe Biden Over Donald Trump in 18 of 19 Presidential Traits, Poll Says
Voters say former Vice President Joe Biden embodies leadership characteristics far more than President Donald Trump in 18 of the 19 areas asked in a Redfield & Wilton Strategies survey of 3,000 voters this past weekend.
Voters feel Biden is more honest than Trump, with 48% saying the Democratic challenger tells the truth versus 29% for the president and 23% undecided, according to the poll's results.
When it comes to pocketbook issues, major concerns for everyday Americans in a year of rollercoaster unemployment and financial upheaval, 45% of voters in the survey said Biden can get the economy going again, as opposed to 41% for Trump, with 14% undecided.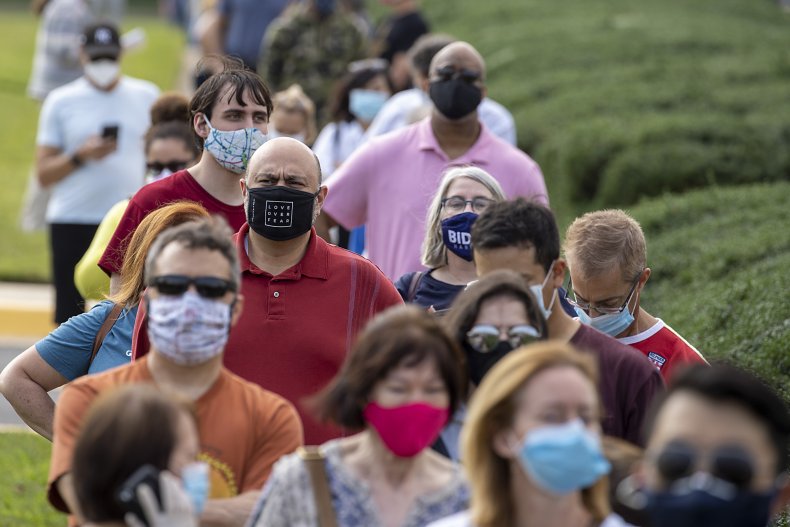 Trump's controversial nomination of Amy Coney Barrett to replace trailblazer Justice Ruth Bader Ginsburg on the Supreme Court within weeks of Election Day is on the minds of Americans across the country. Biden was seen as picking the best Supreme Court justices by 45% of voters, with 36% believing the same about Trump.
Similar issues are sure to be raised in the first presidential debate between the two candidates tomorrow night. Trump's and Biden's records, the economy, the election's integrity and COVID-19 are among the issues on debate's agenda.
A majority of respondents, 51%, said that Biden "cares about people like me," compared to 34% saying Trump did so, with 15 % responding they don't know which candidates most embodies that characteristic, according to the survey's results.
Trump has recently called into question the election's legitimacy given the expected number of mail-in ballots because of the COVID-19 crisis. U.S military personnel stationed overseas and otherwise away from home cast their votes in large numbers every presidential election by absentee ballots.
In the Redfield & Wilton survey, 50% of voters said Biden understands the problems afflicting America, compared to 37% for Trump, and with 13% saying they don't know. . Likewise, 50% said Biden is willing to work with the other party where possible to 32% who said Trump, with 18% "don't know" responses.
In the lone category that Trump bested his Democratic opponent, 46% said the president will be tough on China, compared to 35% for Biden, the lowest voter support he received in the survey, with 19% responding they don't know.
U.S. relations with China have been a hot-button issue amid rising tensions over trade negotiations, the mainland's Communist Party asserting further authority over Hong Kong, and recriminations concerning the origin of the coronavirus and Asian superpower's transparency about the spread of COVID-19.
Trump's lowest marks with voters in the polls came to a question about war, with 28% saying the president is anti-war, compared to 45% for Biden. In a related question, 46% said Biden avoids unnecessary military conflicts compared to 32% feeling that way about Trump and 23% undecided,
The Democratic challenger was seen as a strong leader by 46% over the Republican incumbent's 41%, with 14% responding they don't know.
Trump has questioned Biden's ability to lead, claiming the Democrat has been taking drugs to enhance his performance. The president said he wants Biden to take a drug test before tomorrow's debate.
Biden countered that a leader must be honest and Trump "pissed away" the opportunity to save the lives lost to COVID-19, calling earlier this month for the president to resign over failures to respond to the pandemic.
Biden edged out Trump with 40% saying the former vice president is in good physical and mental health, compared to 36 for the president and 24% answering don't know.
The Redfield & Wilton Strategies conducted the survey of 3,000 registered voters September 26-27. Questions in the online web survey, compatible with both computers and smartphones, were available in English and Spanish. The poll had a margin of error of 1.79%, according to Redfield & Wilton Strategies.