Voters Rally in Philippines as Dictator's Son Faces Current VP in Election
Police are on high alert in the Philippines ahead of the county's general election—with the son of a notorious dictator leading in the polls.
Voters on Monday will choose the successor to outgoing populist President Rodrigo Duterte, who is barred from running again after reaching the end of his six-year term.
The contest is a rematch of the 2016 vice presidential race which saw Leni Robredo narrowly beat Ferdinand "Bongbong" Marcos Jr. after trailing him in the polls.
The 64-year-old son and namesake of Ferdinand Marcos Sr. has emerged as the front runner in this year's election, with polls showing the former provincial governor, congressman and senator, leading Robredo, 57, by over 30 percentage points, according to Reuters.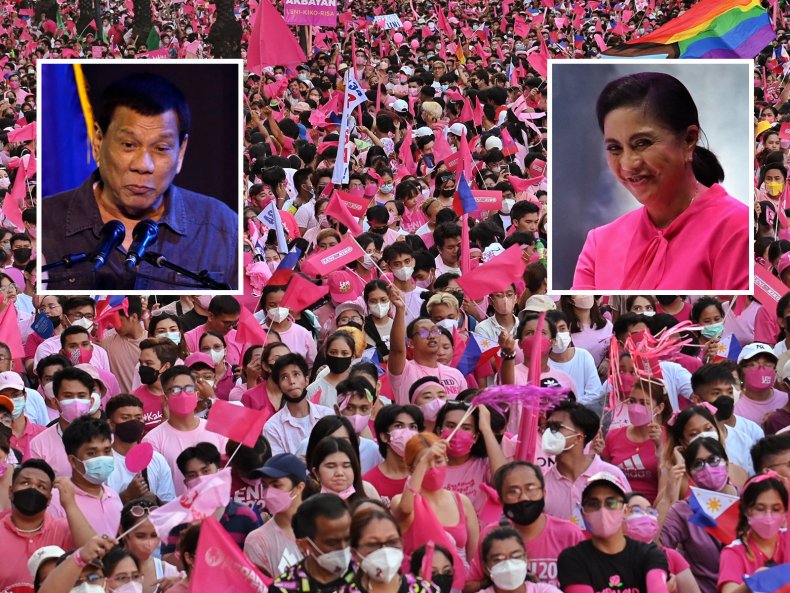 The elder Marcos had ruled the Philippines with an iron fist for 20 years before fleeing to the U.S. with billions stolen from the Filipino people after he was ousted following the People Power Revolution in 1986.
His son has taken advantage of the fact that most young voters do not recall life under his father's rule to amass support on social media and has minimized scrutiny by refusing to participate in debates and limiting interviews.
Speaking to CNN Philippines recently, he hit back at against criticism of the years of martial law imposed by his father, saying "there were people who wanted to bring down the government and the government had to defend itself."
He has also refused to apologize for, or acknowledge the human rights abuses and corruption that took place during his father's dictatorship, portraying the era instead as a time of prosperity and national pride.
The return of the Marcos family to the country's highest office would mark a shocking reversal to the 1986 pro-democracy uprising, and opponents are rallying behind Robredo under what has been described as a "pink revolution."
Robredo, a human rights lawyer, was an economics student at the state-run University of the Philippines when she took part in the massive protests. She entered politics after her husband, a former cabinet minister, died in a 2012 plane crash.
Despite trailing Marcos in the polls, her campaign has been boosted by massive turnouts at rallies, including one on Saturday, as well as volunteers going door to door to persuade undecided voters.
Duterte has not endorsed any candidate even though his own daughter, Sara Duterte-Carpio, is running for vice president.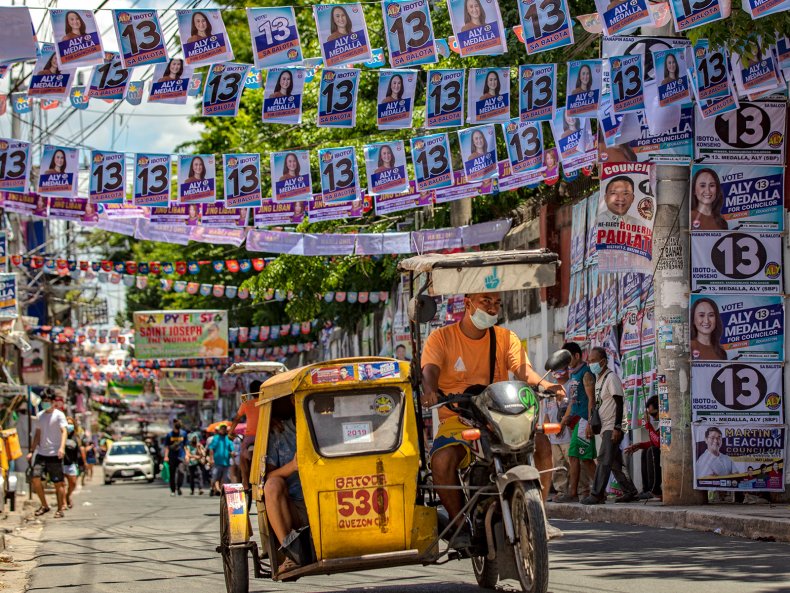 But he assured the Filipino people that the election will be free and fair. "We will do everything to ensure that the election is free from violence and that people are not intimidated in any way to exercise their right to vote and to choose whoever," he said, according to The Manila Times.
Previous elections in the Philippines have been marred by violence as well as allegations of cheating and vote-buying.
Thousands of police and military personnel have been deployed ahead of Monday's vote.
"We are ready for any contingencies," armed forces chief Lieutenant General Andres Centino told a media briefing with police officer-in-charge Lieutenant General Vicente Danao and senior election commission officials.
"We are committed... to ensure that we have a secure, accurate, free and fair elections tomorrow," he said, according to Reuters.