Voters Report Long Lines in Virginia, Minnesota as Early Voting Kicks Off in Four States
Voters in Minnesota and Virginia reported long lines and lengthy wait times as early voting for the November general election kicked off Friday in four states, including South Dakota and Wyoming.
Some were excited to cast their vote in the unprecedented election, while others expressed concern over mail-in voting and potential USPS delays, CNN reported.
"I don't trust the mail right now, that's why [I'm voting today]. If I got to stand here all day, I'm going to vote today," Jim O'Conner, a voter in Fairfax County, Virginia, told CNN.
CNN reporter Kristen Holmes showed off a massive, two-hour-long line outside a Fairfax County precinct. A woman who had worked elections in the state for 20 years told Holmes that she had never seen a turnout like this on the first day of voting, Holmes said.
Hundreds of people showed up Friday morning with the line reportedly looping around inside the building, which had already reached capacity by 9 a.m. At one point, the line looked to be about the length of "two football fields," Holmes said.
In the past, voters in Virginia have needed an excuse if they wanted to cast an early absentee ballot, Christopher Piper, commissioner of the state's Department of Elections, told Newsweek. But this year, the state's General Assembly removed that requirement for the entire 45-day voting period, meaning that any Virginia resident can now vote early, Piper said.
"So this is a change in Virginia, and what we saw on Friday was, I think, enthusiasm about that change and the ability to exercise their most fundamental right of voting," Piper said. "People chose to do the four-hour wait in some localities and were excited for the opportunity to cast their ballot in a new way."
Election administrators in the state are excited because seeing more people being able to vote early means there's less of a chance huge crowds will come out on Election Day, when more people could be exposed to the coronavirus, Piper said.
Voters can go in-person to precincts across Virginia from now until November 2 and can vote by mail until October 23. The enthusiasm for early voting hasn't yet waned, as Piper received reports of voters in line at some localities as early as 5:30 a.m. Tuesday, he said.
People who have requested absentee ballots in Minnesota, South Dakota and Wyoming can cast their ballot in-person or by mail until November 2.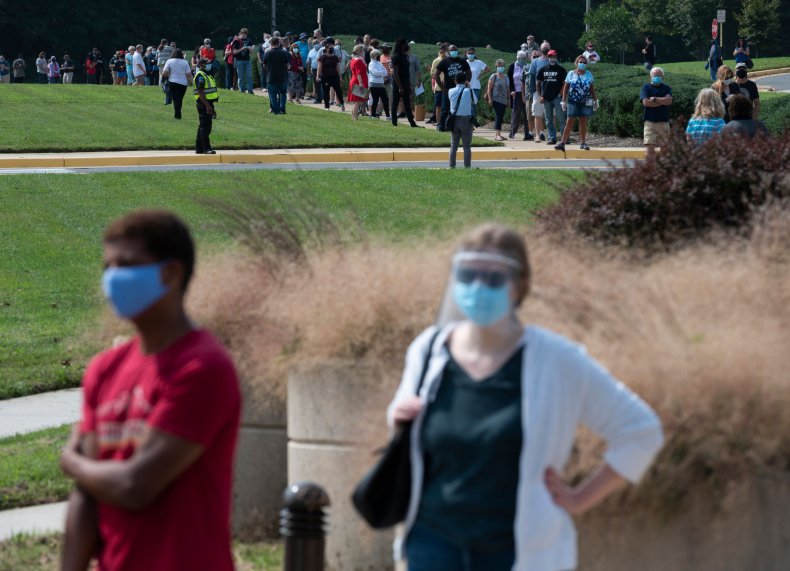 Minnesota voters showed up in droves to cast their absentee ballots in person. CBS News reporter Ed O'Keefe tweeted photos from the city hall in Duluth, one of the voting locations. Around a dozen votes had been cast within the first 45 minutes of its opening, O'Keefe tweeted.
Jason Miller, a 33-year-old painter from Minneapolis, said he "just wanted to come get it done." Miller arrived before his precinct opened, eager to cast his vote for Democratic nominee Joe Biden.
"I was a little inspired to come here the first day," Miller told Reuters. "In fact, probably 3-1/2 years ago I thought I would be here the first day I could."
Risikat Adesaogun, a spokeswoman for Minnesota Secretary of State Steve Simon, told Newsweek that Minnesotans are among some of the first in the nation to cast their votes, and the state saw a "number of people that were very excited" to vote Friday.
"We've seen pictures from around the state of people waiting in line, very socially distant with their masks, and it's an interesting image, seeing people spread far apart waiting patiently," she said. "People are very interested to make their voices heard."
One Twitter user shared a picture from her parents, which showed a "huge line" outside a Minnesota library just one minute after the precinct had opened.
Adesaogun told Newsweek that, as of Friday morning, the state reached a total of 1 million absentee ballot requests. Minnesota has a little more than 3 million voters, she said.
"So assuming everyone's whose requested an absentee ballot decides to vote by mail, it could be well over a third of voters at this point, and of course there's still lots of time until the general election," Adesaogun said.
Dayna Kiewel, deputy auditor in Pennington County, South Dakota, told CNN that they had already seen 150 people cast their ballots by mid-morning Friday—more than the number of early voters seen the entire first day of early voting in 2016.
There's been a "steady stream" of voters come through precincts Friday in Laramie County, Wyoming, Clerk Debra Lee told CNN.
With less than 50 days until the November 3 election, national public opinion polls continue to show Biden leading President Donald Trump. Polling site FiveThirtyEight shows Biden with an average lead of 6.8 percentage points over Trump.
This story was updated on September 22 to include comments from Christopher Piper, commissioner of the Virginia Department of Elections.