Majority of Likely Voters Say Trump's Impeachment, Removal Will Lead to Violence, Poll Finds
As President Donald Trump's impeachment hearings commenced, the majority of American voters think his impeachment and removal from office will lead to violence, a poll released on Thursday found.
The conservative-leaning Rasmussen Reports asked likely voters to answer the question, "How concerned are you that President Trump's impeachment and removal from office will lead to violence?" on Monday and Tuesday. Tuesday was the first day of Trump's impeachment hearings.
A majority, 53 percent, of participants responded they were concerned the president's impeachment and removal will result in violence, with 24 percent saying they were very concerned.
Furthermore, 50 percent of likely voters said they were concerned that people who oppose Trump's policies will engage in violence, with 34 percent saying they were very concerned.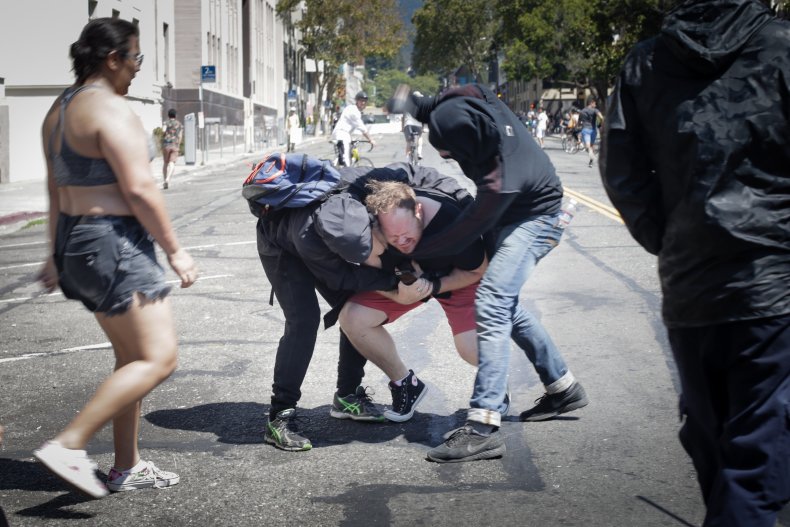 Among Republicans, 60 percent expressed fears of violence if Trump is removed, from both people who oppose his policies and those who back him.
Meanwhile, 40 percent of Democrats said they are very concerned that people in opposition of Trump's policies will behave violently, and only 18 percent were worried about violence from Trump supporters if he is removed.
"Democrats aren't nearly as worried about Trump's supporters which helps explain their strong support for the highly partisan impeachment effort," the Rasmussen report states.
Field work for the Rasmussen Reports poll was conducted by Pulse Opinion Research, LLC, included 1,000 likely voters and had a margin of error of plus or minus 3 percentage points and a 95 percent "level of confidence."
Trump frequently touts his approval rating with Rasmussen Reports, which consistently finds higher numbers for him than other major polls. On Monday,
Trump tweeted an image of himself at a campaign rally along with "50% approval," attributed to Rasmussen Reports, and commented, "THANK YOU!" and his campaign hashtags #MAGA and #KAG, meaning "Keep America Great."
On Thursday morning, he complained on Twitter, "I never in my wildest dreams thought my name would in any way be associated with the ugly word, Impeachment!"
Rasmussen Reports' latest poll also showed that 31 percent of participants think the United States will likely face a second civil war in the coming five years, the exact same percentage that held that belief in its survey in June 2018.
Trump supporters and opposers have clashed at rallies and an event in August 2017 in Berkeley, California, turned violent. A small group of Trump supporters were holding a peaceful protest although their "No to Marxism in America" rally was canceled due to violence concerns, and were confronted by hundreds of Antifa activists who hopped police barricades. A video showed Antifa members stepping on and beating a Trump supporter on the ground, and more than a dozen people were arrested.