Cobb County, Georgia, is deep into this year's election. Nearly 30% of the county's registered voters have already cast their ballots.
Early voting began October 12 in11 locations, with different dates and hours, located throughout the county. In addition, the county has 16 official ballot drop box locations.
The county had 537,621 voters as of Friday, and 72,165 people had voted in-person as of yesterday. Of the 177,243 absentee ballots requested, 88,053 (approximately 50%),had been returned as of Tuesday, for a total of 160,218 votes, according to Cobb County Elections & Registration.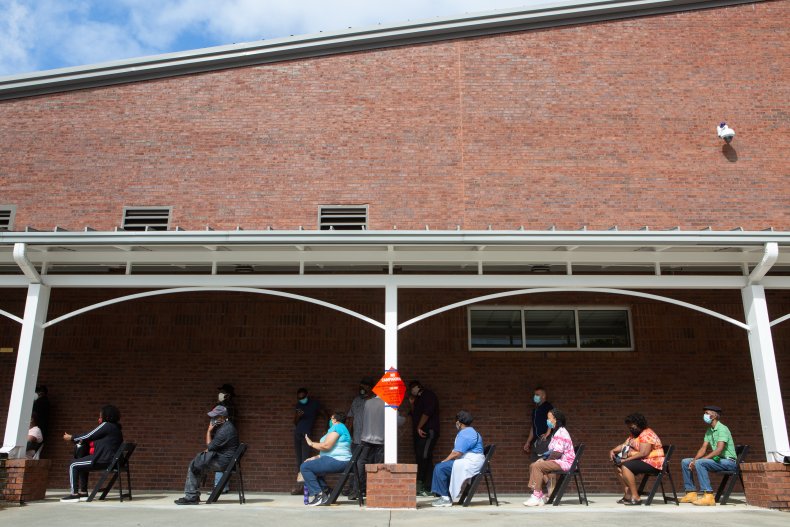 But in the opening days of in-person voting, those headed to polling places faced long lines with waiting times of up to 10 hours at the main election site in Marietta, the county seat, officials at the Cobb County Board of Commissioners told Newsweek.
At one point last Thursday, wait times in Cobb County for in-person early voting ranged from 30 minutes, at the North Cobb Senior Center in Acworth and the Riverside EpiCenter in Austell in the southern part of the county, to three hours at The Art-Place Blackbox Theatre in Marietta, according to real-time updates on the Cobb County Elections and Registration Office's website's Advance Voting map.
But wait times are improving, ranging from 10 to 45 minutes on Wednesday, according to the county website.
Republican Mike Boyce, chairman of Cobb County Board of Commissioners, acknowledged initial problems with bandwidth and internet connectivity to the cloud, additional steps necessary to enter ballots into new voting machines, and voters bringing their absentee ballots to the polling place, all of which added the time it's taken to get votes cast.
"Lines are inconvenient, but I also think they reflect that people stand in line however long it takes to make sure their voice is heard," Boyce told Newsweek. "I think it also reflects that people stand in line not just for themselves but for the legacy of those who went before them to ensure they have the right to vote."
Boyce said on Election Day the county will have adequate capacity to accommodate all the voters.
"On November 3rd we're going to have 144 precincts open in the county for voting," Boyce said. "On Monday (the first day of early voting) we had 11."
Vote counting begins at 7 a.m. on November 3, and the opening and scanning of mail-in began this past Monday, Janine Eveler, director of Cobb County Elections & Registration., told Newsweek by email.
The county's website provides a link to BallotTrax's Georgia page for voters to track their absentee ballots, and the Georgia Secretary of State's site's My Voter Page enables tracking registration.
In Georgia, in addition to the presidential race, there are two contests for U.S. Senate – incumbent Republican David Perdue versus Democratic challenger Jon Ossoff, and Republican Sen. Kelly Loeffler against Democrat Raphael Warnock in the special election to fill out the remaining term of Johnny Isakson, for the seat Loeffler was appointed to in 2019.
Those races are playing a larger part in driving people to the polls. And in Cobb County, there are county and municipal races also drawing voters' attention.
Lisa Cupid, the lone Democrat on the Cobb County Board of Commissioners, said difficulties at the early voting stations has not deterred the march to the polls. She said that, like other metropolitan areas across the nation, the county experienced "disappointing long lines."
"There certainly is a spirit of commitment or conviction to make sure that votes are counted," Cupid said. "The people who are there, are not waiting till Election Day draws near, and they are not waiting till Election Day. They want to vote now to make sure that they have the ability to impact the outcome of the election."
Cupid, who is running against the incumbent Boyce for the County Commissioners chair, added that the people of the county want to be heard despite any impediments.
"Some voters feel like the length of the lines is a form of voter suppression because not everyone has the flexibility or the capability to be able to stand in line for hours at a time," she said, "whether it be work or physical condition, or commitment to family."
Cobb County is home to Major League Baseball's Atlanta Braves, who play in Truist Park in Cumberland. This past Thursday, baseball fans in the Atlanta metropolitan area, including this suburb, tuned into the Braves' playoff game to watch their team defeat the Los Angeles Dodgers. The Braves later lost the National League Championship Series in their failed quest to reach this year's World Series.
Boyce said he was cheering on the home team rather than watching either of the presidential town halls that night.
"You think that the county chairman is not going to watch the Braves play the Dodgers?" Boyce said.
And he wasn't alone.
Nationally, Joe Biden's town hall reached 14.1 million viewers, and 13.5 million people watched Trump's, Nielsen said last week. More than 5 million people saw the Braves game.
Cupid said she watched the Biden town hall last week, but switched over to the Trump town hall during commercial breaks.
"Biden had a chance to fully respond to questions asked, and he did fully respond at length to questions," Cupid said. "But it just seemed to be a less tense, more conversational environment. It was certainly welcome after the first debate."