Voters Will Consider a Record Number of All-Female Races in the 2020 Election
It's been 101 years since Congress passed the 19th Amendment, giving women the right to vote. America passed another milestone in this election year: There are more women running against other women for seats in Congress than ever before in the history of the republic.
According to the Center for American Women and Politics at Rutgers University, which keeps a running tally of female candidates at all levels of government, women have secured both the Democratic and Republican nominations in a record 51 contests for the House of Representatives and Senate.
The previous record of 33 woman-versus-woman races for federal office was set in 2018, the year of the so-called "pink wave" that sent at least 110 women to Capitol Hill.
"The trend is certainly in the right direction," said Jean Sinzdak, the associate director of the Center for American Women and Politics. "Women are definitely mobilizing and are more engaged as candidates for Congress than we've ever seen before."
Some of the races will have the opportunity to make history. New Mexico is on it's way to sending an all-female delegation, and possibly the largest all-women-of-color delegation, to the House of Representatives. It would be just the third time in U.S. history that a state has sent all women to serve in the lower chamber.
Representative Deb Haaland, who was one the first Native American women elected to Congress, said it was "incredible" to be part of a historic class of freshman lawmakers in 2018. With New Mexico on the cusp of making history again, she said she looks forward to the "value driven work we can do together."
"When women are at the decision-making table, we get a vastly different picture of what the country needs," Haaland said. "Women have valuable experiences that lead to policy solutions for families everyday."
Teresa Leger Fernandez, a progressive Latina running for Congress in New Mexico's 3rd district, agreed that women of color "need to be in all the places that decisions are being made that impact our communities."
Fernandez added that lawmakers who understand the strength of diversity are needed now more than ever amid a nationwide reckoning over systemic racism and inequality.
"While this administration has sought to demonize an 'other' to gain political power," she said, "New Mexico's diverse women of color delegation will champion a view that there is no other, just an us."
In another history-making race, Wyoming residents will choose their first female senator in state history. Former Republican congresswoman Cynthia Lummis and University of Wyoming ecology professor Merav Ben-David will face off in the November election.
Both candidates said the opportunity to be the first woman to serve Wyoming in the U.S. Senate shows the state can be pioneering in the present, not just in it's past. Wyoming was the first territory to recognize women's right to vote in 1870. It also had the nation's first all-female jury, the first woman bailiff and first woman governor.
"It only took 150 years for us to get to this stage," Ben-David joked. "But it shows that we can never give up any political race because you never know who will step up and pick up the challenge."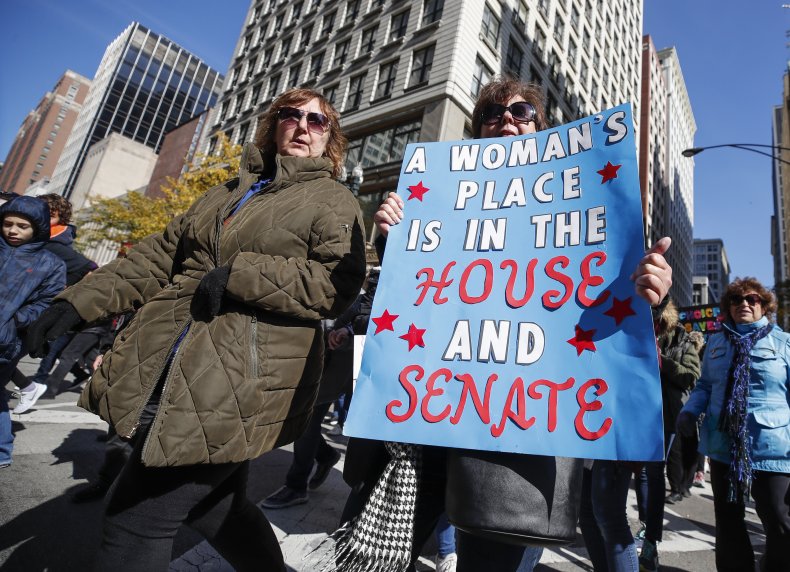 Lummis said having women's voices from all parts of the political spectrum is "essential for our democracy."
"Every individual who holds elected office or a position of power brings a different set of experiences, perspectives and priorities to the table, and this is no different with women," she said. "At this critical juncture in our nation's history, we need more voices at the table that represent real working people and families."
Although there are a record number of women running for office, there is still far from equal representation of men and women in Congress.
Women make up about 23 percent of the House and 26 percent of the Senate, even though women make up the majority of the U.S. population. There are 127 women total in Congress: 101 in the lower chamber and 26 in the upper chamber.
According to the database at the Center for American Women and Politics, there are at least a dozen all-female open-seat congressional contests in election 2020. That means that women are all but guaranteed to pick up 12 new seats, including 11 in the House and one in the Senate.
"It's still going to be a while before we get to parity," Sinzdak said. "But when we see these record numbers, it's really heartening."
She said women are just coming to appreciate the progress they have made.
"It shows that there are a lot of women candidates in the mix," Sinzdak said, "and if you said that maybe 10 or 15 years ago we wouldn't have quite believed you. It just wasn't that commonplace. It's a really positive upward trend in terms of women's representation."