Voting Day Problems in Georgia Raise Tensions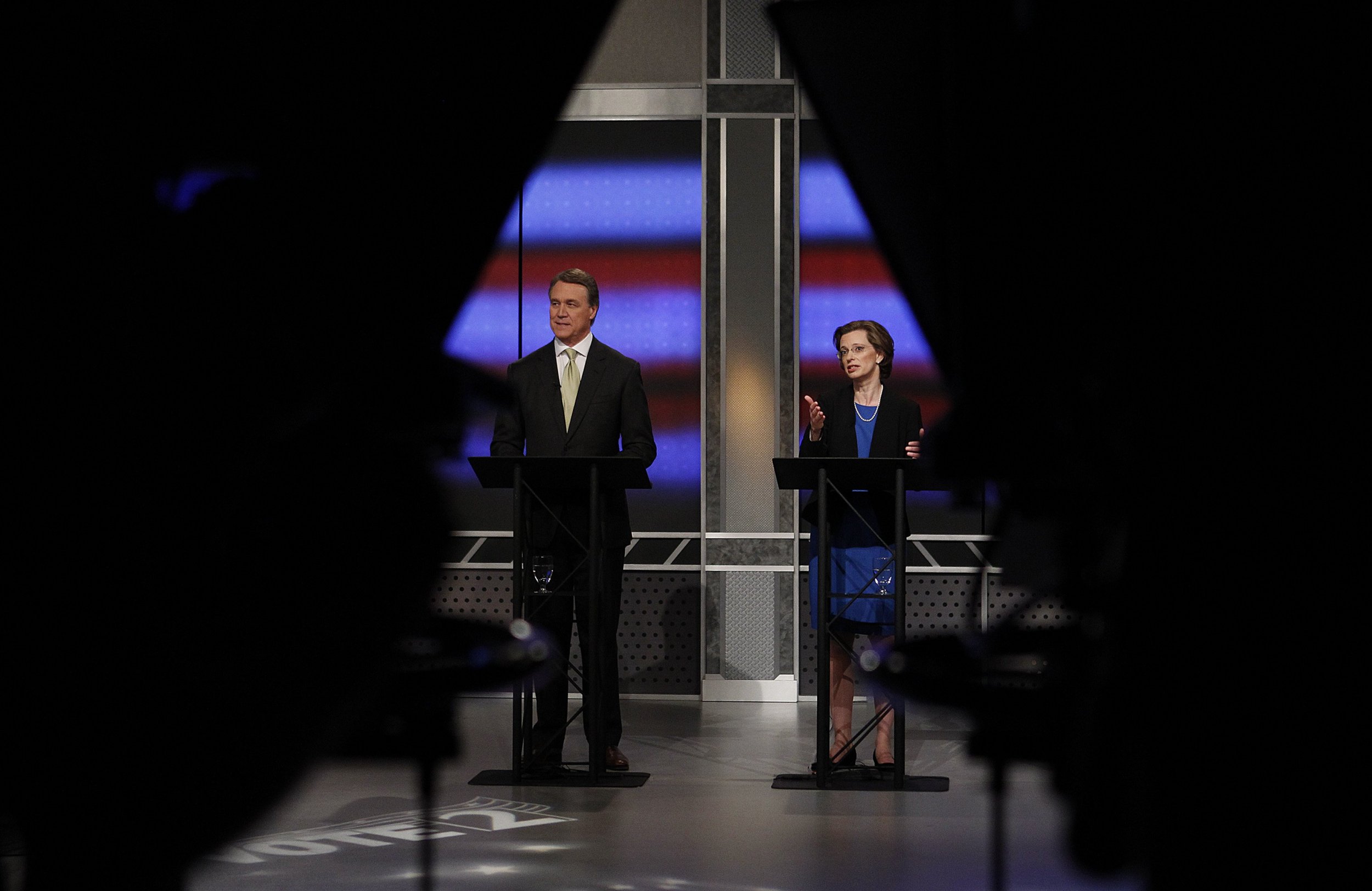 The Georgia secretary of state's website—which is supposed to provide information like the location of polling stations—was down Tuesday morning as voters tried to cast their ballots in two close races.
The Senate race between Democrat Michelle Nunn and Republican David Perdue as well as Democrat Jason Carter's bid for governor against Republican incumbent Nathan Deal are both tight races in which voter turnout could tip the final results one way or the other.
Civic groups in Georgia expressed suspicion and concern about the website's crash, particularly regarding the impact the technical snafu could have on voting by minority citizens.
Georgia Legislative Black Caucus Chair Dee Dawkins-Haigler said she doubted the incident was a coincidence, claiming it was a "blatant obstruction" that indicates that Secretary of State Brian Kemp "doesn't regard the sanctity of the vote for all people of the state of Georgia."
The issue comes soon after news that has incensed Democrats: Roughly 40,000 voter registrations were missing from the public database in Georgia, most of which were collected by the Georgia chapter of the NAACP and the New Georgia Project. The NAACP's Georgia chapter and the New Georgia Project filed a lawsuit against Kemp's office, but a judge dismissed the case the week before Tuesday's election, saying that "there has been no failure of clear legal duty" and that the registrations could still be restored. As of Monday, they had not reappeared.
In a statement released Tuesday, Rashad Robinson, executive director of ColorOfChange.org, said:
Today is Election Day–a day when elections officials should be working overtime to ensure that voting is fair, free, and easy. Unfortunately, even amidst the controversy surrounding his mishandling of over 40,000 missing voter registrations forms, Georgia Secretary of State Brian Kemp's office has mismanaged another key aspect of the process–locating your polling place. With so many hotly contested races on the line, it's disappointing and dismaying to see that eligible Georgia voters are waking up to find one more roadblock on their path to full democratic participation today.
Michele L. Jawando, vice president of legal progress at the Center for American Progress, released a biting letter to Kemp Tuesday, citing long lines, missing registrations, the disabled website and parking charges at the Georgia Tech polling site as examples of obstacles that "[make] it clear that voters in Georgia are not freely able to exercise this most cherished right," she wrote.
"We call upon the secretary of state's office and the county board of elections to investigate and address these issues immediately to ensure that Georgians can exercise their legal right to vote," she said.
Kemp's office did not immediately respond to a request for comment Tuesday on any polling problems and the missing voter registrations.