Voting Machine Missing After GOP Clerk Who Shared QAnon Memes Is Stripped of Authority
A criminal investigation was opened by Michigan State Police on Thursday following the disappearance of a voting tabulator after a Republican county clerk was stripped of her authority to conduct the next local election.
Stephanie Scott, the Adams Township clerk and a poster of QAnon memes on social media, refused mandatory maintenance on the machine because she did not trust it and wanted to preserve old election data, Bridge Michigan reported. As a result, the Michigan Bureau of Elections moved to strip Scott's election administration authority on the grounds that she was not fulfilling her "legal responsibilities."
But Marney Kast, a Hillsdale County GOP clerk now in charge of running the Adams Township election, said her office was unable to find the tablet when they retrieved the municipality's equipment.
"I don't know where it's at or if it's been tampered with," Kast told Bridge Michigan. She said that she and her staff went to the town hall on Monday at the request of Michigan Bureau of Elections Director Jonathan Brater to secure the voting machine.
The same day, Brater wrote Scott a letter directing her not to complete any administrative activities related to the election. Scott accused the state of "tyranny" as a result.
"The county clerk's office and now Secretary of State are demanding I drop off my machine for unfettered access, and God only knows doing what to it," Scott told Bridge Michigan earlier this week. "When you have the fox guarding the hen house, somebody's got to stand up and guard those hens."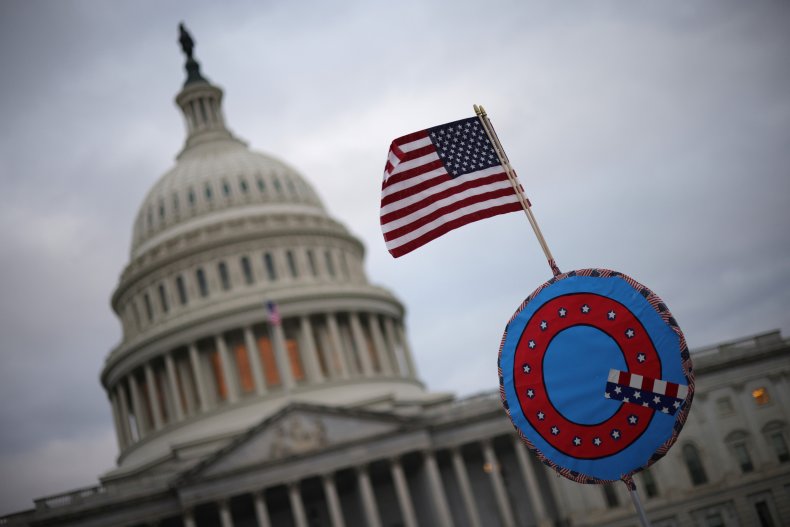 Michigan Secretary of State Jocelyn Benson's office confirmed there was a pending criminal investigation but did not provide any further details. Michigan State Police also affirmed they are investigating at the request of the secretary of state.
Scott had recently been warned of the "consequences should you continue to fail to perform your statutory duties" and was asked to correct "false" statements she made by the state regarding the voting tabulator.
Some conspiracy theorists believe that the machines were used to steal the election from former President Donald Trump in 2020 but there has been no such evidence.
In the letter, Brater even explained to Scott that the tabulator doesn't store data but houses a USB device for each election. That information is later downloaded for preservation, but local clerks also keep all paper ballots.
Scott's personal Facebook page includes news articles from far-right sources like Breitbart and includes memes as well as misinformation about President Joe Biden, COVID-19 and the mainstream media.
It also included messages of support for QAnon, a far-right conspiracy theory movement centered around false claims made by anonymous individuals, such as the group's phrase "where we go one we go all," or "WWG1WGA." Other images showing the QAnon logo appeared to be deleted, Bridge Michigan reported.
Newsweek reached out to the Michigan's secretary of state for comment.