Voting Underway in Ukraine Regions to Determine if They Should Join Russia
What follows is NewsGuard's summary and translation of top news stories from Russia's state TV Channel One. NewsGuard presents these stories in the order that they appear on the program. NewsGuard shares this summary as part of our mission to monitor and report all categories of misinformation, including Russian disinformation. Please note that these summaries of Russian state TV broadcasts may well contain falsehoods or propaganda, and NewsGuard does not vet them for accuracy or balance.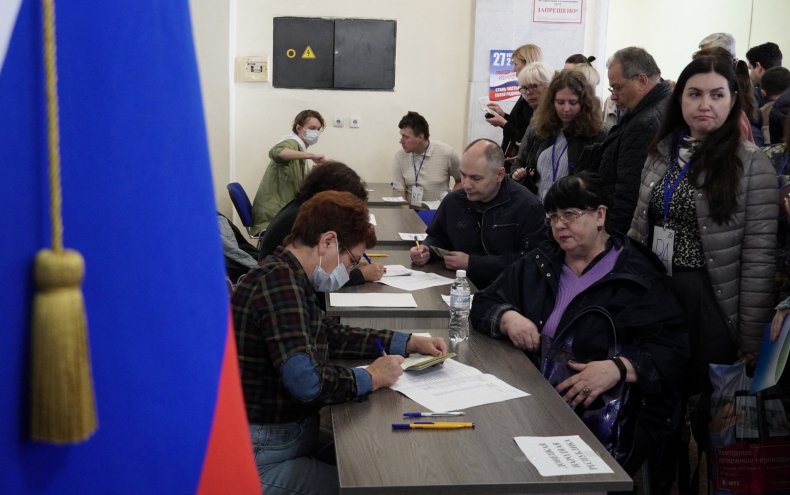 Donetsk and Lugansk People's Republics decide on future
At this time (September 25), referendums on joining Russia are taking place in the Donetsk and Lugansk People's Republics. The required turnout is more than 50 percent. In the Donetsk People's republic, the threshold was crossed a day earlier. In the Lugansk People's Republic, the turnout over the past three days has been 76.09 percent.
A referendum was also held in the Zaporozhye region with a turnout of 51.55 percent. The required turnout was practically achieved in the Kherson region, with 48.91 percent. All of this is preliminary data.
There are two more days of voting ahead. The Ukrainian terrorist regime is trying with all its might to prevent people from expressing their long-awaited and hard-won decision.
Majority of residents declare intention to participate in referendum
Interest in voting is high, and public opinion on the issues raised has been formed, according to sociologists. Data from two research centers, VTSIOM (Russian Public Opinion Research Center) and INSOMAR (The National Institute for Opinion Surveys and Marketing) shows that the majority of residents of the people's republics of Donbas, Zaporozhye and Kherson regions announced their intention to participate in the referendum.
The poll was conducted on September 22, as well as on the 23rd, that is, when people were already voting. Both VTSIOM and INSOMAR predict that almost every one of those polled are for their subjects joining the Russian Federation.
Partial mobilization: Strategic motives and stories of those already sent
Referendums are a way to achieve security. These are not empty words. The Kyiv regime is ramping up open terror against unarmed people. Vladimir Putin took all this into account when he said that Russia would support the choice of people in the Donbas republics, in the Kherson and Zaporozhye regions.
The Ukrainian regime is trying to take advantage of the days for voting from a military point of view, using particular force. Our country's decision to respond has not been easy, but the time for easy options has passed.
Channel One correspondent Ivan Konavolov said: "The partial mobilization is one of the central elements of the overall strategic deployment of the Russian Armed Forces, responding to the challenge of the world war of the political situation, and is, as a result, the solution of specific tasks of a special military operation. This concerns the mobilization of both the Russian economy and Russian society for the sake of victory, which is one for all. To achieve this, a strategic decision is necessary.
He continued: "300,000 reservists should be called up for military service for mobilization. This is approximately one percent of Russia's 25 million mobilization reserve. This is only military specialists, tankers, artillerymen, sappers, air defense systems operators, mechanics and drivers....Many volunteers are coming [to enlistment offices]."
One volunteer said: "I want to defend my homeland...I served seven years abroad." Another volunteer said: "I was brought up on the fact that a man is obliged to and should serve."
The head of the republic of Crimea, Sergey Aksyonov, said: "The law is the same for everyone. Today, my son was called up. In the morning, he had already left for the unit....I'm proud of my son's deed."
Each mobilized Crimean will receive a one-time financial assistance in the amount of 200,000 rubles (about $3,444). Russian regional authorities are supporting the mobilized and their families.
National Security: Our ways of repelling NATO aggression
Vladimir Putin spoke about the desire of the collective West to weaken and destroy Russia as a reason for deciding on partial mobilization. The supply of Western weapons to the Kyiv regime and foreign mercenaries on the side of the terrorist state of Ukraine is the most visible but still only part of the plan that NATO is trying to implement, using the latest techniques, but not forgetting those already tested.
Putin said on September 21: "The West has gone too far in its aggressive anti-Russia policy. It makes endless threats to our country and people. Some irresponsible Western politicians are doing more than just speaking about their plans to organize the delivery of long-range offensive weapons to Ukraine, which could be used to attack Crimea and other Russian regions.
"Such terrorist attacks, including with the use of Western weapons, are occurring at border areas in the Belgorod and Kursk regions. NATO is conducting reconnaissance through Russia's southern regions in real time and with the use of modern systems, aircraft, vessels, satellites and strategic drones.
"Washington, London and Brussels are openly encouraging Kyiv to move the hostilities to our territory. They openly say that Russia must be defeated on the battlefield by any means, and deprived of political, economic, cultural and any other sovereignty and ransacked."
Mass rallies for "We don't abandon our own" took place all over Russia
Residents of the republics of Donbas, Kherson and Zaporozhye took part in the referendums in order to stop allowing swastikas and mercenaries on their land, and to receive reliable protection.
They were supported throughout Russia. A huge rally-concert took place in Manezhnaya Square in Moscow. All those who came were united by the slogan "We do not abandon our own." The main speakers on the stage are the heroes of the special operation, military officers of Donbas, one of the commanders of the battalion Sparta, Alexander Agranovich and his daughter Ekaterina.
Alexander Agranovich said: "We were civilians. I never knew how to use either ATGMs [anti-tank guided missiles] or RPGs [rocket-propelled grenades]....War teaches quickly. I serve in the Sparta Battalion. 30 or even 40 percent of the battalion are Russian volunteers who, together with us, have been defending our land with weapons in their hands for eight years. And we know one thing: we will win and victory will be ours."
Ekaterina Agranovich said: "In fact, all the inhabitants of Donbas are now at the forefront. We are very, very tired. The referendum is like a breath of fresh air because we have been waiting for it for eight and a half years and for us it is a real holiday. But there is only one problem: thousands of our fallen did not live to see this day."
Putin said: "Being a patriot is the essence of the nature and character of the Russian people. Now, in the course of a special military operation, our heroes, soldiers and officers, volunteers are demonstrating precisely these highest human qualities, fighting bravely, shoulder to shoulder, like brothers, for the sake of saving the people of Donbas, for the sake of a peaceful sky for our children and grandchildren, for the sake of their native country, which will always be only free and independent.
"For 1,160 years, we have firmly learned that it is mortally dangerous for Russia to weaken its sovereignty for some time, to abandon national interests. During such periods, the very existence of Russia was threatened."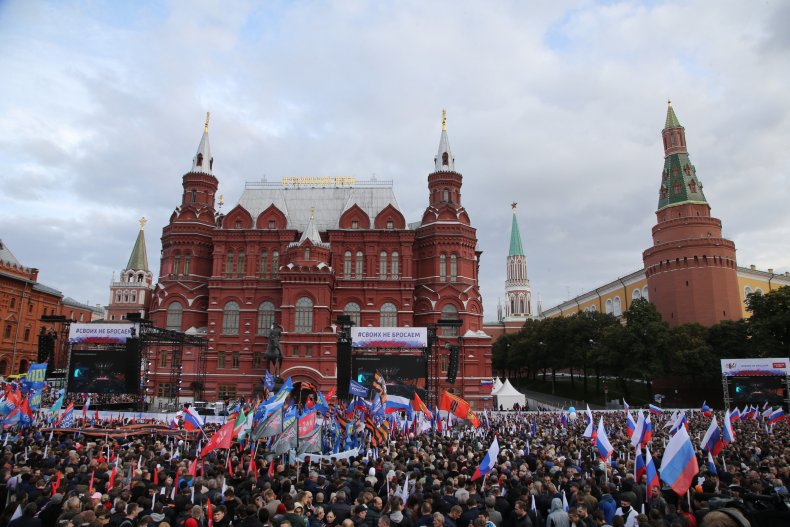 55 of our soldiers returned from Ukrainian dungeons share stories
On Thursday night, 55 Russian soldiers returned from Ukrainian captivity. This was preceded by the most difficult negotiations. But how can we talk about difficult negotiations when our people have been through hell?
They returned and are once again with their dearest. How parents waited for this day! For three months, they had no news about their sons apart from an SMS from a Ukrainian number, saying they would never see their sons again. One soldier said: "The most important thing was that they didn't forget about us, that Russia exchanged us, and that we all were already home on the territory of Russia."
He said: "[the Ukrainian army] made a torture device from a military device, they attached it to people's legs and sent current through it and then interrogated us."
Payment for sanctions: Electricity, gas bills ruin people, entire industries
The joy of European officials about the success of anti-Russian sanctions looks strange, to say the least, against the backdrop of the obvious economic problems in the Old World.
According to experts, the energy crisis has already led to the shutdown of 70 percent of the production of nitrogen fertilizers, the production of aluminum fell by a quarter, and steel by 5 percent. And these trends will likely only grow, as will the discontent of the residents, who shudder at the thought of winter arriving.
Channel One correspondent Timur Siraziev said: "'Freeze the prices not the people,' is the slogan at this protest [in Belgium]. Мore more than half of the residents in Belgium can no longer pay sky-high electricity bills and 40 percent are in debt, 30 percent are making cuts on their health costs, according to survey data.
So every resident of the country can relate to the demands of these demonstrators. New protests against high prices are breaking out in regions in Germany, France, Belgium, Italy. Europeans are despairing, businesses are on the verge of ruin."
One protester in Naples said: "We can no longer endure, we want the government to take decisive action, we demand higher wages and help for the destitute on their knees."
The segment shows a TikTok video, in which a British woman said: "I'm 31 years old, I never thought I'd be in this situation. Here's my one-bedroom flat that I can't afford to pay rent on it anymore. I went to social services, and they've given me vouchers for food."