Steven Crowder Incites Homophobic Harassment of Vox Reporter, YouTube Slow to React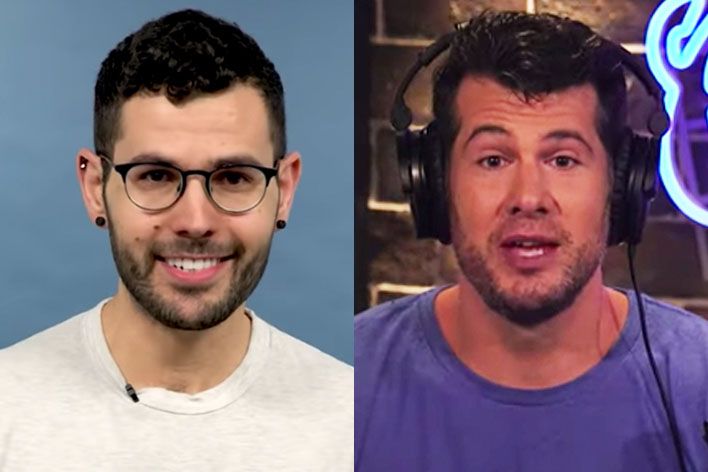 Carlos Maza, a video journalist for Vox who hosts its Strikethrough video series, which discusses politics and news, has spoken up about harassment he's experienced from YouTuber Steven Crowder and his fans. Crowder has amassed more than 3.8 million subscribers since joining the platform in 2006 by touting an alt-right ideology and criticizing the "left wing media." Each of his videos pull in hundreds of thousands—sometimes millions—of views from loyal viewers of his Louder with Crowder series.
Crowder has made numerous homophobic remarks directed at Maza in his videos, referring to him in at least seven videos as "little queer" and saying "you're given a free pass to be a crappy writer because you are gay."
In a Twitter thread posted Thursday night, Maza explained that anytime Crowder talks about Strikethrough on his show, "I wake up to a wall of homophobic/racist abuse on Instagram and Twitter." One tweet showed a barrage of text messages saying "debate steven crowder" sent to Maza's personal number after it was leaked online.
Maza's thread included a 90-second supercut of Crowder's videos from the past two years, in which he repeatedly mocked Maza's sexuality and liberal views. In one of Crowder's newer videos lambasting Vox's critique of how Fox News impacts the larger news cycle, he calls Maza a "gay mexican," "gay V-neck" and says "we just see your irony and mock you mercilessly for it."
"I created the video because you don't realize how constant and gross it is until you see it back to back," Maza told Newsweek. "I just needed to be able to show people something to say 'See? This is happening!' So much of being harassed is feeling gaslit about whether you're being harassed." The reason he created the thread was to get YouTube's attention, after flagging multiple Crowder videos and seeing no results from the platform. "I just got sick of it," Maza said. "It's wild that so much public pressure is needed to get them to enforce their own rules."
Maza tells Newsweek that he first learned of Crowder in 2013, after he tried his hand at comedy and "bombed" at the American Conservative Union event. "I'm an easy target, because I come off as stereotypically gay and make arguments about politics," Maza said. "I think his fans come after me because they're just following the leader." He explained he believes that YouTube allows Crowder to remain on the platform because the company leadership "is terrified of being accused of liberal bias" and "bigotry, tribalism and bullying… gets incredible engagement."
"They're convinced I'm a monster and I don't want to argue that I deserve to be treated with dignity."
YouTube's harassment policy, states that "content that makes hurtful and negative personal comments/videos about another person" is not allowed on the platform. Maza calls out the video hosting service in the Twitter thread for not only allowing Crowder to continue to make content, but also for making money off of him. "YouTube is designed to give those a**holes a megaphone, push new followers in their directions, and keep them listening. It's a weapon," Maza wrote in the thread.
In 2017, YouTube came under scrutiny for suppressing videos about LGBTQ+ issues and keeping viewers from finding them by age-restricting or demonetizing them. After the backlash, YouTube said that it was a technological "issue" that had lead to "unintentionally filtering content" and would be working on fixing it. Problems continued to arise, like in July 2018 when anti-LBTQ+ ads appeared on their videos. YouTube has tried to make amends with solidarity tweets and a series of LGBTQ+ documentaries premiering on the platform over the summer, but creators still deal with harassment and demonetization.
Crowder released a video response to Maza's claims, calling the situation "a giant corporate media entity trying to silence voices they don't like" and a "war we will fight to the bitter end." He claimed his homophobic language was "playful ribbing" and insisted that "it's funny, it's a comedy show. 'Lispy queer' is harmless, and I enjoy saying it." In Crowder's eyes, it's "NBC Universal versus you guys," referring to his fan base. "This is David versus Goliath."
"He seems… spooked by the reaction so far," Maza said about Crowder's video. Crowder did not respond to Newsweek 's request for comment.
Maza is one of several journalists targeted by antagonistic members of online fan communities in recent days. Earlier this week, Boston Herald reporter Marisa Ingemi and USA Today's Jessica Haslem reported on concerns surrounding the partnership between the NHL's Boston Bruins and Barstool Sports, a controversial website criticized for stealing jokes, promoting chauvinistic behavior and riling up its fanbase. A wave of vitriol and harassment was directed at them from Barstool fans online. "Every single comment sent my way has been in regards to my appearance or something about me, and nothing about the content I produce," Ingemi wrote on Twitter.
The similarly personal nature of the insults and attacks from Crowder and his fans are also troubling to Maza. "This kind of thing has become a part of the job, and it really messes with my work," he said. "I find myself constantly looking over my shoulder when writing scripts, when recording, trying to see if there's anything I'm doing that's going to provoke another Crowder response. It's f***ing exhausting and I hate how much mental energy I waste trying to avoid abuse. It's like high school all over again."
Maza has little to say to Crowder's fans: "They're convinced I'm a monster and I don't want to argue that I deserve to be treated with dignity."
A YouTube spokesperson told Newsweek its "teams have reached out to Carlos and are investigating these claims. We do not have more to share yet."