Senator Kamala Harris and Vice President Mike Pence went head to head behind a layer of plexiglass for the first Vice Presidential of Election 2020 Wednesday night for a spectacle that saw an actual fly take center stage.
The 90-minute debate was held at the University of Utah in Salt Lake City and was a decidedly much calmer affair than the first presidential debate between President Donald Trump and Democratic nominee Joe Biden.
A literal fly dominated much of the discourse around the debate online, as the insect landed on Pence's head and stayed there for around two minutes, prompting endless takes and jokes.
As Americans tuned into the debate, many celebrities were also watching and tweeting their takes with some of Trump's most famous critics like Bette Midler and Jim Gaffigan were not impressed with the vice president's performance.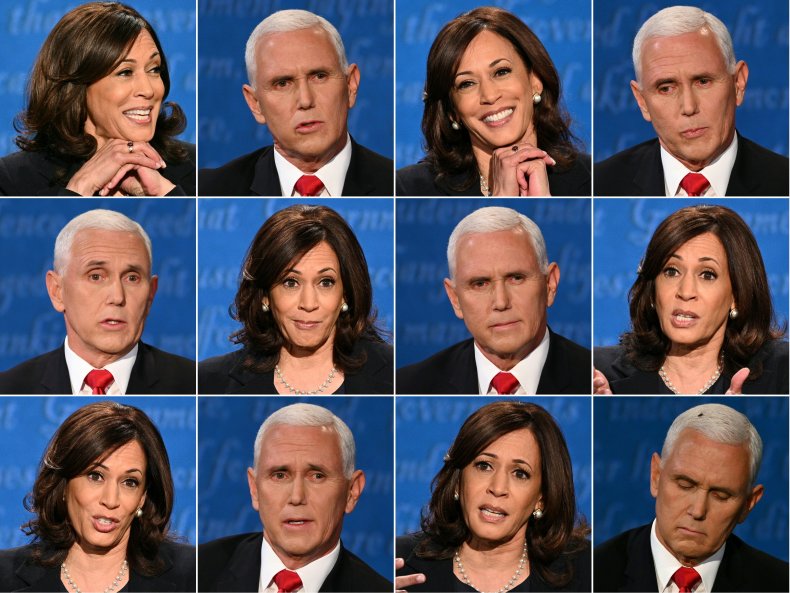 Hocus Pocus actress Midler was certainly not impressed with what Pence had to say and called him a "mealymouthed loyalist."
She tweeted: "#mikepence is a mealymouthed loyalist. This administration did nothing to help people get through this pandemic, NOTHING. He should hang his head in shame. I hope this follows him forever."
Stand-up comedian Jim Gaffigan was equally unimpressed, tweeting: "How about at future debates if a participant doesn't answer a question the moderator could press a button that makes them fall into a pool of water. #Debates2020."
Fight Club actor Edward Norton said he was sick of seeing "these guys" referring to Pence "failing upwards."
"Amen. So sick of watching these guys who have failed upward their whole lives, reeking of entitlement & impatience, treating women who are intellectually superior to them rudely & blathering lies," he wrote. "Time 2 put these disrespectful misogynist trolls in the rear view mirror of history."
Alyssa Milano is not happy with the attention the infamous fly is getting, deeming it a "distraction."
"If we keep talking about the fly then we aren't talking about Kamala's brilliant debate performance," the Charmed actress wrote. "Don't let the other side have the fly as a distraction.
"This debate was a disaster for Pence. Pence was Trump with a smile. Same person. Different delivery. #TrumpPenceFailure."
Podcast host Jemele Hill had plenty to say about the fly on the other hand.
"I know y'all see that fly on Mike Pence's head. Makes sense since flies are attracted to s***," she said.
"Mike 'The Fly' Pence has got to go. Vote #BidenHarris2020," was Patricia Arquette's message to her followers.
Iconic horror author Stephen King meanwhile, eerily joked: "The fly knows."
Television host Conan O'Brien joked about Pence's appearance and added: "Looks like Mike Pence has locked up the white suburban mortician vote."
Other takes on the debate came from Star Wars legend Mark Hamill, Ratched star Sarah Paulson, AGT's Gabrielle Union, Michelle Obama and more.