Vice President-elect Kamala Harris will resign from her U.S. Senate position on Monday ahead of Inauguration Day, said her aides, according to The Associated Press.
California Governor Gavin Newsom reportedly knew of the decision and had chosen current California Secretary of State Alex Padilla to fulfill the remaining two years of Harris' term.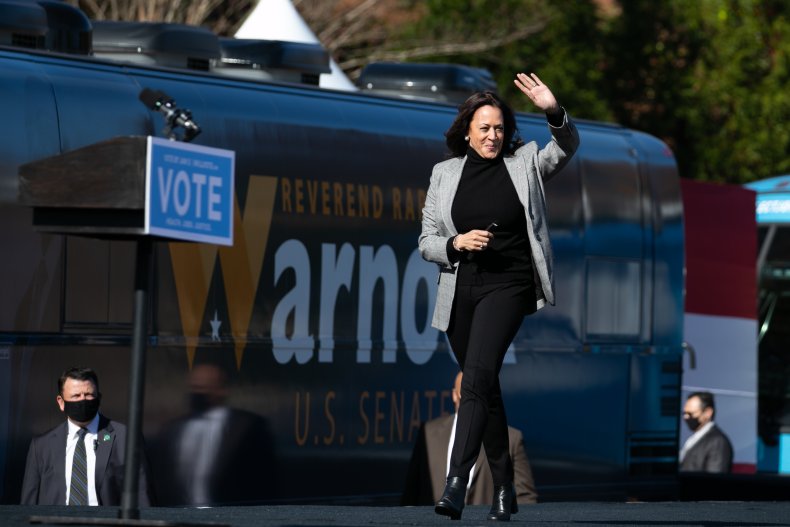 A Democratic senator from California, Harris was sworn into the U.S. Senate in November 2016. A former attorney general of California, she is known for her tough questioning on the Senate Judiciary Committee, introducing the Maternal CARE Act as well as bipartisan anti-lynching legislation and an election security bill.
"I was raised to not hear 'no,' let me be clear about it," Harris said in a new interview with CBS Sunday Morning. "So, it wasn't like, 'Oh, the possibilities are immense. Whatever you want to do, you can do.' No! I was raised to understand many people will tell you, 'It is impossible,' but don't listen."
As the presiding official over the Senate, Harris will need to balance a potential impeachment trial to convict President Donald Trump with President-elect Joe Biden's priorities for the administration's first 100 days.
"As an incoming administration, our first priority has to be to get control of this pandemic, and get people back to work and get kids back to school." Harris told CBS Sunday Morning.
She added: "Let me be very clear about my position on Donald Trump: I strongly believe that he is incapable of being President of the United States, that he has been incompetent. And that's why I ran against him, and that's why Joe ran against him. So, this is not a statement about Donald Trump, but the American people deserve that in their president and vice president coming into office that we address the things that are weighing on them, and implement a plan. And that's what we're gonna do. It's not to the exclusion of many other things that need to be addressed around accountability, but that's our focus."
As vice president, Harris will swear Padilla into office, as well as Georgia Senators-elect Jon Ossoff and Raphael Warnock, securing a slim Democratic majority in the Senate chamber.
The son of Mexican immigrants, Padilla is slated to become the first Latino senator from California, representing the Latinos who make up about 40 percent of the state's population, according to the Public Policy Institute of California.
"Secretary of State Padilla is a champion of our American Democracy. As Secretary of State, his tenure has been distinguished by his outstanding work to protect voting rights, secure our elections from foreign attack and expand access to the ballot for millions," House Speaker Nancy Pelosi said in a statement on December 22. "His leadership to combat the climate crisis, end gun violence and expand access to health care, education and jobs will similarly be critical to Congressional Democrats' work with the Biden-Harris Administration to ensure that every American has the opportunity to succeed in the 21st Century economy."
Newsom has nominated Shirley Weber to replace Padilla as California secretary of state. She will be the first Black woman to hold the position.
Harris will become the first Black and South Asian woman to serve as vice president. There will be no Black women in the Senate following her departure from her seat.
About 90 percent of Black women voted for the Biden-Harris ticket in the 2020 presidential election, according to USA Today.
Justice Sonia Sotomayor, who is the first woman of color to sit on the Supreme Court, will reportedly swear in Harris on Wednesday's inauguration using Justice Thurgood Marshall's Bible, according to the AP.
Vice President Mike Pence reportedly called Harris to give his congratulations to her last week. Trump continues to incorrectly claim he won the 2020 presidential election and has not contacted Biden.
Because the Senate is not scheduled to reconvene until after Inauguration Day, Harris is not slated to deliver a farewell speech.
The Washington, D.C. office of Harris did not respond to Newsweek's request for comment.
Updated 11:10 AM ET, with additional information.