VP Pick Pence: Trump Ticket Will 'Lead From Strength'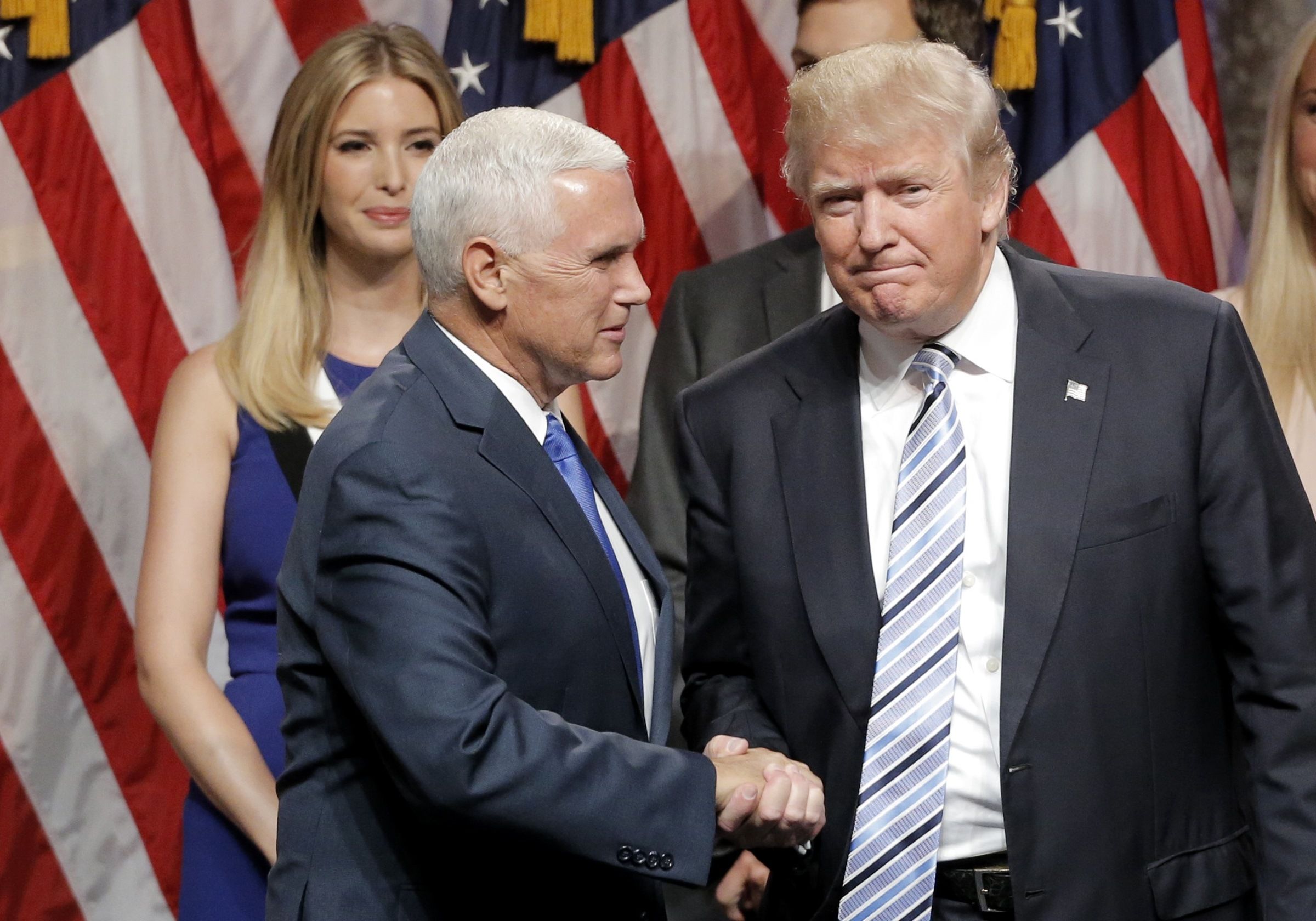 Indiana Governor Mike Pence made his official debut as Donald Trump's vice presidential choice—and Hillary Clinton antagonist—at a news conference Saturday.
"I answered this call for two reasons. First, because I know from first-hand experience that strong Republican leadership can bring about real change. And secondly, because Hillary Clinton must never become president of the United States of America," Pence said after being introduced by Trump at an event in Manhattan.
Pence depicted the presumptive Republican ticket, just two days before the start of the Republican National Convention, as embracing traditional Republican values of smaller government, fiscal responsibility and strong national defense while describing his rise as a "small-town boy" in Indiana who served in Congress before winning the governorship of his state. He promised that he and Trump—whose shifting positions and departures from party orthodoxy have alarmed and mystified many Republicans—would govern as a traditional conservative while also hailing him as an anti-establishment figure.
"The choice cannot be more clear, the stakes cannot be higher. Americans can choose a leader who will fight to make America safe and prosperous again and bring real change or we can elect someone who literally personifies the failed establishment in Washington D.C.," Pence said.
The Indiana governor, who emerged as Trump's pick after very public auditions of the likes of N.J. Governor Chris Christie and former House speaker Newt Gingrich, is a "Christian, conservative and a Republican—in that order," who embraced the Democratic Party as a boy before being "inspired by the ideals and eloquence" of President Ronald Reagan to join the GOP. He described himself "battling the big spenders in both parties" in Congress before returning home.
"In Indiana we prove everyday you can build a growing economy on balanced budgets, low taxes...even while making record investments in education, roads, health care. We like to say Indiana is a state that works. And it does. Indiana works because Republican principles work every time you put them into practice," Pence said.
"Activist judges," abortion, terrorism, health care and more—Pence seized on virtually all of the Republican attack lines and complaints about President Obama in seeking to tie Clinton to the man she served as secretary of state, who has hit the campaign trail of late to support her.
"History teaches us that weakness arouses evil. Hillary Clinton and Barack Obama's foreign policy...is a testament to this truth of history, and we must bring a change," he said to loud applause. "We cannot have four more years of apologizing to our enemies and abandoning our friends. On the world stage, Donald Trump will lead from strength, will rebuild the arsenal of democracy, stand with our allies and hunt down and destroy the enemies of our freedom."
Trump described Pence as his "first choice" for the job but has admitted that he went with the governor for "party unity...because I'm an outsider." Pence is seen as reliably conservative and someone who can offer cover for establishment Republicans to come around on Trump despite his departures from Republican ideals on trade and foreign policy, as well as his history of racially charged and offensive remarks about numerous groups of Americans.
"I truly believe he will be outstanding in every way," Trump said.