Vulnerable Dems Continue to Come Out for Impeachment Amid Ukraine Scandal: 'Move the House To Do What's Right'
Vulnerable Democrats continued to announce their support for impeachment proceedings Tuesday ahead of an important caucus meeting with House Speaker Nancy Pelosi and amid a scandal over whether or not President Donald Trump reportedly pressured a foreign nation to investigate one of his political foes.
News that Trump temporarily withheld hundreds of millions in aid from Ukraine before pushing them to investigate the son of former Vice President Joe Biden, the leading Democratic candidate for the 2020 presidential election, has spurred freshmen Democrats—many representing swing states—to vocally support pushing forward with an impeachment inquiry. Some of the more longtime pro-inquiry members believe this new support could be crucial in convincing Pelosi to officially back impeachment proceedings.
As of Tuesday, a majority of the 44 Frontline Democrats—a group of mostly freshmen who are viewed by the party as the most susceptible to losing their seats in 2020—had announced support for actions ranging from outright impeachment to continuing to conduct an inquiry through various committees.
"I think it's going to help move the House to do what's right," said Rep. David Cicilline (D-RI), a Judiciary Committee member who's long supported an inquiry. "The Speaker has always been clear about listening to where the caucus is on this," he said.
Rep. Jamie Raskin (D-MD) said he viewed the latest wave of new support from his colleagues as a "landslide movement towards impeachment in the Democratic caucus," making it clear he believed Pelosi should back the party and support impeachment proceedings.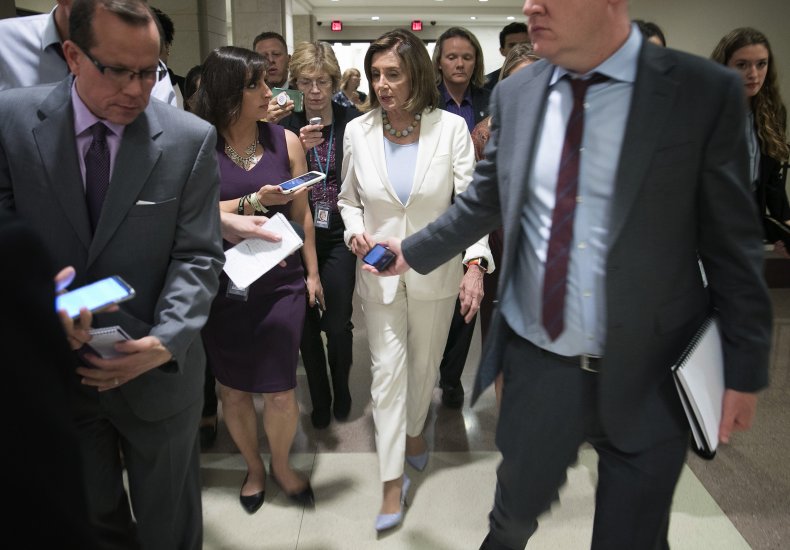 "I think impeachment articles are inevitable. There is a growing clamor throughout the Democratic caucus, which are growing firmer throughout the Democratic Party," the Judiciary member said. "I felt from the beginning that the Speaker would be leading us when the moment came, when it was clear that the country really understands how this president has been betraying his oath of office and betraying the people. And we're there."
House Democrats have scheduled a 4 p.m. closed-door caucus meeting following a separate, private leadership meeting. In caucus, Pelosi will undoubtably be presented with the dilemma of whether to finally fall in line with the majority of her colleagues and support impeachment proceedings.
Rep. Sylvia Garcia (D-TX), a Judiciary member who already backs the panel's ongoing impeachment investigations, said the latest Ukrainian revelations might even be "the last straw" for Trump as president, as rumors in Washington swirl around whether the party will take formal steps to introduce articles of impeachment.
"It's almost like enough is enough," Garcia said, adding that she was interested to hear what Pelosi and the rest of the caucus had to say.
Pelosi has sought to protect the moderate, freshmen Democrats. But several of them have made their positions clear that they, too, are now for impeachment proceedings in the wake of the Ukraine scandal, making it increasingly difficult for Pelosi to continue tamping down impeachment talk.
"The first responsibility of the President of the United States is to keep our country safe, but it has become clear that our president has placed his personal interests above the national security of our nation," Rep. Antonio Delgado (D-NY), a Frontline Democrat, said in a Tuesday announcement. "I believe articles of impeachment are warranted."
In a Washington Post op-ed Monday evening, seven moderate Democrats with veteran or military backgrounds—Gil Cisneros (D-CA), Jason Crow (D-CO), Chrissy Houlahan (D-PA), Elaine Luria (D-VA), Mikie Sherrill (D-NJ), Elissa Slotkin (D-MI) and Abigail Spanberger (D-VA)—explained their reasons for joining the impeachment camp. Their change of course came as surprise, considering swing district members have been some of the most reluctant to call for impeachment proceedings.
"If these allegations are true, we believe these actions represent an impeachable offense. We do not arrive at this conclusion lightly, and we call on our colleagues in Congress to consider the use of all congressional authorities available to us, including the power of 'inherent contempt' and impeachment hearings, to address these new allegations, find the truth and protect our national security," the freshmen representatives wrote.
Since bombshell media reports have emerged in recent days, Trump has admitted he urged Ukrainian President Volodymyr Zelensky in a July 25 phone call to investigate potential wrongdoing by Biden and his son's stake in a Ukrainian gas company. However, no evidence of such wrongdoing has ever been reported.
On Tuesday, Trump's position on why he withheld such large amounts of money just prior to his phone conversation with Zelensky shifted from reason of corruption in Ukraine to frustration with other countries not providing as much aid as the United States. He denied the hundreds of millions of dollars were withheld as part of a "quid pro quo" to investigate Biden and his son.