Vulnerable House Democrats Remain Hesitant to Back Articles of Impeachment
Moderate Democrats who hail from swing districts are exercising extreme caution when it comes to showing support for the two articles of impeachment against President Donald Trump unveiled Tuesday by the House.
Asked whether they plan to support the abuse of power and obstruction of Congress articles, which allege Trump "betrayed the nation" in "corruptly soliciting" election aid from Ukraine and engaged in "unprecedented, categorical and indiscriminate defiance" of Congress, several Democrats opted to reserve judgement until they've more thoroughly reviewed the text and given thought to the matter.
"The seriousness of the decision for me—it's probably the most serious consideration I'll give anything that I've considered my one year in Congress," said Rep. Elissa Slotkin (D-Mich.), a former CIA analyst. "I'm not going to be pushed one way or another. I have lots of people lobbying me, but I'm going to do what I was trained to do as national security professional and as an intelligence officer, which is make my own decision based on what I think is right."
More than half a dozen Frontline Democrats—members deemed vulnerable for reelection—said they either have yet to make a final decision or had not yet reviewed the articles as of Tuesday afternoon. All but one of them voted to initiate the impeachment inquiry.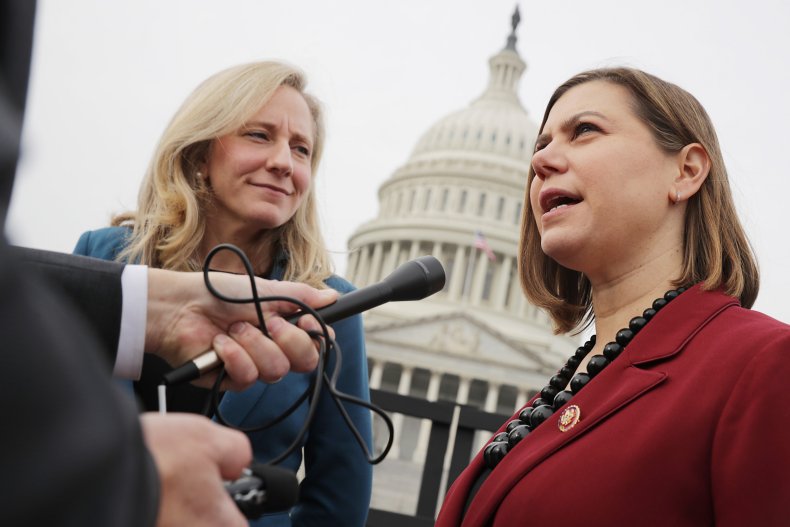 The politically precarious position that impeachment articles place several dozen moderate members in with constituents back home is partly the reason why Democrats decided to limit the number of articles to two rather than including a third for obstruction of justice based on the Mueller report.
"Which we are all—I am happy about," said Rep. Tom O'Halleran (D-Ariz.). "Many of us sent that message to leadership, and I'm glad to see that's been addressed." The second-term congressman said he's reserving final judgement until the Judiciary Committee markup the articles which is slated to begin Wednesday night to pass them by week's end.
By narrowly tailoring the articles to Trump's alleged wrongdoing with Ukraine, it raises the likelihood that the caucus will remain in sync. Still, there remains a small group of about 10 vulnerable Democrats representing Trump districts who recently discussed the possibility of making a last-minute push to censure—rather than impeach—Trump.
Rep. Josh Gottheimer (D-N.J.), who remains undecided on the articles, confirmed the revelation, which was first reported by Politico on Tuesday.
A lawmaker who partook in the conversation told Newsweek it was "based on the idea that you would see if Republicans would come along and stand up to the actions of the president, and also knowing the inevitable result in the Senate."
Reps. Jeff Van Drew (D-N.J.), Joe Cunningham (D-S.C.), Abigail Spanberger (D-Va.) Haley Stevens (D-Mich.) and Conor Lamb (D-Pa.), all of whom are Washington newcomers, said they had either not yet fully read the articles or needed more time to determine how they plan to vote.
Van Drew is one of two Democrats who broke from party ranks to vote against launching the impeachment inquiry. The other was Rep. Collin Peterson of Minnesota. Van Drew maintained the position throughout the Ukraine scandal that impeaching the president would only further divide the country and end victorious for Trump with an acquittal in the Senate.
However, at least one vulnerable Democrat has already came to a conclusion on the articles of impeachment.
"The role of the House of Representatives is to decide, yes or no: Is this acceptable conduct? Is it impeachable conduct? I believe the answer to that is yes," Rep. Tom Malinowski (D-N.J.) said. "If we were to impeach the president for everything he's done that's impeachable, we'd be here til 2025."