As the COVID-19 pandemic continues, Vybe Together, a new app provides a platform for people to host gatherings with strangers. Despite the app's claims that they don't support parties or large gatherings, its materials and whole vibe (pun intended) make this appear otherwise.
According to the Apple App Store, Vybe Together hit the market as an app about four months ago. Its description in the store is below:
"Find Parties: Find private parties. Apply to get access. If you are approved the location will be revealed to you two hours before the party begins.

Create parties: Organize and create get-togethers for trendy people in your area. It's super easy! Vet everyone who applies to your party, and only approve who you want.

Create a beautiful profile with photos that tells the world who you are."
The slogan found on the app's website is: "Get your rebel on. Get your party on." The website also asks people if they "miss playing beer pong, flirting with strangers, and generally just having a blast with the crew?," and tells users to apply with their friends for access to activities like "speakeasies, jam sessions or beer pong."
A New York-targeted TikTok (that has since been deleted) posted by the app on Monday calls it a "secret party app" and boasts "Gatherings every weekend." According to Business Insider, TikTok took down the Vybe Together account.
While this may seem good in normal times, given the current coronavirus pandemic, the app's functions are at questionable at a time when gatherings have been discouraged to contain the spread.
Called by Newsweek for comment, a Vybe Together spokesperson quickly denied that the app was encouraging parties. When Newsweek called again, two people were on the phone, including one who said to identify him as a spokesperson. The other would interject and occasionally provide commentary. For clarity, they will be identified as spokespersons 1 and 2.
Spokesperson 1 said that the site was similar to event management and ticketing site Eventbrite and simply gave people a platform to host their own small gatherings.
"We're like Eventbrite-just a platform, but cooler, and this got way overhand. Vybe can be anything from playing board games to pingpong balls. We did this because a lot of people have been isolated and lonely, and wanted to meet. So we don't promote any large gatherings, and I know it looks like that, and that's why we're freaking out. We promote small like apartment stuff. If we see events being popular, we always take them out," he said.
Asked about promotional videos that appear to promote large gatherings and using vintage images of Studio 54 to draw attention, they said that there were "not more than 20 people" in the video—later in the call, they said that it was only about 10—and said the images were misconstrued. "However you interpret it is not the way that we wanted to showcase it, it's literally just board games to pingpong at people's places," spokesperson 1 said in another phone call.
When asked about why an app would be needed to organize a small board game night in one's apartment, spokesperson 1 said that it was targeting people who may not have people that they can easily reach out to.
"You're not like most Millennials in New York City. There's so many people that don't have friends, and so what if you then threw this entire-I understand where you're coming from, but just think about how many people are out there. They don't have those friends that you're talking about. They've spent the entire pandemic by themselves. What about them?" spokesperson 1 said.
The two people that Newsweek spoke to, said that while the app provides a space for people to connect, they appeared to shift responsibility to be precautious to those who are organizing the events or planning to go them, saying the host and attendees can communicate beforehand. They also said a warning appears on the app.
"Before you request a party, it literally tells them to be careful with the current situation, and they speak to each other, because Instagram is linked to the profiles," spokesperson said.
Despite their insistence on not promoting large parties and being cautious, the Vybe Together's site's FAQ section regarding COVID appears half-hearted at most. "We are aware that Covid is a major health problem to the country, our communities, our friends and family. If we all could just be in isolation this could actually go away. Having large scale parties is very dangerous. That is why we don't support that. But Vybe is a compromise, no big parties but small gatherings. We could be living, at least a little during these times with Vybe," it says.
On the hosts page on the Vybe Together website, it does feature a graphic that says "Host small social gatherings."
The spokesperson also said that coders will remove events if the number of attendees matches the number of maximum people for gatherings in the state. "If we see there's more people going to the event, as soon as they hit the trigger for the local laws, the app is no longer public. It stops there," spokesperson 1 said.
Later in the second phone call, spokesperson 2 reiterated that what they allow people to do is plan small gatherings and notify and remove posts that appear to be growing past state limits. "We're not promoting parties. We're promoting small gatherings. Whenever we see or feel like people are having way too many people apply to their gathering, we notify them," he said.
Spokesperson 2 also noted that people in states besides New York can also use the app, and that the number of participants allowed varies depending on the state.
When asked what they said to people who they felt were actually promoting parties, they again deferred responsibility to the people hosting and attending.
"We're sorry that they feel that we're doing that. We're just promoting our tool, our app so that people could gather. People that don't have anyone can just post card games for instance. They don't want to share their address. Instagrams are linked to everybody's profile so they could determine and don't invite that person into their homes. Just like Tinder. We're not promoting the amount of people that can go into your apartment. You decide that on your own," spokesperson 2 said.
Despite the two people's insistence that they weren't promoting parties, their website repeatedly uses the word "Party."
On Tuesday night, Vybe Together appears to have deleted all content from its Instagram account, leaving only one post that says, "blown out of proportion by the media. We DO NOT CONDON LARGE GATHERINGS!!!"
The app also appears to have been deleted from the Apple App Store, and its website is down.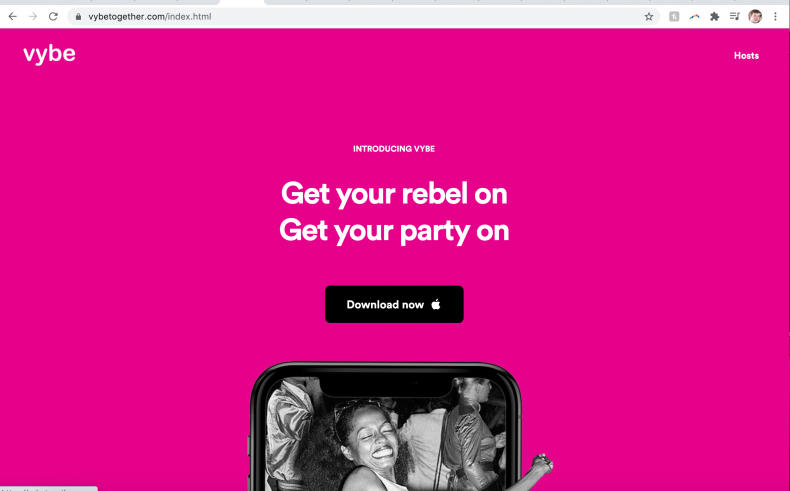 Update 12/29/20 7:35 p.m. EST: This story has been updated to reflect that Vybe Together's TikTok has been removed, the website has been taken down, the app has been removed from the app store and that the app has deleted most of its Instagram content.