Who Is Wade Robson? Michael Jackson Accuser Details Alleged Abuse in 'Leaving Neverland' Documentary
Wade Robson, a dancer, choreographer and So You Think You Can Dance judge, first alleged pop star Michael Jackson was "a pedophile and a child sexual abuser" in a 2013 appearance on the Today show. Initially Robson claimed Jackson, who had died in 2009, had never abused him. But he reversed his position in the segment, claiming Jackson sexually assaulted him repeatedly over a seven-year period beginning when Robson was just seven years old.
Robson is now one of two main subjects of the new HBO documentary Leaving Neverland, which details the history of Jackson's alleged abuse.
"He was one of the kindest, most gentle, loving, caring people I knew. He helped me tremendously. He helped me with my career, he helped me with my creativity. All of those sorts of things. And he also sexually abused me, for seven years," Robson says in Leaving Neverland.
Editor's Note: The following story contains graphic details of sexual abuse of a minor.
Who Is Wade Robson? Shocking Accusations Against Michael Jackson in New HBO Documentary Leaving Neverland
Robson, now 36, first met Jackson in 1987 after winning a dance competition connected to the pop singer's Bad tour in Brisbane, Australia. It was the beginning of a long career in dance and choreography for Robson, who would go on to choreograph music videos and tour dances for NSYNC and Britney Spears. He would go on to appear in movies like You Got Served and choreograph the American Idols LIVE! Tour.
After the two danced onstage together in Australia, the pop singer invited Robson and his family to Disneyland so Robson could dance in Australia Day festivities in the park. Jackson subsequently invited Robson and his family to his sprawling Neverland Ranch estate in Santa Barbera, California, where Robson and his sister shared the guest bedroom next to Michael's room and their parents stayed in guest suites away from the main house.
According to Robson, Jackson began grooming him almost immediately. "[My] first day at Neverland was Michael making physical contact with me, like his hand on my thigh, hugs," Robson says in Leaving Neverland. "Within the context of what was going on, it seemed normal. The days were filled with playing tag, watching movies, he taught me how to to do the moonwalk, this contrast began between the day and the night."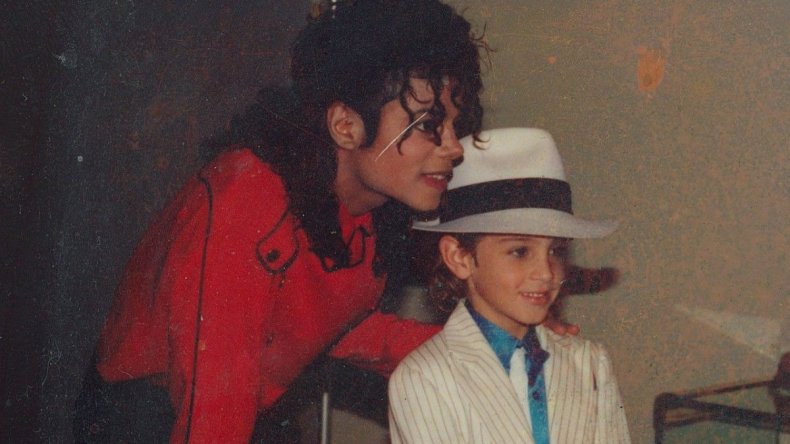 The alleged sexual abuse began shortly after, with Michael fondling the seven-year-old Robson through his pajama pants:
I was seven, seven years old when this began. Fondling my penis over the top of my pants, and then his hands went underneath my pants and started touching my penis underneath my pants. There was nothing aggressive about it, nothing abrasive, I never felt scared or anything like that. It just didn't seem that strange. And then him guiding me to do the same thing with him, moving my hands to touch his penis, which was erect. Him talking to me: 'You and I were brought together by God, we were meant to be together and this is us showing each other that we love each other. This is how we show our love.' It escalated rapidly. So, taking showers together and fondling and kissing. So him kissing me, full open-mouth, tongue-in-mouth kissing. He would put my fingers on his nipples and tell me to squeeze them. He would moan and react to that like it felt good.
Robson also describes Jackson performing oral sex on him. "I remember him putting my hands on his head while he was down there."
According to Robson, Jackson didn't ejaculate when Robson performed oral sex, but would instead masturbate himself to completion. "He would be laying back on a pillow and have me go to the far corner of the bed and be on all fours and have me sort of just bend over, on my knees, so he could look at my anus while he was masturbating," Robson describes in Leaving Neverland. "And I was just kind of on display. And periodically through that he would come up and stick his tongue in my anus. Right in front of me there was this big, kind of elaborate Peter Pan cutout. So I was either looking back at him masturbating or looking forward at Peter Pan."
Jackson's alleged abuse was coupled with repeated threats and exhortations against Robson telling anyone. According to Robson, Jackson specifically warned him against trusting women. In the documentary, Robson describes Jackson telling him that other people were too stupid and ignorant to understand their relationship, and that both Jackson and Robson would go to jail if they were caught.
The documentary further outlines how Jackson cultivated a committed relationship with Robson, going so far as to stage a mock wedding ceremony. "He did this in his bedroom. And we like filled out some vows. It was like we're bonded forever. It felt good. And the ring is nice. It has a row of diamonds, with a gold band. The wedding ring," Robson says, displaying the ring for the camera and describing how his hands start shaking just holding it. "I like jewelry and I liked it as a kid and I think that something that I enjoyed was used against me, so I think that causes discomfort. It's still hard for me to not blame myself."
Over the years, Robson joined Jackson at photo shoots and other properties owned by the popstar. The abuse Robson describes evolved over the years. "He started to show me some pornography. Pretty graphic, heterosexual porn: oral sex, full penetration, anal stuff. It seemed like he liked that, that Michael liked it, so I wanted to like it," Robson says in Finding Neverland. As Robson got older and became a teenager, Jackson's behavior allegedly became more extreme, pushing Robson to drink wine and pressuring him for anal sex. "He had these little TVs and you could watch porn wherever you wanted. Porn and candy, that's what he had. It got more dirty sexual and less like friends who were touching each other."
In response to the new testimony and the documentary, Jackson's estate attorney Howard Weitzman released a 10-page letter, describing Leaving Neverland as "disgraceful" and claiming allegations brought by Robson and James Safechuck—the documentary's other principal subject—are fabricated.
"We know that this will go down as the most shameful episode in HBO's history," Weitzman's letter said. "We know that Michael's devoted fans, and all good people in the world, will not swiftly forgive HBO for its conduct."
Robson has previously brought lawsuits against the Jackson Estate and Jackson-owned companies MJJ Productions and MJJ Ventures. Both were dismissed, with the judge citing the timeliness of the lawsuit in one instance and the companies' lack of liability in the other. Neither ruling commented on the credibility of Robson's allegations.
Robson has won two Primetime Emmys for his choreography on So You Think You Can Dance and also choreographed the animated movie Happy Feet Two. He currently lives with his wife in Hawaii.
Leaving Neverland, directed and produced by Dan Reed, debuts on HBO March 3.