Waffle House Shooting Hero Launches GoFundMe Page for Victims
The man who disarmed the shooter who opened fire inside a Waffle House in Tennessee over the weekend has launched a GoFundMe page for the victims of the attack and their families.
James Shaw Jr., 29, wrestled the gun away from the shooter at Antioch Waffle House on Sunday morning while he was reloading his rifle. The attack left four dead and four others injured.
"My name is James Shaw Jr. I am creating this page to help the families of the victims from the Shooting that took place at Waffle House in Antioch, TN. Please take the time to donate as all of the proceeds will be given to the families. Thank you again for your generosity and blessings!" Shaw Jr. wrote on the crowdfunding page.
The GoFundme page raised over $12,000 within the first seven hours of its launch, with approximately 300 people donating to the cause.
According to police, the shooter entered the restaurant near Nashville at around 3.25 a.m. local time with an AR-15 and opened fire on the people inside. The suspect, who police described as a "white man with short hair," shot seven people before Shaw Jr. intervened and wrestled the gun away from him.
During the altercation, Shaw Jr. was cut on the arm and suffered a burn to his hand. The shooter then immediately fled from the restaurant on foot. The Metro Nashville Police Department announced that Travis Reinking, 29, of Morton, Illinois, was a suspect in the shooting during a press conference on Sunday afternoon.
The Tennessee Bureau of Investigations have added Reinking to its "Top 10 Most Wanted" list after authorities were unable ato find him yesterday. Police believed he retreated to his apartment after the shooting before fleeing into the woods. Although Reinking's alleged motives are unclear, authorities have warned that he may still be armed.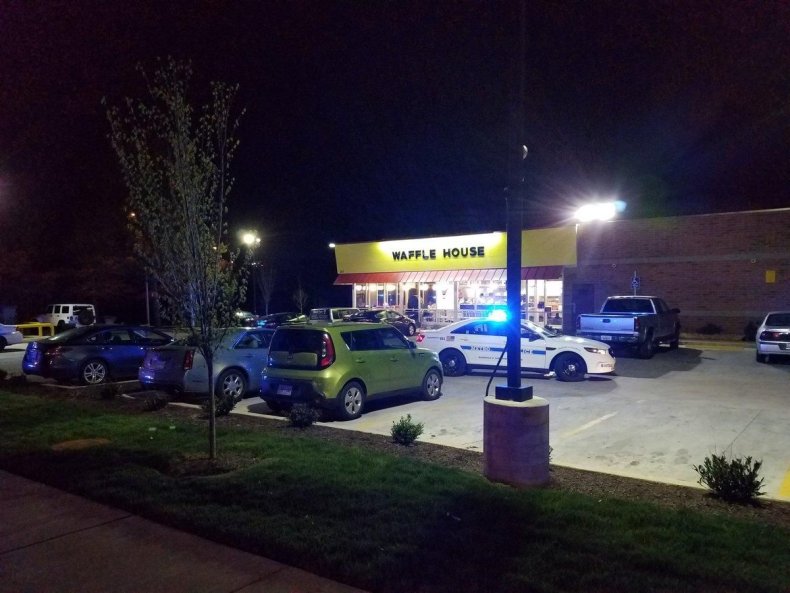 Following the incident, Shaw Jr. was dubbed a hero for putting his life at risk. Metro Nashville Police said he "saved lives" by disarming the shooter. "When he came in, I distinctively remember thinking that he is going to have to work for this kill," Shaw Jr. told Tennessean.com. "I had a chance to stop him and thankfully I stopped him."
Nashville Mayor David Briley took to Twitter on Sunday to comment on the incident:
"It's a tragic day for our city anytime people lose their lives at the hands of a gunman. My heart goes out to the families & friends of every person who was killed or wounded in this morning's shooting. I know all of their lives will be forever changed by this devastating crime," he wrote.
"This is what a hero looks like. All of Nashville is grateful to James Shaw Jr. for intervening to prevent even more deaths and injuries at the Waffle House this morning," Briley added in another tweet.