Wagner Group mercenaries have begun their retreat from the embattled city of Bakhmut, Yevgeny Prigozhin, the Russian paramilitary outfit's chief said on Thursday.
Prigozhin made the announcement in a video on his press service's Telegram channel. He said his troops will completely withdraw from Bakhmut by June 1 and give way to regular Russian units.
"We'll hand over positions, ammunition, everything including dry rations, to [Russian] troops," he said.
Prigozhin's fighters have been involved in the bloody battle for Bakhmut since the summer of 2022. Their withdrawal comes after he released multiple heated videos aimed at Russian Defense Minister Sergei Shoigu and Chief of the General Staff Valery Gerasimov, criticising them for their failure to provide more ammunition for his fighters.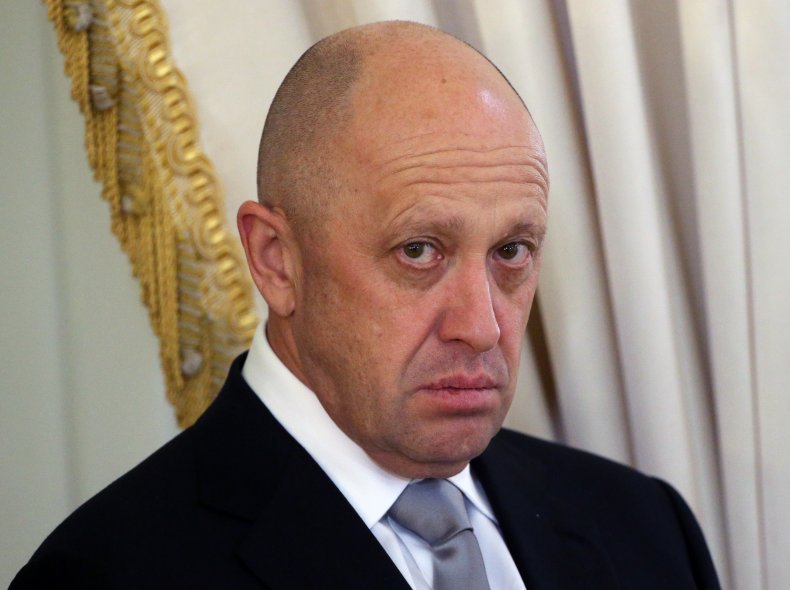 After leaving Bahkmut, Wagner Group units will rest, re-equip and recruit new fighters, Prigozhin said, adding that the paramilitary outfit will "receive new tasks" after regrouping.
"If it's difficult for the military, of course, we will leave those who had the main role in the capture of Bakhmut," Prigozhin added.
The Wagner chief said on Saturday that Bakhmut, a small industrial city in Ukraine's eastern Donetsk region, had fallen to his forces. Ukraine's military spokesman Serhiy Cherevaty on Tuesday denied that claim.
Newsweek has contacted the foreign ministries of Russia and Ukraine via email for comment.
Prigozhin said in an interview with pro-Moscow blogger Konstantin Dolgov published late Tuesday that the Wagner Group had lost thousands of fighters in the battle for the city.
"Throughout the [Bakhmut] operation, I recruited 50,000 prisoners, of which about 20 percent died. Exactly the same number died as those who signed up through a contract," Prigozhin said.
In his interview published on Tuesday, Prigozhin also launched one of his most heated attacks on Russia's military leadership since the war began.
Prigozhin demanded the resignations of Shoigu and Gerasimov, and suggested they should be replaced by Gen. Mikhail Mizintsev and with Gen. Sergei Surovikin, both of whom he has previously praised.
He also said that if Wagner is unable to hand its positions in Bakhmut over to the Russian Armed Forces because they aren't ready, "then this means that Wagner has risen to a level higher than the Russian army."
"If they [Russian Armed Forces] cannot take over, then the persons concerned must shoot themselves," Prigozhin said.
Do you have a tip on a world news story that Newsweek should be covering? Do you have a question about the Russia-Ukraine war? Let us know via worldnews@newsweek.com.
Update 5/25/23 at 5:20 a.m. ET: This article has been updated with further information.