How Wagner Mercenaries Fighting in Africa Could Swing the Battle of Bakhmut
Russian Wagner Group fighters are being killed in fierce fighting between government forces and rebels in the Central African Republic, as the sanction-hit Kremlin looks to extend its reach in mineral- and gold-rich countries.
Mercenary fighters for the notorious "private military company" that took on a prominent role in the ongoing war in Ukraine have "sustained heavy casualties" in renewed violence over goldmines in the African nation, according to British newspaper The Guardian.
Wagner mercenaries have tried to gain control over commodities such as gold and diamonds in CAR, helping dodge the economic impact of sanctions over Ukraine. It is believed the Wagner Group was "initially promised gold and other mining concessions for its services in place of cash payments," according to the paper.
The invasion of Ukraine prompted a wave of financial sanctions against Russia by many Western countries, aimed at hampering Russia's ability to wage war. These have not only been limited to industries and businesses, but also have covered individuals linked to President Vladimir Putin.
Rebel sources told The Guardian that between seven and 17 Wagner troops had been killed in clashes over the past fortnight. Seven Russians were killed in a rebel ambush, the newspaper reported, citing a source linked to CAR's military.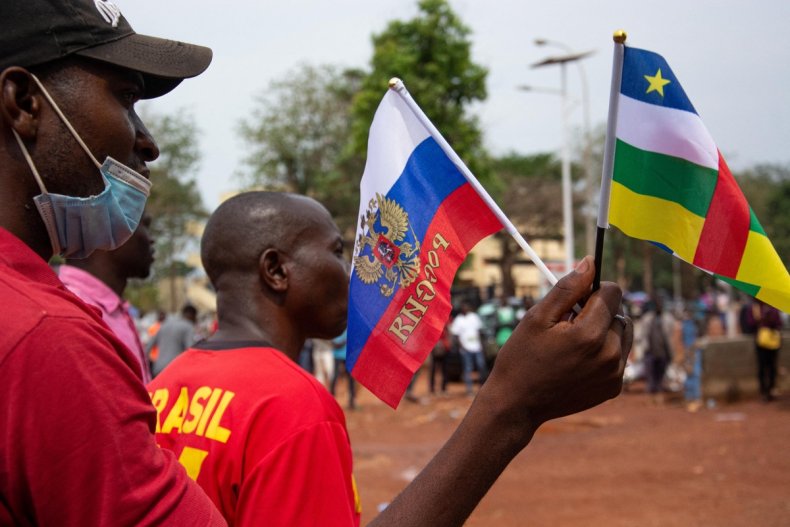 Rebel leader in the Coalition of Patriots for Change, Ahmadou Ali, said the ambush "was a battle between us and the Russians."
"The Russians have taken all over the country. They are everywhere," Ali added.
However, Marina Miron, post-doctoral researcher at King's College London's War Studies department, told Newsweek that it was unlikely that Wagner operations in CAR would have a profound impact on their involvement in Ukraine.
"Now that Wagner is in the spotlight, there is more coverage of how many men the group loses. However, I do not think this is anything out of the ordinary for Wagner," Miron said.
The group has been active across the world in "hot spots" for nearly a decade, and has never found itself running out of fighters, she added.
On January 20, 2023, the U.K. defense ministry estimated that around 50,000 Wagner fighters were in Ukraine, becoming a "key component of the Ukraine campaign."
It was Wagner founder, the Russian financier Yevgeny Prigozhin, who first claimed that his troops had seized control of the contested Donetsk town of Soledar, Ukraine, in January, rather than the Russian military.
The next target for Russian forces is the nearby strategic city of Bakhmut, which has been the subject of heavy fighting for months.
However, Miron added that Wagner had certainly suffered combat losses, sparking what appeared to be a renewed recruitment drive.
"All in all, I do not think that Wagner will have difficulties filling its ranks as it has done in the past," Miron said. "Just because it is being publicized now should not mean that Wagner is facing an existential crisis."
Russian influence and the presence of the Wagner Group in the Central African Republic have long been documented. In May 2022, Human Rights Watch said forces identified as Russian "appear to have summarily executed, tortured, and beaten civilians since 2019."
"There is compelling evidence that Russian-identified forces supporting the Central African Republic's government have committed grave abuses against civilians with complete impunity," according to the non-governmental organisation's crisis and conflict director, Ida Sawyer.
Speaking on January 10, the U.K's deputy ambassador to the United Nations, James Kariuki, said that "you cannot ignore the destabilising role" of the Wagner Group in the Sahel region of north Africa, in close proximity to CAR.
"They are part of the problem, not the solution," Kariuki told a UN Security Council meeting.
On January 25, the "ongoing practice of sending Wagner fighters to serve and participate in hostilities in Syria and African countries" was criticized by a vocal opponent of Prigozhin, the former Federal Security Service (FSB) officer Igor Girkin.
The nationalist blogger, who was involved in Russian operations in Donetsk in 2014, said he was "very critical" of Wagner troops fighting in Africa because "every trained Russian soldier is needed at the front" in Ukraine.
On January 26, responding to Girkin's comments, a statement posted on behalf of Prigozhin on Telegram stated it was "absolutely necessary" for Wagner to maintain a presence in Africa.
"I have certain obligations. There are presidents to whom I gave my word that I would defend them. If I now withdraw one hundred, two hundred or five hundred fighters from there, then this country will simply cease to exist," the statement added.
Russian fighters have fought to keep the regime of Faustin-Archange Touadéra in power, and are frequently seen around Central African Republic's capital, Bangui.