Fighters with Yevgeny Prigozhin's paramilitary outfit, the Wagner Group, who have been heavily involved in fighting for the city of Bakhmut, are likely being redeployed as a battle for the nearby Ukrainian-held eastern Donbas city of Avdiivka heats up, a think tank has said.
The Institute for the Study of War (ISW), based in Washington, D.C., said in its latest assessment of the conflict that Russian military leadership has likely committed "limited higher quality Wagner Group elements" to its offensive on Avdiivka. This is "potentially to reinforce recent limited tactical successes in the area," it said.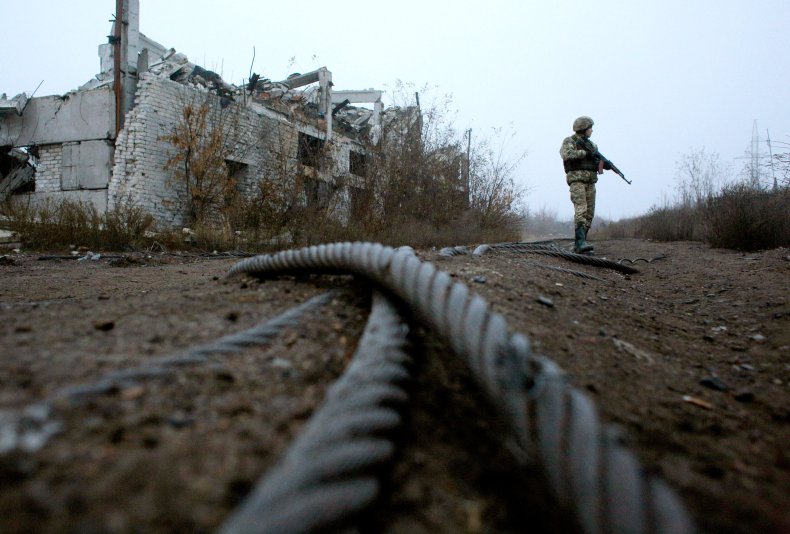 Avdiivka, which had a pre-war population of at least 30,000, is located about 90 kilometers (55.9 miles) south of Bakhmut and just north of Russian-occupied Donetsk. Some 2,000 civilians remain in the city that has been on the frontline of the Donbas conflict since 2014, when President Vladimir Putin illegally annexed the southern Crimean peninsula from Ukraine and pro-Russian separatists in the eastern regions of Donetsk and Luhansk started combating Kyiv's forces.
The city's military administration head Vitaliy Barabash said on his Telegram channel on Sunday that Russian forces are turning Avdiivka into "a place from post-apocalyptic movies" as shelling has ramped up in recent weeks.
The ISW quoted a Ukrainian Defense Forces spokesperson, Colonel Oleksiy Dmytrashkivyskyi, as saying on March 25 that Ukrainian intelligence had forecasted that forces from the Wagner Group, which provides fighters for hire, may appear in the direction of Avdiivka.
According to the think tank, Russian military leadership may have decided to deploy "certain Wagner elements" to the Avdiivka area in recent weeks to support exhausted and lower-quality Donetsk People's Republic (DNR) elements in their efforts to take the settlement.
It cited a Russiansocial media site—VKontakte—user posted as posting an obituary on March 26 of Wagner Group fighter Yevgeny Malgotin in Avdiivka.
"The obituary claims that Malgotin had prior military experience and fought with the 2nd Russian Volunteer Detachment of the Army of Republika Sprska (commonly referred to as the Bosnian Serb Army) in 1992," the ISW said.
"Malgotin appears to have been a seasoned fighter, and likely represents the higher caliber of fighter that comprises Wagner's special operations forces," the think tank said.
"While Wagner has heavily committed a majority convict-based force to operations near Bakhmut, there is likely a contingent of higher-quality operators at various locations in Ukraine."
The ISW's assessment that Moscow appears to be shifting focus from Bakhmut to Avdiivka was echoed by the British Defense Ministry, which said in its daily intelligence update of the war on Tuesday that Russia in recent days has continued to prioritize an operation attempting to encircle Avdiivka.
"However, Russian forces have made only marginal progress at the cost of heavy losses in armoured vehicles," the ministry said.
Ukraine is continuing to put up a fight in Bakhmut, where Russian and Ukrainian forces have clashed since July.
Ukraine's ground forces commander, Colonel General Oleksandr Syrskyi, said on Monday that defending Bakhmut was a "military necessity".
Do you have a tip on a world news story that Newsweek should be covering? Do you have a question about the Russia-Ukraine war? Let us know via worldnews@newsweek.com.