Wagner Group Advances on Bakhmut Towns as Fighting Rages—Reports
Wagner Group fighters are advancing on towns in eastern Ukraine as the battle for Bakhmut in Ukraine's Donetsk region continues to rage, according to reports.
Days after Russia claimed its forces captured the village of Klishchiivka in the Bakhmut district, multiple military analysts assessed on Tuesday that it had been captured.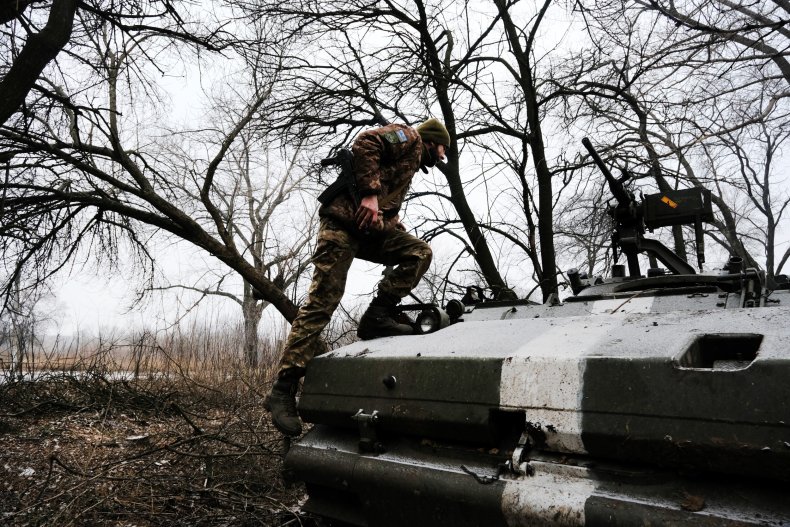 Earlier, on January 19, Yevgeny Prigozhin, leader of the Kremlin-controlled Wagner Group, said the village had been seized "by the group's units." Ukraine's military said on the same day that it had repelled Russian attacks there.
It comes days after the reported seizure of the salt-mining town of Soledar, a small town located nine miles north of Bakhmut, and nearly six months after Russia poured its troops into the region.
Ukrainian President Volodymyr Zelensky said this week that Russia was intensifying its push toward the industrial town of Bakhmut, which has been one of the hottest spots of the war, but is likely only to present a symbolic victory for Russian President Vladimir Putin if captured.
"They want to increase the pressure," Zelensky said.
Russian forces, led mainly by fighters with the Wagner Group, have been attempting to capture Bakhmut since July.
The Institute for the Study of War (ISW), a U.S.-based think tank, said on Tuesday that Russian forces continued to conduct ground attacks in the Bakhmut and Avdiivka-Donetsk City area, making marginal territorial gains near Bakhmut itself.
Analysts with the think tank noted that the Ukrainian General Staff reported that Ukrainian forces repelled Russian assaults near Bakhmut itself; within 22 kilometers (13.6 miles) northeast of Bakhmut near Bilohorivka, Rozdolivka, Sil, and Krasna Hora; and 7 kilometers (4.3 miles) southwest of Bakhmut near Klishchiivka.
Multiple military observers however assessed that Klishchiivka had fallen to Russian forces.
"Critical situation S of Bakhmut. Russian invasion forces, outnumbering Ukrainian defenders, captured #Klishchiivka and the fortified heights to its West. They are now marching towards Ivanivske and are positioned 3 km SE of it," tweeted journalist Julian Röpcke.
"The town of Klishchiivka has fallen. Operations continue to stabilise the situation for several days," Twitter user War Monitor added.
The ISW observed however that geolocated footage posted on January 23 likely indicates that Russian forces have advanced west of Pidhorodne, located three miles northeast of Bakhmut, and that they control the settlement.
Overall, the ISW said, Russian forces have not made any "operationally significant gains" around Bakhmut.
Newsweek has contacted the foreign ministries of Ukraine and Russia for comment.
Source: Institute for the Study of War and AEI's Critical Threats Project.
Do you have a tip on a world news story that Newsweek should be covering? Do you have a question about the Russia-Ukraine war? Let us know via worldnews@newsweek.com.