Wagner Group No Longer Recruiting Prisoners, Prigozhin Says
The Wagner Group, a paramilitary outfit heavily involved in current fighting in Ukraine, is no longer recruiting Russian prisoners for the conflict, its founder Yevgeny Prigozhin said on Thursday.
Prigozhin made the surprise statement on the Telegram account of the press service of the company Concord, which he owns. He was answering a question from a Russian media outlet.
"A large number of prisoners apply to our editorial office," the Live24 news outlet asked. "They write that for more than a month there has been no recruitment from correctional facilities in the Wagner PMC. And you yourself no longer come to the colonies. Is it so?"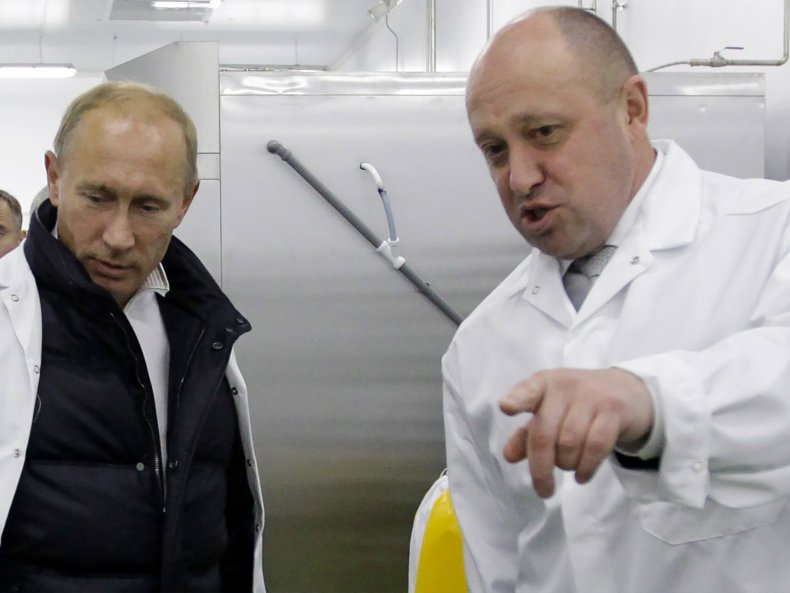 "The recruitment of prisoners by the Wagner private military company has completely stopped," Prigozhin responded. "We are fulfilling all our obligations to those who work for us now."
Prigozhin, a 61-year-old Russian businessman who earned the nickname "Putin's chef" through his catering contracts with the Kremlin, has been recruiting in Russian prisons since the summer of 2022 through the Wagner Group, founded in 2014.
The Russian businessman, who himself served years behind bars, very publicly spearheaded a recruitment drive, offering male prisoners commuted sentences and cash incentives in return for six months of military service in Ukraine. The Kremlin said Putin pardoned convicts recruited to fight in Ukraine.
Prigozhin was seen in a leaked video in September 2022 recruiting soldiers from Russia's extensive penitentiary system, amid reports that the country was facing personnel shortages in Ukraine.
It isn't clear how many Wagner Group members are in Ukraine, but they have been fighting alongside conventional Russian troops in the eastern industrial city of Bakhmut for months. They are however likely being replaced, according to U.S.-based think tank Institute of War, as the Wagner Group fails to make significant advances in the region, which holds little significance in strategic terms, but would, if captured, mark Russia's first major battlefield gain since the summer of 2022.
Olga Romanova, the head of Russia Behind Bars, a charity advocating prisoners' rights, said in late January that out of the 50,000 convicts recruited by the Wagner Group, 40,000 were either dead or missing, and 10,000 are still fighting in Ukraine.
Prigozhin's claim that the Wagner Group is no longer recruiting from Russian prisons is likely to be met with scepticism. While recruitment appears to be slowing down, per data from Russia's Federal Penitentiary Service (FPS), recent reports suggest the Wagner Group has not halted its hiring drive, but is instead employing more predatory practices to gather convicts.
On Wednesday, independent Russian news outlet Agentstvo reported that as Prigozhin is struggling to draw in new recruits, Russian convicts are being threatened with new criminal cases should they refuse to join the Wagner Group.
Lawyer Yana Gelmel told the news outlet that Russian prisoners in colonies located in the Samara and Rostov regions, the Krasnodar Territory, and the regions of the North Caucasus, are being pressured to join the paramilitary unit.
Gelmel noted that now, far fewer convicts are voluntarily agreeing to join the Wagner Group compared to the summer and autumn months of 2022 because they are learning about the high fatality rate in the war.
The independent Russian outlet Mediazona separately reported on Monday that the Wagner Group is short of manpower after the battles for Bakhmut and the nearby salt-mining town of Soledar. It said Prigozhin is struggling to find new hires from Russia's prisons, but like Agentstvo, suggested the Wagner Group is looking to penal colonies in remote regions of Russia to find hires.
Mediazona similarly reported that some prisoners were forced to join the paramilitary outfit, with some convicts threatened with solitary confinement or with being taken to a "secure facility."
Prigozhin's statement comes amid rising tensions between himself and Russia's Defense Ministry.
In January, the Russian leader appeared to snub Prigozhin by not visibly meeting him while on a working trip with St. Petersburg Governor Alexander Beglov, who has been described as "one of Prigozhin's overt enemies."
Newsweek has contacted Russia's Foreign Ministry and the Wagner Group for comment.
Do you have a tip on a world news story that Newsweek should be covering? Do you have a question about the Russia-Ukraine war? Let us know via worldnews@newsweek.com.