Waiting for Election Results? Stream 'The 2020 Saturday Night Live Election Special'
Trying to avoid Election Day live coverage of counting up the votes? Want to watch sketch comedy skits instead?
Then look no further than the 2020 Saturday Night Live Election Special. The episode aired last night on NBC, but it's not too late to watch it and laugh while you stress eat tonight.
Folks can stream the 42-minute-long special for free on NBC.com, along with Peacock, NBCUniversal's streaming platform. Fan favorite sketches were chosen for the 2020 election special to bring levity to an otherwise stressful few days.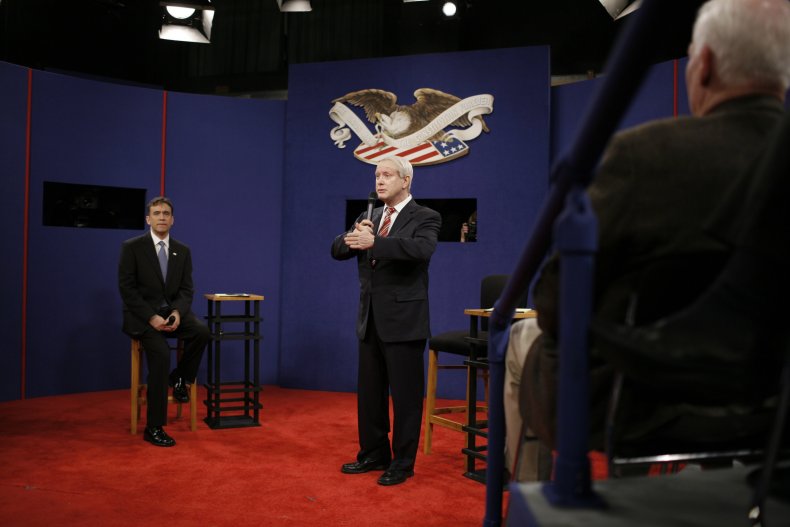 Some of the skits included in the SNL special are the Impeachment Town Hall cold open from September 2019, along with the Laura Ingraham Angle skit from early March this year, right before the coronavirus started to shut down the country.
Saturday Night Live previously covered Election Day anxiety this past Saturday. Kate McKinnon reprised her role as former Secretary of State Hillary Clinton to remind the audience and Jim Carrey's Joe Biden that "we've lost before."
Despite the unease many of us may be feeling now, Carrey's Halloween-themed cold open reminded folks to use their voice and vote this election.
The evening's host John Mulaney also encouraged the audience to vote in the "Elderly Man Contest." "On November 3, there is an elderly man contest. So there's two elderly men, and you're supposed to choose your favorite of the two elderly men," Mulaney said.
"You can put it in the mail or you can go and write down which elderly man you like and then we'll add them all up, and then we might have the same elderly man, or we might have a new elderly man, but just rest assured, no matter what happens, nothing much will change in the United States," he continued.
"The rich will continue to prosper while the poor languish, families will be upended by mental illness and drug addiction. Jane Lynch will continue to book, lots of projects and when she does she'll deliver... She's so good at being on TV."
Mulaney also joked about how folks should vote more than once. "You should vote. You got to vote, vote as many times as you can... fill in every circle, every dot they have, fill it in and if a page says 'this page was intentionally left blank,' you write whatever you want," he explained. "That's your space as an American."