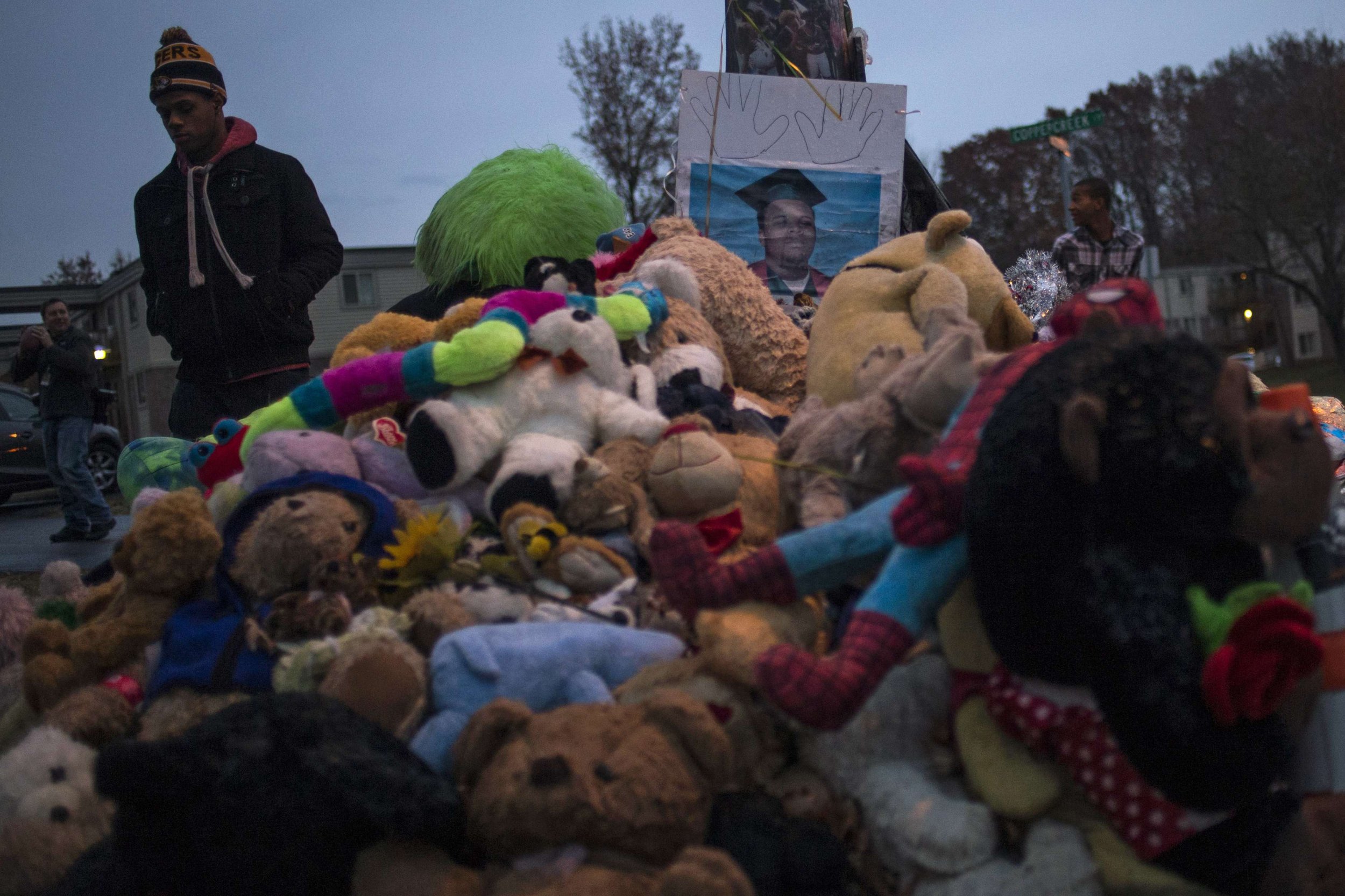 A grand jury decision in the case of policeman Darren Wilson for the shooting death of Michael Brown is imminent. Some predicted it would be handed down to law enforcement Friday with 48-hours notice before a public announcement. But CNN reported Saturday that the wait was likely to continue; the jury would meet again on Monday and has yet to make a decision.
"Everyone's on edge," Cipriano Medina, who was visiting friends in Ferguson, told CNN on Saturday. "There's a lot of anxiety. We don't know when it's going to happen. We just want justice for the whole system. I think it's bigger than Mike Brown."
The shooting in August of Michael Brown, an 18-year-old black man, by Darren Wilson, a white police officer, brought simmering racial tensions in the St. Louis suburb of Ferguson to a boiling point. In the months after Brown's death, protesters took to the streets not only in Ferguson, but also in downtown St. Louis, with moments of calm demonstration peppered with clashes between protesters and police.
Now, the community—and the country—is on edge as the grand jury decision nears.
"By and large, let's just face it, the city is really in a panic at this point," Anthony Gray, the attorney for Michael Brown's family, said on NPR's All Things Considered Friday.
Events over the last week have depicted how tense things are in Ferguson, which has a population of roughly 21,000. Two thirds of Ferguson residents are black while five of six City Council members are white and the police force is 94 percent white. Five people were arrested during a rowdy demonstration on Wednesday at the police headquarters in Ferguson. The following evening, also outside Ferguson police headquarters, cops charged at protesters with "pepper spray, batons, bean bag rifles and shields," CBS News reports, arresting at least three. On Friday, the FBI arrested two men who they suspected bought explosives meant to be used in Ferguson protests.
In anticipation of the news, churches have planned to host "safe spaces" should protests escalate, something officials are anticipating in particular if Wilson is not indicted, according to The Washington Post. "Fringe groups pass out fliers advocating for various kinds of instigation," the Post reports, while businesses board up their storefronts to avoid damage that could result from large-scale and potentially violent demonstrations.
Best Buy has said it would close at least one of its St. Louis-area stores if the company learns a grand jury decision will be announced during Thanksgiving weekend.
"When we find out that the grand jury is going to give its decision one way or the other, we will close at least one of our stores at that time in order for our customers and employees to be able to get home safely in case there are protests," Jeffrey Shelman, a spokesman for Best Buy, told The New York Times.
On the flipside, the Justice for Michael Brown Leadership Coalition announced Wednesday that it would lead "No Justice, No Profit," a boycott of St. Louis-area retailers beginning Thanksgiving Day through November 30.
"We are asking you to withdraw your participation the entire weekend," Dacia Polk, of the New Black Panther Party, told the St. Louis Post-Dispatch. "There will not be business as usual in America while our people are being killed."
Business has already started slowing down during the tense waiting period, impacting local businesses.
"If I can't open my doors every morning, I can't feed my kids in the evening," Natalie DuBose, who owns of Natalie's Cakes and More in Ferguson and has two children, told CNN. "Just don't burn my shop down, don't destroy it."
The New York Times reports, however, that some young protesters do not plan to return to protest action, in part due to the bitter cold that has set in combined with the prospect of lost wages. Some are fearful of the potential consequences of another round of demonstrations that will be met with a coalition of law enforcement. Missouri Governor Jay Nixon has issued an executive order, declaring a state of emergency that would allow the National Guard to become active in Ferguson.
"Basically, you doing what you did before, it's suicide," Aaron Davis, a barber from Ferguson, told The New York Times. "Let's be real about it. You know when you go out there, it's over. They're ready for you."
In an interview broadcast Sunday on ABC's "This Week," President Barack Obama said he had no plans yet to visit Ferguson: "I'm going to wait and see how the response comes out," he told host George Stephanopoulos.
In the meantime, Obama said his administration would keep working "with willing partners at the state and local level to see how we can address some of these [systemic] issues."
"This is a country that allows everybody to express their views, allows them to peacefully assemble, to protest actions that they think are unjust," Obama told Stephanopoulos. "But using any event as an excuse for violence is contrary to rule of law and contrary to who we are."