Waitress With 'Stealth Pregnancy' Delivers Surprise Baby in Restaurant Bathroom
Detroit woman Dawn Dodge was in for a surprise during her shift at Leo's Coney Island restaurant on Saturday. Fox 2 reported that she went into the bathroom with cramps and came out with a newborn baby, whom she named Collin.
Dodge had been suffering from cramps for months, but believed that she was incapable of getting pregnant because she was in pre-menopause. However, just to make sure, she had take a pair of pregnancy tests in September, both of which came out negative, she told the outlet.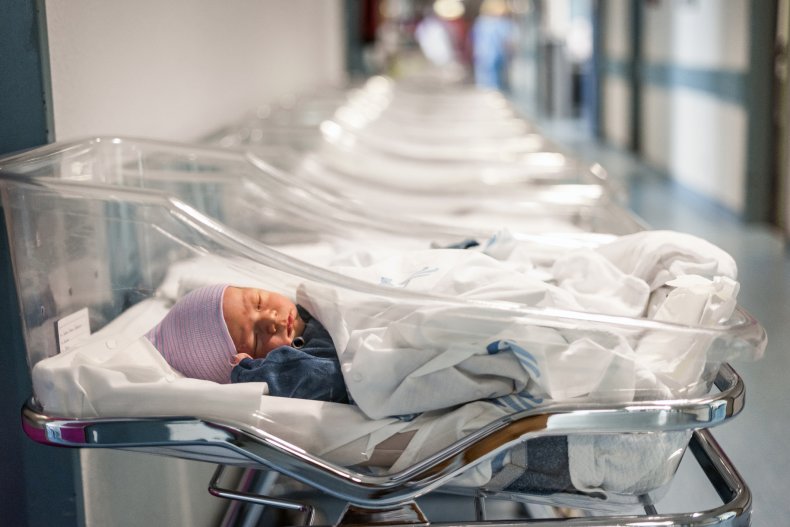 She was concerned that the swelling and cramps she was feeling were symptoms of a tumor in her abdominal area. Before her shift started at the restaurant, she went to the lavatory to freshen up. Once in there, her cramps began to worsen. She thought that the growth was being purged from her body.
"I put my hand down there and I thought a tumor was coming out, but it wasn't a tumor—it was a little boy," she told the station.
"I was looking at this little guy and I was scared."
Dodge called out to her co-workers when she realized what had happened, and they quickly called 911. Emergency response showed up and took both mother and child to the hospital.
The baby weighed in at 5 lbs, 11 oz.
Dodge will be unable to work as she recuperates from her delivery and raises her unexpected baby as the sole breadwinner in her household. She also cares for her sick mother. Her cousin has set up a GoFundMe to raise money to help her out.
According to the Washington Post, one study indicated that approximately one in every 2,500 women go into labor without realizing that they are pregnant, in a syndrome called "stealth" or "cryptic" pregnancy.
In October, Australian model Erin Langmaid made headlines when she gave birth in her bathroom to an unexpected baby girl. Langmaid had been taking contraceptive shots and had no visible signs of pregnancy, so the new addition to her family came as quite a shock.
Cryptic pregnancies are more commonly found in women who are unusually tall or unusually heavy, as the expansion of the uterus to house the developing fetus is easier to miss.