In Wake of Attack on AT&T's Relationship with OAN, Phone Giant Meets with Black Conservatives
One America News Network is in the crosshairs of the NAACP and Media Matters for America, who are demanding that AT&T dump the network. However, OAN got the support of an organization of Black conservatives who met with AT&T executives Monday to lobby in favor of OAN.
Horace Cooper, who co-chairs a group called Project 21, confirmed to Newsweek that he and two of his associates met with three AT&T executives early Monday to defend OAN from attacks leveled by the NAACP. The NAACP met with AT&T to pressure the communications giant into dumping OAN from its platforms DirecTV, U-Verse and AT&T TV.
"Have problems truly plaguing Black Americans—like unemployment, crime and energy poverty—been eliminated, leaving the NAACP all this time to pressure AT&T to censor America One News?" Cooper asked.
The NAACP did not respond to Newsweek's request for comment, nor did AT&T or OAN. Cooper said that, while representatives of Project 21 have been on-air guests of OAN television shows, the group did not coordinate with the channel prior to meeting with AT&T.
Cooper told Newsweek that over the course of 90 minutes AT&T executives listened to his group's defense of OAN but told them that AT&T—which owns 70 percent of the TV assets since they were spun out from the parent company in August—no longer makes programming decisions for the TV side of the business. Cooper said the AT&T executives pledged to set a meeting between Project 21 and DirecTV.
The issue of AT&T's relationship with OAN was thrust into the forefront by way of an investigative report from Reuters last month that said OAN would not exist were it not for AT&T. The outlet reported that the phone giant asked OAN founder Robert Herring in 2013 if he'd be interested in founding a conservative TV network to compete with Fox News. In 2019, Herring was offered $250 million for OAN but without its distribution deal with DirecTV—worth roughly $11 million per year—the network would be worth zero, according to Reuters.
The NAACP and Media Matters both seized on the report, with the latter recently referring to OAN as "AT&T's right-wing network" while bashing it as "a network full of paranoid hatred rooted in lies." The left-leaning watchdog group disparages OAN for ginning up dissent over critical race theory and for reporting COVID-19 misinformation, as well as for repeating Donald Trump's false claims of presidential election irregularities.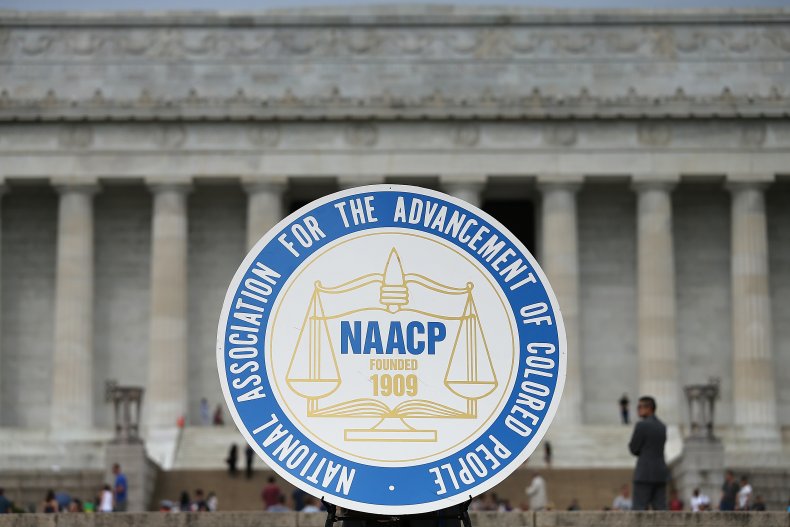 On October 20, the NAACP issued a press release confirming that its president, Derrick Johnson, scheduled a meeting with AT&T the following day that would "focus on the need to drop OAN immediately" because "AT&T is directly supporting efforts that undermine our democracy and suppress our right to vote. It's reprehensible."
After reading the Reuters report, Johnson issued a statement declaring that the NAACP was "outraged to learn that AT&T has been funneling tens of millions of dollars into OAN since the network's inception ... the press should inform the American public with facts, not far-right propaganda and conspiracy theories."
Cooper and his Project 21 disagree with the NAACP's description of OAN.
"One America News provides a platform for the diversity of political opinion in the Black community. I thank them for giving me a voice," Cooper said.
Cooper said that he and his associates met with AT&T Director of Global Affairs Megan Nassar, Vice President and Head of Multicultural Engagement and Strategic Alliances Tanya Lombard, and Senior Vice President of Global External and Public Affairs Erik Hower.
"We spent the lion's share of the meeting talking about OAN, but they were unfamiliar with our group, so we made sure they understood where we stand on public policy," Cooper said.
"We've been around for 25 years, so they were surprised to learn we had never had a meeting before. We're a conservative organization and we don't shy away from that idea," he said. "We live in the cancel culture; OAN is definitely a target of the censors ... but OAN provides a valuable resource letting viewers know Black conservatives exist."