A restrictive new voting law signed by Florida Governor Ron DeSantis is already facing legal challenges, after voting rights experts warned this Spring that it creates new hurdles for voters of color.
Although it was signed into law just last month, grassroots groups tasked with wading through its aftermath told Newsweek that its effects are already being felt.
The law, known as SB90, targets vote by mail, which had previously been used by Republicans in Florida, but became popular among Democrats during the last voting cycle. The new law now requires voters to request an absentee ballot every two years, rather than every four years, as it was in the past.
It also limits use of drop boxes, imposes more identification requirements for absentee ballots, and requires voters to remember how they registered to vote in previous elections in order to register again.
Mi Vecino, a new data-focused Florida group formed in the aftermath of the 2020 election, said it has already seen how the new requirements are more onerous for voters of color, who may be hesitant to provide more personal information than before.
The group told Newsweek that they were set to register a young Latino man at a tax collector's office near West Palm Beach Wednesday. The staffer asked for his driver's license and the last four numbers of his social security number, in order to ensure there would be no problems with his voter registration.
But when the young man called his mother for his social security number she wouldn't give it to him. She was worried about him giving so much personal information to someone at a time when his cousin was facing deportation.
"These are the real life challenges for people of color," said Alex Berrios, a Puerto Rican and Cuban co-founder of Mi Vecino. His co-founder, Devon Murphy-Anderson, is the former finance director for the Florida Democratic Party, who has already raised $250,000 for the group, despite not having her first call with donors until February, and officially launching in March.
"Voter suppression doesn't just happen on election day, it happens every single day of the year," Murphy-Anderson told Newsweek, noting that unnecessary barriers to voting can be confusing for people, leading them to throw their hands up, and say "I'm not even going to try."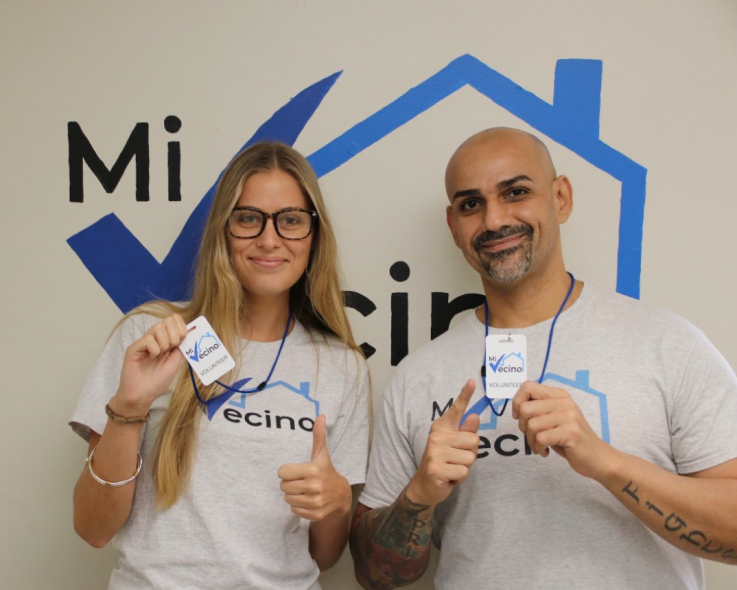 "Voter suppression doesn't just happen on election day, it happens every single day of the year," Devon Murphy-Anderson, co-founder of Mi Vecino, told Newsweek.
Twitter
That real fear from groups on the ground has led many of them to focus on re-educating voters on what the changes in the voting law mean for them.
Francesca Menes, co-founder of the Black Collective, which works to increase Black political power, said while the multiple lawsuits against the law from community groups and the ACLU are important, many in the community are currently oblivious to the effects of the new law.
Her group, which goes door-to-door in Black communities, explains straightforward things about the new law, like making sure voters have their signature updated because of new signature-match requirements, but also speaks more broadly to voters.
When Black elders say "again?" upon hearing about efforts to make it harder for them to vote, Black Collective leads with a message that once again "they're attacking our rights to suppress our communities."
"See what happens at the state-level when we do turnout and vote?" Menes told Newsweek of the message at the doors. "They're trying to find ways to take us back to 1950s and 1960s to remove ease of voting and create more hurdles."
The new law is not only more difficult for voters of color, but also for the groups that help them vote. And that difficulty can be expressed in one word: money.
Things as simple as delivering a ballot from a Palm Beach voter to the Broward Board of Elections—as was done over the last decade—must now be mailed to the Palm Beach Board of Elections. The additional costs add up, the groups told Newsweek, which is why they want Democratic donors to stay engaged and pony up.
"There's a lot of concern some donors will seek to donate to smaller states with smaller price tags," said Andrea Mercado, the executive director of Florida Rising, which worked to register 100,000 voters after the 2018 midterms ahead of the 2020 election. She said national Democrats hesitate to spend in Florida and then go half-in late in the cycle, effectively dooming them all over again.
"Democrats have Florida fatigue, then they invest late, which is a self-fulfilling prophecy," she said.
The problem going forward, Murphy-Anderson of Mi Vecino said, is that Democratic organizations in Florida run their voter registration campaigns in phases, first raising millions to register voters, then later raising a few million more to hire the same staffers to register those same voters to vote by mail.
But now, when voters may not remember which group registered them and if they gave their driver's license or social security number, she said donors will have to donate more money sooner to clear the hurdles created by the new law.
"Donors feel burned and feel lied to and feel there is a lack of transparency," she said of her conversations, before arguing that her group's data-first approach means "we tell you how many voters registered, how much it costs to register the voters, and give donors a reason to invest in Florida."
With the state looking more difficult for Democrats—and after slippage with Latino voters like Cubans, Colombians, and Venezuelans—everything old is new again in the wake of the election law, as well.
Mi Vecino opened a new office in the I-4 corridor, where half of Florida's 900,000 Puerto Rican residents live. In May it registered hundreds of new voters, 80% of whom are voters of color, and 90% of all the group's registered voters are also registered to vote by mail. That, the group maintains, almost guarantees they will vote in 2022, regardless of the new election law's restrictions.
But a source close to donors in Florida said the proof will be in the results, after successive disappointments in 2018 and 2020 have left many willing to stay on the sidelines.
"There's always a new effort aimed at donors, but at the end of the day the donor gets disappointed because the group didn't deliver," the source said.