Wake Up! Iranian Protests Foreshadow Life for American Women | Opinion
It is time for people in the United States to learn the dangers of theocracy. To see them writ plainly, look to women's current struggle for freedom in Iran.
Even with the systematic crackdown on freedom of speech, internet blackouts, and Draconian retaliatory measures against the protesters, footage from the Iran uprising is flooding social media and being seen around the world.
The spark that lit this roaring fire was the arrest and the subsequent death of the 22-year-old Mahsa (Zhina) Amini. Her crime? Her head covering wasn't to the liking of the morality police, the notorious security unit that enforces mandatory hijab laws. Since then, protests have erupted in every province in Iran. Young girls and old women are burning their head scarfs and cutting their hair in public in defiance of the unjust modesty laws. Women who prefer to wear the hijab and men have also joined the uprising, demanding women's rights and the removal of Islamic Republic as the governing body. The regime's attempts to quell demonstrators have been ruthless: Arrests, injuries and fatalities continue to rise.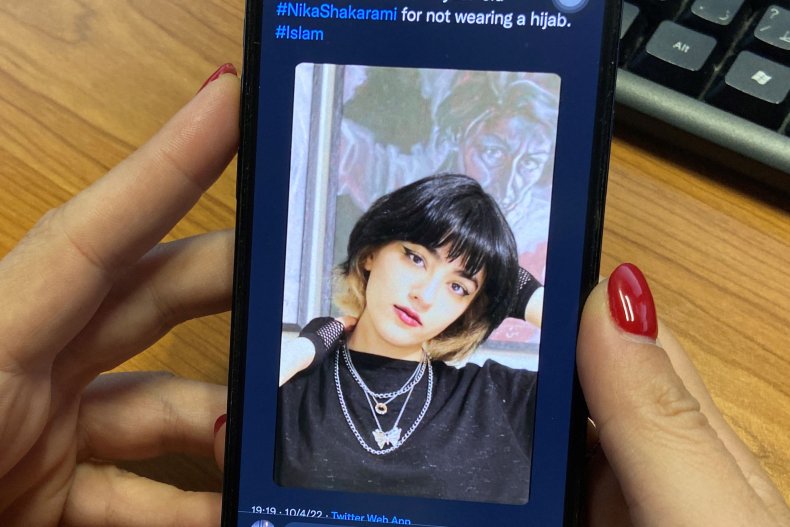 Closer to home, in the aftermath of the Roe v. Wade reversal, I argued that we in the U.S. need to pay attention to the history of women's rights in Iran. With this ruling, religiosity has crept further into the U.S. government and is threatening to continue stripping women and minorities of their rights, as happened when theocracy came to Iran.
But the coverage of the Iranian uprising in American media has been relatively muted and there has been a general lack of support from U.S.-based women's rights groups. Out of a dozen prominent feminist groups I've looked at, only a few have even tweeted to express support for this remarkable feminist movement. I understand that compassion fatigue is real and so much is competing for our attention. But as someone who directly experienced how quickly a society can slide into crushing theocratic rule, I am concerned that many Americans are failing to grasp how our own political trajectory is pointing more closely to that of Iran's. The breathtaking courage of Iranian women should be setting us on fire. It's time for Americans to learn from their decades-long struggle and vocally support their current fight for freedom.
Shortly after the revolution in 1979 that ousted the shah, the Islamists usurped power and Iran became a religious state. Women became second-class citizens. Morality police patrolled the streets to make sure modesty laws were obeyed.
My own resistance began in 1981,when I was 7, founded on a fierce belief in equal rights. I cut my hair and pretended to be a boy to enjoy the same freedoms as my male friends. As a teen, in the darkness of the night I wrote "Death to the Dictator," on my neighbors' walls. Half of my sister's senior class were in jail for similar "crimes." One teen, our neighbor's daughter, was unceremoniously executed. The authorities told her parents to come get her body. My story isn't unique. In the past 43 years, hundreds of thousands of dissidents, including children, have been jailed, disappeared, and killed.
Yet the latest protests continue, despite the brutal repression. The recent torture and death of 16-year-old Nika Shakarami at the hands of the morality police has only added fuel to the ongoing conflagration. Even school children have joined the fight. Sixty percent of Iranians are under the age of 30. They have never known freedom under the Islamic Republic and they're fed up and, as the world can see, they aren't afraid to die for their rights.
The anemic coverage of these extraordinary acts of bravery tends to mischaracterize what is happening as a leaderless movement. This is perhaps tied to the outdated idea that change requires a single leader. In Iran, communities of young women and their supporters are leading the protests, strikes, and acts of civil disobedience. The photo of two young women having breakfast with their heads uncovered is reminiscent of the U.S. civil rights sit-ins of the 1960s.
Soon after posting the photo, one of the young women, Donya Rad, was arrested and taken to the infamous Evin prison. A 25-year-old musician, Shervin Hajipour wrote a song in support of the protesters. He was arrested and the song was taken down but it has been shared millions of times across different platforms and is now an anthem for the movement. Patrons at another cafe sang his song in unison. The establishment was shut down shortly after the footage went live. These activists are not taking orders from any one person in charge, yet they are effective. The awe-inspiring courage, creativity, and organization of this movement are shaking the Islamic Republic to the core.
Following the reversal of Roe, I expected widespread activism in the U.S. After all, we now have our own version of morality police. They are banning books; funneling government funds to track down and criminalize women who are seeking abortions; using social media to crack down on pregnant people; forcing child rape victims to travel out of state to obtain abortions; and using threats and intimidation to stop doctors from performing life-saving procedures for women. Fortunately, there are fierce pockets of resistance by tireless activists, but unlike the women's rights protesters in Iran, they lack broader public support as we inch toward what are expected to be close midterm elections.
It might be hard for Americans to relate to the level of repression experienced by Iranian activists—we still have so much more agency than they do. But the U.S. majority, who support a women's right to choose, must fight against a religious takeover of the government. The Islamic Republic has trampled women's rights for four long decades. We'll have a similar battle on our hands if we keep looking for a savior-leader to deliver us from this dystopian future. We need to bear witness to the courage of Iranian women and amplify their voices—and then let their blazing fire catch hold in ourselves to make the oppressive forces in our country shake with fear as the Iranian theocracy is shaking.
Ari Honarvar is the founder of Rumi with a View, dedicated to building music and poetry bridges across war-torn borders. Her award-winning novel "A Girl Called Rumi" tells the story of a 9-year-old Iranian girl's struggles against the regime.
The views expressed in this article are the writer's own.