In the wake of Tuesday's school shooting in Oxford, Michigan, Parkland survivor and gun control advocate Cameron Kasky reflected on his activism and opened up about regrets he had about spearheading the youth movement on gun safety.
"I know it was my choice to step in front of those cameras after the shooting," Kasky tweeted on Wednesday. "I was 17. I knew what I was doing. Trying to do the right thing was impossible. Maybe I should've shut up. But I thought reminding everybody that the gun business and their lobby are to blame was right."
"But man I regret it so often," he continued. "People are right to give me s--t about centering myself in that story. It wasn't mine to tell."
In 2018, Kasky co-founded the student-led gun violence prevention group March for Our Lives (M4OL) alongside several of his classmates just days after a gunman stormed Stoneman Douglas High School in Parkland, Florida, killing 17 people and injuring 17 others.
The Parkland shooting is the deadliest high school shooting in United States history.
Kasky's activism, which included an effort to persuade people against voting for legislators who have received money from the National Rifle Association, launched him into the national spotlight.
In 2018, he and four of his peers—David Hogg, X Gonzalez, Alex Wind and Jaclyn Corin—were included on Time's annual 100 most influential people list and M4OL's nationwide student protest drew an estimated crowd of 1.2 million people.
But despite the widespread support Kasky and his organization have received from students across the country, he and other youth activists have also been the targets of attacks by gun rights activists and some Republican politicians.
Earlier this year, a video showing Congresswoman Marjorie Taylor Greene confronting Hogg went viral. In the clip, Greene, who had not yet been elected, is seen berating Hogg with baseless claims about gun violence and heard calling him a "coward" as the teen walked toward the U.S. Capitol to meet with senators.
At one point, Kasky said he stopped using Facebook due to the death threats he received after he repeatedly questioned Senator Marco Rubio during a town hall, "Can you tell me you won't accept a single donation from the NRA?"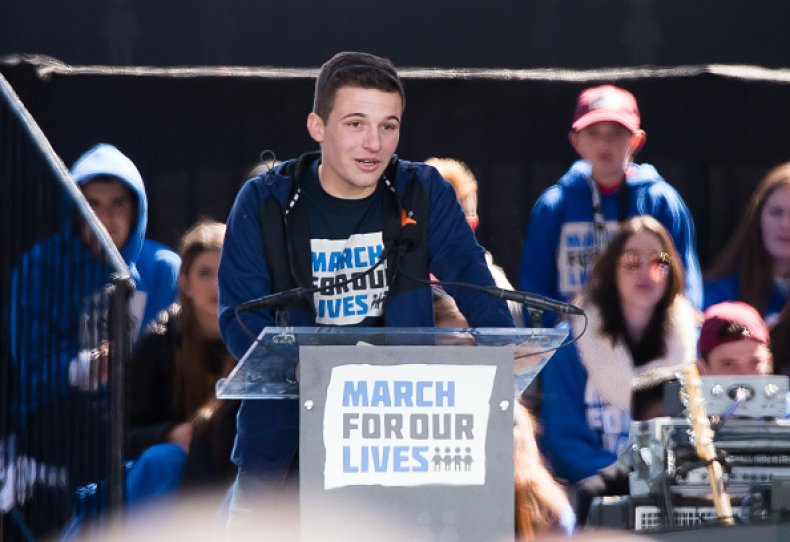 Each time another school shooting occurs, Kasky and his classmates are often pushed to the forefront of the national conversation again, not only for their work on the issue but their close proximity to the lived experiences of shooting victims.
The shooting at Oxford High School on Tuesday became the deadliest school shooting since Parkland after four students died and another seven were injured when a fellow classmate went on a shooting spree at the school.
On Wednesday, Kasky said his choice to become a gun control advocate has defined his life and alluded to the toll it has taken on him.
"My insertion of myself into this tragedy and the moral underpinnings of it follow me every single day. I can't get p--sed about constant texts and emails about shootings when I practically asked for this s--t," the 21-year-old wrote on Twitter.
"When I dragged my drama friends and some other friends into my empty house to start a movement, I thought we were gonna fix this s--t up. I had no idea what was coming," he added. "And I wish I could have done it all right. But I f--ked up at every corner."
Kasky said that while he has felt conflicted about the role he has taken on in the gun safety movement, he had only joined it with the intention of exposing the power that gun lobbyists hold over elected officials.
"I just wanted everybody to know that these shootings happen because of the national rifle association's financial grip on the republicans," he tweeted.