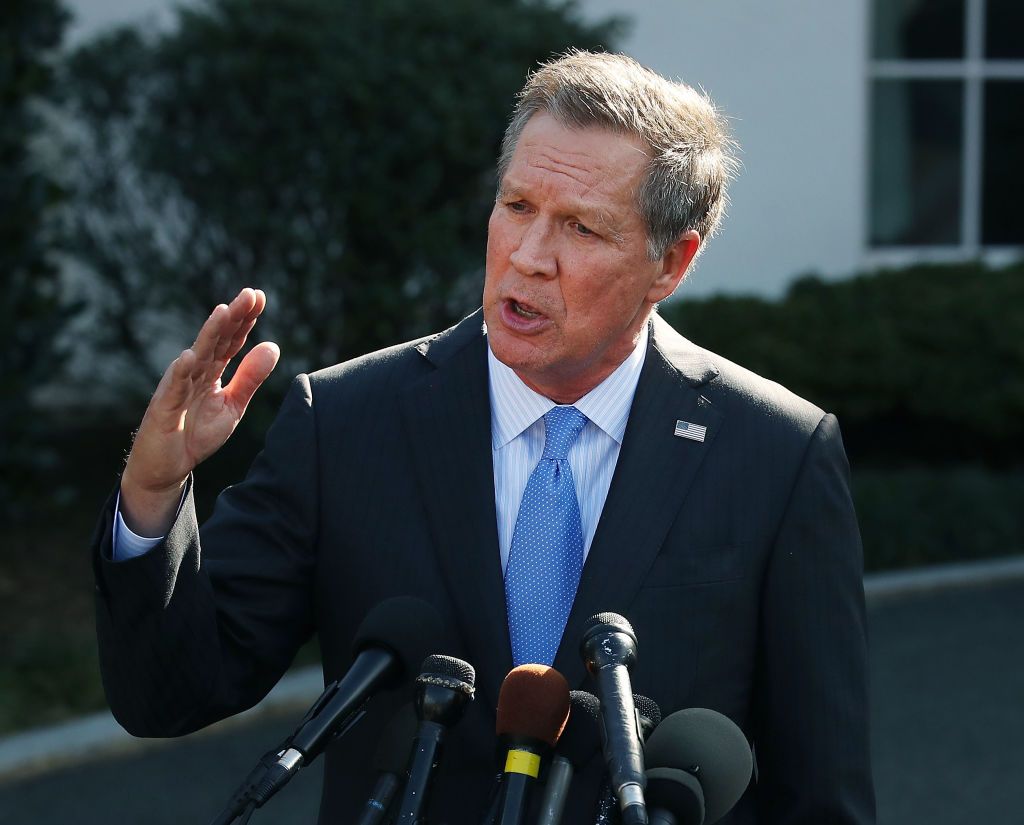 The Republican Party needs to "wake up" and consider "common sense gun laws" in response to the latest mass shooting in Florida, Ohio's Republican Governor John Kasich said Sunday.
In an interview on CNN, Kasich condemned Congress for not acting in response to the shooting in a high school in Parkland, Fla., Wednesday, in which 17 were killed.
"I think Congress is totally dysfunctional. I've never seen anything like this" an impassioned Kasich said on CNN's State of the Union. The former, and likely future, presidential candidate also cited impasses over immigration reform and the budget. "They just can't seem to get anything done."
Kasich criticized his party colleagues for refusing to consider measures to tighten gun controls, stressing that there were "reasonable" steps that could be taken to prevent further shootings.
"Common sense guns laws make sense," Kasich said, citing measures such as increased background checks or restricting sales of weapons such as the AR-15, which was used by gunman Nikolas Cruz in Wednesday's attack, according to police.
Kasich expressed scant confidence in the ability of lawmakers to come together to hammer out measures to tackle gun violence.
"They can't agree to anything down there," he said. "Wake up."
"Sometimes you have to put yourself at risk" politically, he added, a reference to lawmakers who are more worried about losing their seats or funding by pro-gun groups than protecting their constituents.
"It's not the end of the world because you lose an election!" he said. "Everybody's got to look inside of themselves and think about their children. And, look, I'm not calling for some outright ban. I'm talking about small steps that can be taken that can be effective and Congress ought to do it. I just don't—I don't have any confidence in them. I don't think most Americans do."
Despite renewed calls for gun law reform in the wake of Wednesday's shooting, President Donald Trump did not discuss the issue after a meeting with first responders and victims in Florida Friday. And Republican lawmakers have shown little willingness to broach the topic. House Speaker Paul Ryan said at a fundraiser in Florida on Friday that he did not want to "politicize" the issue.
On Saturday, students of the Parkland high school held a protest calling for tighter gun controls. Student Emma Gonzalez attacked Trump and other politicians for accepting political donations from the National Rifle Association.
"To every politician who is taking donations from the NRA, shame on you!" said Gonzalez.
Leading Republican donor Al Hoffman Jr. warned the party that he would cut off his support unless action was taken over assault weapons, in the first pushback against the party's unwillingness to take action by an influential Republican.
But Trump blamed Democrats for not acting on gun legislation "when they had both the House & Senate during the Obama Administration," he tweeted on Saturday.
"Because they didn't want to, and now they just talk!" he wrote.
Trump campaigned for president claiming he would be a staunch defender of individual gun-ownership rights that some believe is enshrined in the Second Amendment to the constitution. And once in office, he addressed an NRA convention by declaring that the "eight-year assault" on the Second Amendment would end on his watch.
Kasich, who lost to Trump in the 2016 Republican primaries, has been a staunch critic of the president and his own party since Trump took office. Some pundits believe he will challenge the sitting president in the re-election campaign of 2020.